Roy Choi on Fast Food for the Masses, Becoming an Adult, and What 2016 Meant to Him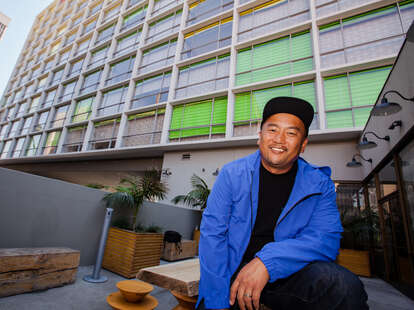 Travis Jensen
Travis Jensen
Roy Choi's bestselling book is called L.A. Son, and the Kogi founder has become one of the city's defining voices in the last decade, but his year this year -- which found him launching LocoL, the Watts-based fast-food restaurant that's aiming to change the way people in underserved communities eat, as well as partnering with Whole Foods for an outpost of his beloved rice bowl spot Chego! and the first (and second)-ever brick-and-mortar Kogi Taquerias -- was particularly noteworthy. We spoke with him about the challenges he didn't see coming with LocoL; what it means to be an adult in today's world; and why this year was so challenging in our Q&A right here.
What has 2016 meant for you, both personally and professionally?
Roy Choi: [2016] was probably been one of the biggest years of my life. I mean, there have been many big years in my life, and obviously Kogi happening eight years ago changed everything, but this year I really, really grew a lot, personally as far as getting over some of my demons and really, really confronting who I am, and what my strength and purpose is.
In the past year I've opened four things, the Kogi Taqueria, a Chego in Whole Foods, a Kogi in Whole Foods, and LocoL. That alone has been a pretty amazing year. That, and then I've really branched out like on some creative stuff with shows, and writing, and just being creative, so it's been a really, really good year.
I've also evolved as a person, I've really confronted being a grown up this year, like really being a grown up. I'm a grown man but I still have this like punk rock, fucking abolish the system life mentality. This year I realized that I don't have to always be angry at shit, and think like I'm on the outside. I'm kind of proud of how I grew up, if I was ever to imagine when I was younger like what am I going to be as a grown ass, middle-aged man, I would be fucking pretty happy with what I've become.
Really giving back, and taking care of people, and employing hundreds of people, and everywhere I walk in, my crew has my back 100%, and so I've really embraced that this year. I know that doesn't seem like a huge thing but it really was for me.
Did you start seeing yourself as being responsible for a lot of other people this year? It sounds like that was a big change for you.
Choi: Yeah but not really in that sense, I don't ever wake up with the burden of I got to do something because I'm responsible for these people. The responsibility to me comes innately, it's just something that I live and breathe. I would take care of the people around me even if I had no businesses. That's who I've always been my whole life, so it's not something where I'm chasing my tail. I see a lot of people sometimes -- they get in that trap where they get to a certain stage, and then they start feeling like they have to do things in order to keep the business afloat.
I never think that way. All this stuff can crumble, and I feel like we can rise from the ashes again because again my crew's got my back so strong that they'll follow me through the fire. They'll trust me. If things got to be destroyed, they'll trust that we can create again. I don't think that way, I'm just inspired by the people that are around me. I just really, really confronted like how many people I feed everyday, how many people love me, and how many people I love back, and it just really hit home this year.
I've spent like the last eight years just really grinding, almost like a cook at a station with his head down, just doing the mise en place. I've just been doing the mise en place of life. I guess this year, I finally looked up and realized god damn, this shit is fucking pretty fucking great -- but then I realized also it's also just kind of the beginning as well, and so that's been kind of the thing for me.
LocoL opened almost a year ago, and what you guys are doing there is still so cool. What is your thought on sort of how that experiment has gone, and how you feel about it looking at it a year later?
Choi: At this time last year we were starting our job fair, and starting to really finish the final stages of construction, and getting to this point where this thing didn't exist. We were like in the beginning of the ninth month of the pregnancy, and the baby wasn't out in the universe yet. For me it's really crazy to think back to just 11 months ago, and LocoL wasn't even in the universe yet, and then now it's been here not even a year and it's really, really captivated the imagination, and also the real lives of people.
To me, LocoL is a keyhole, not for me, or [business partner] Daniel, or our individual businesses or anything like that, it's a bridge to how we can fix some shit because the truth a lot of people don't want to talk about is the poverty exists, and it exists, and it continues to exists, and it won't change unless we actually get up and do something. Our brothers and sisters, it's not that they're not capable, they've been cut off and they need help.
Those of us that have some sort of privilege, and that have influence, have opportunities to give, we got to just give it, man. It can be as small as a burger shop. The echoes of what LocoL has done throughout Watts, Compton, Inglewood, Long Beach, Southgate, Lynwood is incredible, man. You can go down there and walk the streets, and say the word LocoL, LocoL's gangster as shit, man. It really, really has captivated everyone's lives, and their hope, and their belief, and their strength. Our team has risen beyond any expectations... and a lot of people from Watts are seeing a lot of people that haven't been to Watts [for the restaurant] so there's this human thing that I imagined it but it took on its own form. That's been really great.
It could be a little busier, to be honest, I think what my mission in the next year is to figure out how I can drive home the thinking and the direct action that every penny you spend in Watts actually means something, you know what I mean? A lot of people have so much disposable income and [they] buy a juice here, they do that there, and it just becomes a part of the clutter of their life but if they'd really take a moment and realize if they spend $2.00 in Watts at LocoL, it actually means something, it actually goes to paying the staff.
We're one of the only non-profit jobs in the town so for 30 people it really, really means a lot, and it keeps the community going, and it keeps the hope going for a lot of the young kids that come in and see their uncle or the aunty working. For me, I got to figure out how to create that bridge a little bit deeper to where I know everyone cares about LocoL, and I know that it means something -- but we're just not that busy, you know what I mean?
I know the food's good, and I know all the pieces are there. We're like a indie film that's not really killing it at the box office yet. We're going into the lab this month, and trying to figure out where to revamp the menu. We're going to try to figure out how do we connect the dots a little deeper, and to be honest it's OK, it's only been a year. We're talking about decades of abandonment and poverty, and no development, and to think that it's all going to turnover overnight is naïve. I'm actually cool with where we are, and just to use a sports reference, it's only the first quarter. Even if we're down by a couple points, or touchdowns, or whatever, the game is not over. That's how I look at LocoL.
There is some thinking out there like people either want LocoL to either fully have achieved its goal so that it can be checked off, the box can be checked off, or that it can fail so that you can put it back into OK, it's not going to work. To me, it's like we're only in stage one of the process. I'm looking long game, and when you say long game, I'm looking 20, 30, 40, 50 years from now... my dream is imagine Watts becoming like The Grove, having shopping, having stores, having five, six, seven, 10 people working in each store. People thriving, housing, great design, furniture, parks, all these things. That's what I think about.
Let's change the topic a little bit, and talk about the Taqueria and Chego! openings, which to me at least feels like sort of you've come full circle. It's really crazy that Kogi is now a brick and mortar, and that Chego has expanded into a Whole Foods, sort of in a very mainstreamy way.
Choi: Well, we still got the trucks out there -- we'll never abandon the trucks, that's our life blood, that's who we are. The thing about Kogi and Chego, I have different companies, and different partners, and different things, and the Kogi Chego family, we're still like a small family company, man. Our brand is worldwide and our reach is worldwide but who we are, we're still like a Korean liquor store. We're still run by the family, we still get up and do it everyday, and so we don't really have the infrastructure to expand.
I gave a speech at Whole Foods a couple years ago to all their team members, and it was really inspiring for both ends, for me, and then also for the team. We all kind of clicked, and it went really well, and they approached me like, "hey, we're looking to shake things up and we're wondering if you would be the first chef to kind of put like an actual branded concept in one of our markets," because they've never had that before. Everything has been under their umbrella, and everything just felt right.
We tried Chego, that went really well, and there were a lot of things embedded in it that really made sense to me. I could start to explore at this price range, using better ingredients, moving Chego to more organic, and I explored a new scoop and serve process, kind of like a Panda Express style. There are a lot of things like nerd geeky-wise that I was having fun with.
The Kogi opportunity came, which provided the infrastructure for us to grow but still do it on our terms so that was really cool. When we left [the original location of Chego in Palms] it really hurt my heart, it wasn't our choice, it was the building that we were in. I made it my life mission to get back to Palms some way, and we had already been to Chego in Chinatown, it was like I didn't feel like wanting to open another Chego at that time, so [I decided to open] Kogi Taqueria.
The team wanted to do a little Taqueria, so then I started to think about my love for Taquerias, how I grew up, and wanted to create a place like if there's some young 16-year-old kid that walks in, that could become a part of their life, and their history as well.
Tell me a little bit about what you're expecting for 2017.
Choi: Growing LocoL, maturing it more. Specifically growing two to three more stores, one more in the Bay, one more in LA, and then trying one more out of State, possibly New York, or South Chicago, or Detroit. That's one thing. Maybe doing another Kogi Taqueria somewhere, probably in another Whole Foods market.
Thinking about writing another book so I'm trying to dig deep, and figure that whole thing out. What else? Trying to get into some production stuff, like making shows, and like writing stuff, and doing some comedy things. That's what it looks like so far.
I'd also love to start a foundation, again 2016 I kind of really solidified my purpose in this world, and I think 2017 for me is to figure out how far can I really push it. At the same time also run businesses, and continue to open jobs. That's what it looks like for me so far.
One more thing: I know you were on the Gilmore Girls revival. How did that happen??
Choi: Oh, how did that happen? They just reached out. I think Amy's a huge fan, the creator of the show, the whole crew. The thing about Kogi is like everyone loves Kogi, man. We do a lot of caterings, we do a lot of like post-production parties, wrap parties, a lot of people at the studios order it for lunch.
Everyone on the Gilmore Girls set from the grips, to the gaffers, to the camera men, to everyone, the writers, they all love Kogi. They had decided they were going to have two chefs on the series, and one of them was going to be me so they reached out to me.
It's one of those things like it just felt right, it was almost like hooking up with someone, there was no thinking. Sometimes you get a call and it's like sure, let's go out, it was like that. From the moment I got on set, they were just really, really amazing, I had a great time with them.
They just took really good care of me, and so I got spoiled on that set so I learned a lot, they coached me a lot in acting. I also had learned a lot from working with Jon Favreau on Chef so I wasn't coming in completely blind, and it just fueled my love for acting more to be honest. I want to do more acting in 2017.
Sign up here for our daily LA email and be the first to get all the food/drink/fun Los Angeles has to offer.
Jeff Miller is LA's Senior City Editor, and thinks he deserves a chef of the year nod for scrambling eggs on the daily. He's at @jeffmillerla on Instagram and Twitter.