A Swanky New Shawarma Spot from Bestia and Bavel Duo Lands in East Hollywood
Named after the couple's daughter, Saffy's is a homestyle Middle Eastern restaurant that's casual in attitude, but thoughtful and precise in execution.
Naming after people is always a bit of a risk—what if that person turns out to be a jerk, or burns a city to the ground? And if Saffron, daughter of Ori Menashe and Genevieve Gergis and namesake of the couple's new restaurant, Saffy's, decides next week that she's vegetarian, does their giant wood-fired shawarma get the boot?
Because it's that spinning cone of meat that is at the heart of Saffy's, Menashe and Gergis' new elevated kabob shop in East Hollywood. The menu is built on homestyle Middle Eastern cooking, a more rustic and casual version of what the pair have been doing at their magnificent Arts District restaurant Bavel, though the composition of dishes (and their prices) are still a step or three above average.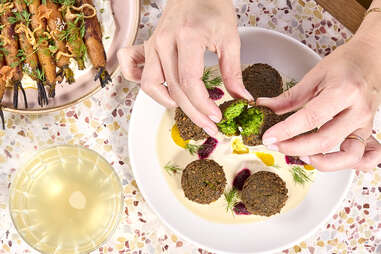 The opening menu at Saffy's starts with a selection of vegetables like a circle of hummus topped with fermented serrano chilis and the fava bean stew ful, Zucchini Blossoms stuffed with whipped feta then battered and fried and served with tomato dip and zhoug, and a particularly lovely plate of falafel; each one is beautifully presented, swirling and smeared, topped with a generous fistful of fresh herbs. The kabob selection covers pork, lamb, chicken, or a mix thereof, cooked over charcoal and dramatically served on their wide, flat skewers.
The shawarma, though, is the absolute showstopper, built on a spit that twirls in front of three separate tiers of wood-burning fire, a rare innovation in LA that looks more like one of the ornate Turkish doner-style spits than what we usually see around here. It is a powerful, if perhaps labor-intensive, way to impart that woody, real fire flavor into the lamb and beef blend that the more common gas-powered shawarma spits don't hit.
There are two other crucial pieces that carry over from Menashe and Gergis' other projects—Gergis' fantastic desserts, and their truly spectacular Levantine breads. Thick and fluffy challah comes with the hummus, toasted flatbread with the mussels, and luxurious fresh laffa with the shawarma and kabobs.
Vibrant and refreshing are the buzzwords for the cocktail list, an emphasis on bright and light drinks to pair with the punchy and bold cuisine. That means a Paloma Spritz with mezcal; Cherry Limeade with tequila; and a mezcal, passionfruit, carrot, and habanero sour. Naturally, there will also be a selection of wines sourced mostly from the Mediterranean islands and coastline, focused on small producers and responsible agricultural processes. Sitting at the bar with a cocktail or a crisp glass of wine may be the best spot in the house, as the 16-seat bar will frame the kitchen so you can watch the chefs carve shawarma and sprinkle herbs, with a soundtrack of sizzling fat over flame.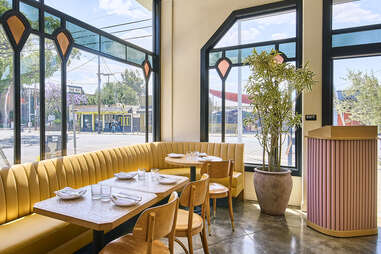 The design aesthetic of the space is inspired by 1960s and '70s Morocco, pale pink with gold accents, khaki booths the color of Sahara sand, tilework in shades of honey and red like the walls of Marrakech. All of that is layered over classic Hollywood style, in an old art deco building on Fountain just across from Square One, Found Oyster, and Scientology HQ. It may take cues from half-century old fashion, but one look around will show that this is as au courant as it gets.
It may be a bit of a risk to name things after people, but it is no risk at all to bet that a Menashe and Gergis venture will be a smashing success.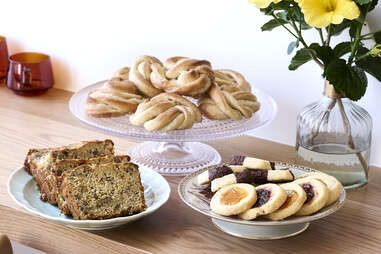 Saffy's is open now for dinner from 5–11 pm Wednesday–Sunday, with a more casual sandwich and wrap-focused lunch service coming soon. Saffy's Coffee & Tea shop will also eventually open next door, with a selection of specialty coffee and house-made pastries. Reservations can be made through OpenTable.
Ben Mesirow is an Echo Park native who writes TV, fiction, food, and sports. At one time or another, his writing has appeared in The
LA Times
,
Litro
,
McSweeney's Internet Tendency
,
Los Angeles Magazine
, and scratched into dozens of desks at Walter Reed Middle School.