Sometimes you hear about a restaurant that's too good to be true... and other times, you hear about Magic Restroom Cafe, a Taiwanese import now open in the City of Industry, not too far from LA, where reports circulated that they'll have you eat while on a toilet seat... from a toilet bowl... filled with food sporting scatalogical-sounding names. Could it really be true? Here's the report: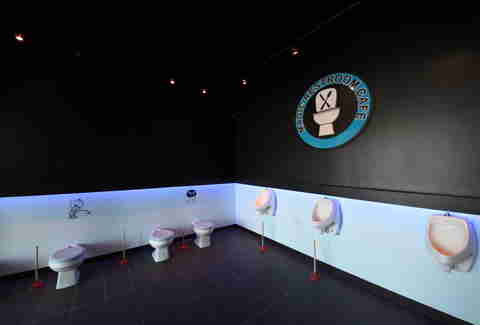 When you walk in, it becomes apparent that the theme here is not carried out subtly: toilets on the floor, urinals on the wall. The real pisser, however, is the glaring lack of dividers/ splashguards.
Here's your seating situation. We tried opening one for extra back support, but then you've got the open space situation underneath and... yeah it just doesn't work.
If you're really feeling dirty (which, if you're here, you must be), they have these stalls... with showers. Sadly, neither the showers nor the toilets are hooked up to actual plumbing. Wait, that isn't sad at all. That's quite fortunate.
The rumors about the gross food names? Unfortunately (or maybe fortunately), greatly exaggerated and just flat-out not true, which means this kinda-peppery calamari's on the menu as "fried squid" and not, like, "bowl 'o 'holes".
Though these shrimp and cucumber balls were still called... shrimp and cucumber balls.
That meant the food's presentation was the real sell, with grossness ranging from just-weird looking (shrimp fried rice)...
... to, "um, I guess I'll put that in my mouth" (pork meatballs)...
... to no. Just, no. (Curry chicken.)
... also, they really missed an opportunity by not putting this chunky brown sauce in one of those toilet bowls. They probably figured they'd just leave it up to you. HEY-O!