Leona's Chef Takes Us to the Best Farmers Market in the US
Leona's Chef Nyesha Arrington is standing off of Arizona in the middle of the Santa Monica Farmers Market holding court, laughing with a vendor, waving to a purveyor, and taking in the smells -- from wisps of lemon to hints of peach -- like a regular at the healthiest bar known to man. She's dressed in a pineapple-print shawl that elicits compliments from passersby and friends alike, and she's got the knowing smile of a woman celebrating a victory lap -- which is exactly what she is, since last week her critically acclaimed, sorta-but-not-really-Asian-influenced Venice restaurant celebrated its one-year anniversary.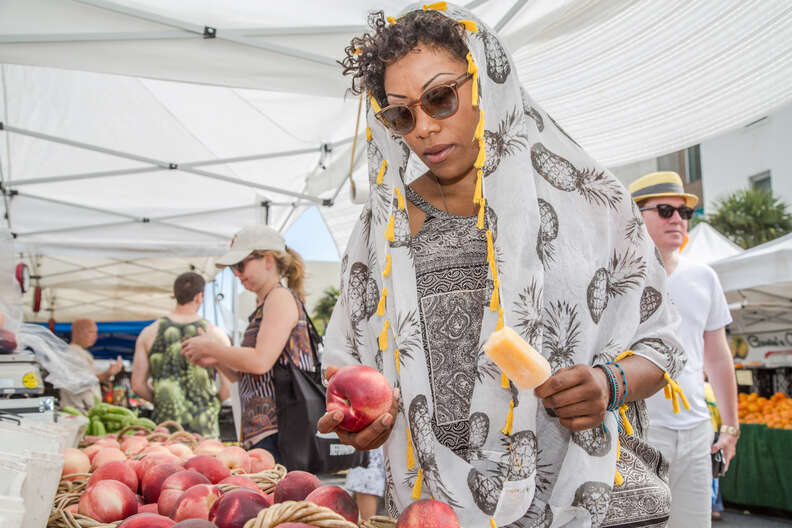 And now, here she is, leading us through the Santa Monica Farmers Market to see what it's like for a chef on the very inside of what's been called -- by everyone from Fodor's to CBS -- one of the Best Farmers Markets in the Country.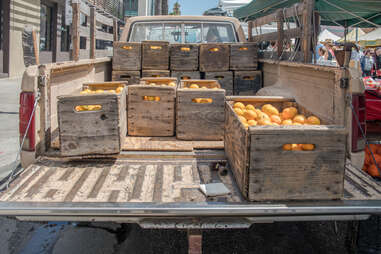 One of the first things she tells us, though, is that the whole thing is a facade: her sous chef and GM aren't in the market proper but making their way through the pseudo-backstage, where vendors hold produce (often their best stuff) for restaurants that've pre-ordered it to take off their trucks. The produce from the SaMo market is the heart of Leona's orders for the week, and they need to get ahead of their schedule, which means placing orders ahead of time for dishes that they know they'll sell. That doesn't mean, though, that nothing's left to chance.
"Taste this," Arrington implores her GM, having him bite into a peach. "What do you think of adding it to the octo?" They're discussing a special: she knows it'll have fennel, but the rest of the dish is coming together based on flavors that are on display. She starts working, the gears in her head spinning as she starts working out how it'll look on the menu. "Grab some of those Meyer lemons," she says. "And that basil... "
Her employees set off to grab ingredients, as Arrington runs into Kevin Meehan -- the chef from Kali, his first restaurant, which opened quietly on Melrose a few months ago before garnering a slew of worthy huzzahs (including, at one point, a spot on our own Eat Seeker guide). The farmers market, unsurprisingly, isn't just a business stop but a social one: for chefs who generally work through traditional hang-times, it can be the only chance chefs get to catch up -- and to see what the competition's up to. "Oh, definitely," Arrington admits when she's asked whether she spies on other chef's ingredients when she sees them pulling carts in the market. "We all do."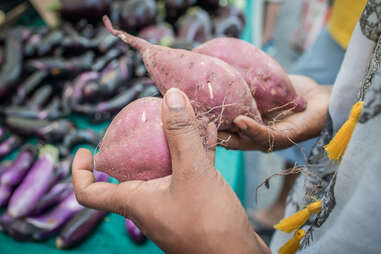 That said, it's not as if that competition's brutal: it's more a sort of camaraderie-between-competitors, with all of the chefs we run into together sharing tips on which vendors have the best beets and swapping stories about their latest shenanigans. I offer up that maybe this is what LA has over NY: there's enough room for everyone in the city, and at the market. Arrington agrees. "We all want to work together to make LA's restaurants great," she says, a smile never leaving her face. "There's no reason for anything else."
Just in case you thought there may be a method to the madness, Arrington approaches the street stalls -- well, like everyone else; rather than go directly to her favorites, she bounces from stall to stall...
... checking out oddities like tiny watermelon cucumbers...
... standbys like on-the-vine tomatoes...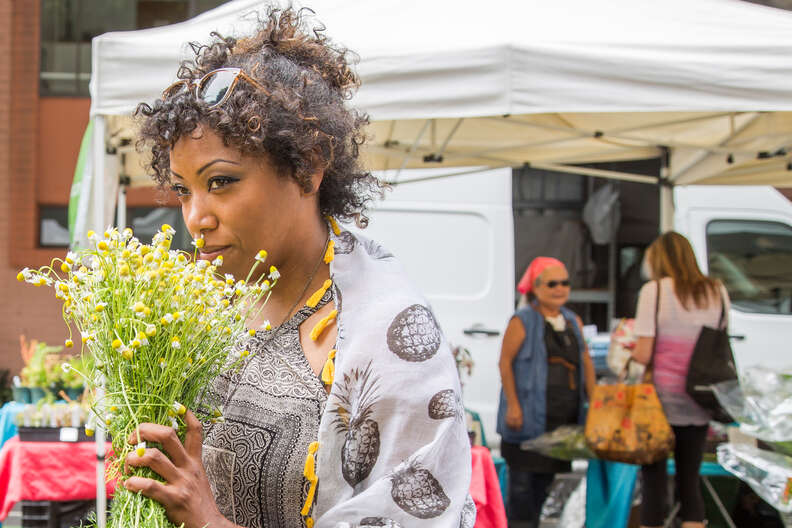 ... and chamomile, from a flower vendor.
In fact, the flowers were so lovely that Arrington decided to buy a bunch. "These will look amazing on the chef's counter," she said, thinking about the open kitchen in the restaurant.
And with that final purchase, she left -- leaving her sous chef and GM to do the heavy-lifting. After all, she had a kitchen to tend to -- and an octopus special to experiment with.
Sign up here for our daily LA email and be the first to get all the food/drink/fun Los Angeles has to offer.