Los Angeles Santa Monica used to be the redheaded stepchild of the Los Angeles culinary scene -- sure, there were some good eats in the neighborhood, but restaurateurs focused their efforts on Downtown, Hollywood, and elsewhere, probably figuring our proximity to the beach was a decent enough deal. But no longer! Now we get poached lobster, shrimp saganaki, and a sweet ocean breeze: these 15 restaurants -- some old, some brand new, all very delicious -- are proof that SM has something for everyone. More Stuff You Will Like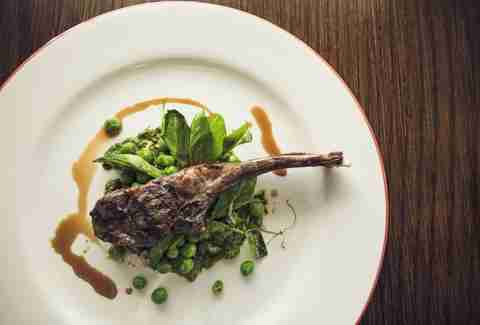 1026 Wilshire Blvd West Hollywood has Animal, but the Westside has Belcampo, where you go to OD on meat-centric dishes like grilled beef heart, goat tartare, and tallow chips. It's an ethical carnivore's dream, too, since Belcampo prides itself on humane practices and high-quality, 100% organic cuts. Continue Reading
  1519 Wilshire Blvd While Estate offers plenty for meat eaters, you can (and should!) bring your favorite vegetarians here. They'll be thrilled that Estate's options -- like quinoa/baby kale, roasted portobello flatbread, and pad Thai (sans chicken and shrimp) -- include a lot more than plain old Caesar.
  1517 Lincoln Blvd It's easy to forget that this OG Italian deli makes over 20 different kinds of sandwiches, because most people only talk about its famed Godmother -- and we can't blame 'em. That salty, satisfying stack of Genoa salami, mortadella, cappicola, ham, and prosciutto tucked into a chewy Italian sub is hard to beat, and well worth the trek west.
Best fancy place for when parents are paying: Mélisse
  1104 Wilshire Blvd This contemporary French spot does things the old-school way; after all, it boasts two Michelin stars, 10-course tasting menus, and the kind of service that includes folding your napkin every time you leave the table. Bring mom and dad here for the egg caviar and foie gras.
Best late-night food: Swingers
  802 Broadway Many an inebriated Westsider has stumbled through the doors of Swingers, which stays open until 3am. Thursday through Saturday. This '60s-style diner serves alcohol, too, but it's better-known for classic late-night fare to help sop up all those tequila shots.
  2723 Wilshire Blvd If you judge your pizza by its crust (and who doesn't?), you'll appreciate Milo & Olive's perfect pies. M&O churns out crisp, thin-crust artisanal pizzas from a wood-fired oven, then tops it with equally addictive sauce and cheese.
Best date spot: Cadet
  2518 Wilshire Blvd Cadet doesn't have ocean views, or even particularly nice street views, but its dimly lit, candle-flickering interior and strong craft cocktails make this rustic French eatery the ideal date destination. Be sure to practice saying "boulettes" and "tartine" before you go -- those dishes are a must.
Best almost-tastes-alive seafood: The Lobster
  1602 Ocean Ave At The Lobster, a landmark on the pier, seafood's so fresh that the chef only has 24 hours from when he finds out what's available to prepare his weekly specials. Don't ignore mainstays like its perfectly cooked, tender butter poached lobster -- bib required.
  1534 Montana Ave This Montana Ave eatery whips up the kind of decadent concoctions only acceptable at brunch. Got a sweet tooth? Opt for chocolate bacon bourbon pancakes. Feel like savory? Go for the Boy's Club Burger, a not-so-secret-anymore menu item with bacon and truffle aioli. No matter what you're in the mood for, though, definitely order the $14 bottomless mimosas.
  1406 Olympic Blvd If you're looking for an authentic taqueira on the Westside, this cheap, no-frills joint is it. Go for the street-style tacos -- they use corn tortillas, fresh toppings, and salsa that's legitimately spicy.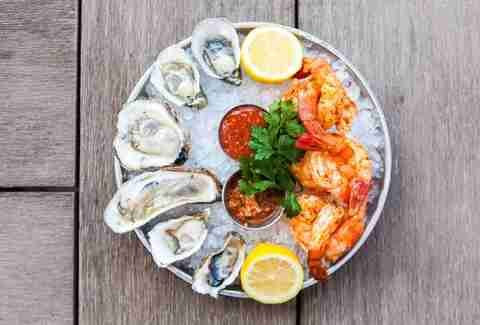 1755 Ocean Ave To be fair, there aren't too many oyster happy hours in SM (a discussion for another day) -- but Herringbone's, which runs Monday through Friday, is still exceptional. For a buck each, load up on as many fresh-shucked, juicy oysters as you can handle, in addition to cocktails, wine, and beer.
  829 Broadway Yes, the burgers taste good, but knowing that Pono's patties are made from grass-fed, organic beef that's locally sourced is a nice feel-good bonus. Plus, most come with interesting, why-didn't-I-think-of-that extras like the spicy guava rum sauce in its popular Kuawa Crunch.
Best outdoor eating: Cassia
  1314 7th St With exposed lights strung up overhead and plenty of heat lamps, Cassia's alfresco patio is a looker. Hopefully your date is, too: after Cadet, this Southeast Asian fusion place is your next-best bet.
  3117 Ocean Park Blvd From its owner (a third-generation SM resident) to the surf-inspired décor and hearty breakfast dishes featuring fresh farmers market ingredients, this Ocean Park café is a neighborhood institution. Even better, the prices are budget-friendly with all entrees under $15.
Best hard-to-pronounce restaurant: Inotheke
  606 Broadway #101 The name's a mouthful, which is fitting since the contemporary Hellenic food at this new kid on the block is meant to be ordered en masse. There's no Greek mother here to ensure you leave with a full stomach, but between the shrimp saganaki, the cod fritters, and the moussaka, you'll do a fine job by yourself.
Sign up here for our daily LA email and be the first to get all the food/drink/fun Los Angeles has to offer.
Tiffany Tse is a freelance contributor to Thrillist and is now waiting for that date to Cadet to materialize. See what she's up to on Twitter @twinksy.