Del Frisco's Grille's a leather-heavy, patio-abetted spot right by the SaMo pier, which means inevitably you're going to end up here before a beach show, a ferris-wheel ride, or being nicely asked for $350 by a homeless dude who smells like pee, sand, and secrets. Before that happens, though, you're gonna want to attack their gourmet pub menu, and you're gonna need some guidance, so we've got the best step-by-step way to hit the menu. Like a boss.
Recommended Video
Elevate Your Snack Game With These Bacon Gouda Tater Tots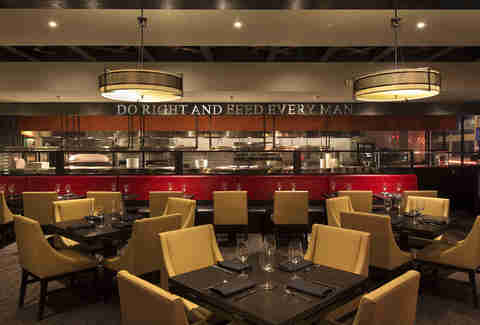 1. Find a seat in the main dining room, away from the beach, 'cause sea salt only goes great with certain things.
2. You obviously have to get these cheesesteak egg rolls with sweet & spicy chili sauce, which are so pretty, we're showing them to you twice.
3. And because, dammit, you're gonna want a second app, get some seafood -- go for the ahi tacos with spicy citrus mayo.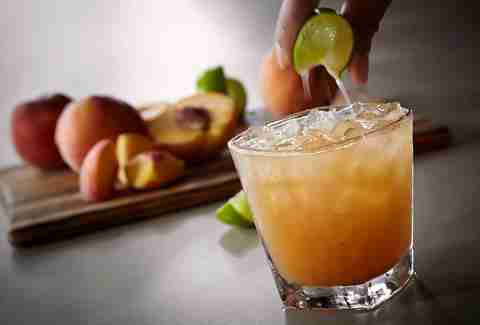 4. Wash down your apps with this Jack-and-honey-and-lime baby, the Sweet Peach. (NOTE: Sweet background peaches not included.)
5. For whatever the course between apps and entrees is (entretizers?), get this flatbread w/ fontina cheese and wild mushrooms for that.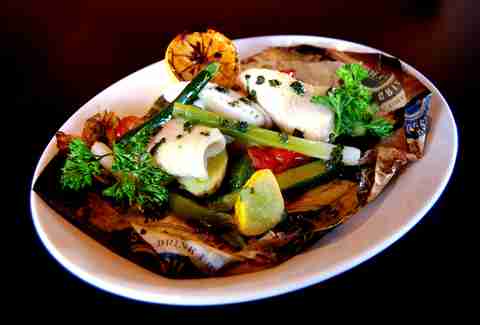 6. The entree if you're on a date: the brown-bag fish, which says, "Yeah, those cheesesteak egg rolls were great, but I need some Omega-3s. Seriously, I think about that kind of stuff."
7. Entree if you're on a date, and awesome, and don't care about Omega-3s: The In-N-Out-esque double-patty'd cheeseburger, which says, "Yeah, those cheesesteak egg rolls were great, which is why I'm now eating EVEN MORE DELICIOUS MEAT."
8. Because you clearly earned it, split the coconut cream pie topped with a mountain of white chocolate shavings.
9. Finish the night with an adult milkshake (walnut liquor/ cream de cacao/ vanilla ice cream) on the patio, since you did, indeed, make it to the beach.
Previous Venue
Next Venue
Venue Description
1. Del Frisco's Grille
1551 Ocean Ave. Suite 105, Santa Monica, CA 90401
Del Frisco's caters to a social crowd with food and drink items made to share, including ahi tacos, lollipop chicken wings, and more than 500 regional wines from California and across the globe. The chophouse space -- patio included -- is wide enough to accommodate large groups, and notably large entrees, like the deep-fried Philly cheesesteak, and multiple flatbread options.