Everything to know about SoCal's new (and only) Dunkin' Donuts
Ask any East Coaster about Dunkin' Donuts, and they'll be all like, "OH MY GOD, IT'S THE GREATEST THING EVER. I CAN'T BELIEVE YOU DON'T HAVE IT ON THE WEST COAST. GOD I'M A TOOL".
Well, now you can tell those same East Coasters to shut the wicked hell up, 'cause now we do. LA's first full-service, free-standing Dunkin' is here, and it's real. Here's what you need to know:
The first person in line is going to get free coffee for a year
And the first 100 people in line are going to get a swag bag. And it opens at 5am. Which means if it's light out by the time you're reading this, you're probably SOL on the free stuff. Except...

We're giving away $50 in Dunkin' Dollars
To someone who tweets THIS.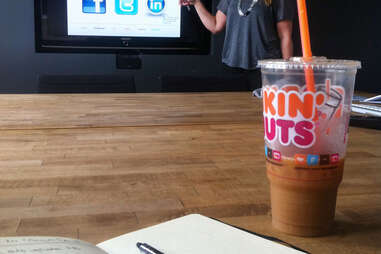 Their coffee is the stuff of legend
Seriously, they do it just right: not too bitter, not too sweet, not too strong. It's just right, with added-in proprietary flavors that include (no joke) coconut, cinnamon, and blueberry.

People go super-ape for the iced coffee
Which, given that it's been, like, 100+ degrees recently, will probably be a thing here too.
They've got a special donut that's only going to be available at this location, and only on opening day
It's that sunny one up above, and it's stuffed with creme, looks like a smiling sun, and will fill you up and never let you down. They've also got smoothies here -- and here only. Because, uh, LA.

Speaking of which, they have enough different kinds of donuts that you could eat a different one once a week, and never repeat for a whole year
Choose what week you go apple fritter carefully. You never get that week back.
Their donut holes are adorably called "Munchkins", and adorably come in a lunch box-style carrying case
Un-adorable? You, after "I'm just gonna have a couple" turns into, "Wait... how are there only seven left?"

All of their food (breakfast sandwiches included) is made in-house, rather than pre-made and reheated
Also, one of those breakfast sandwiches is bacon and egg in between two glazed donuts. Yep, this whole thing is super-exciting news.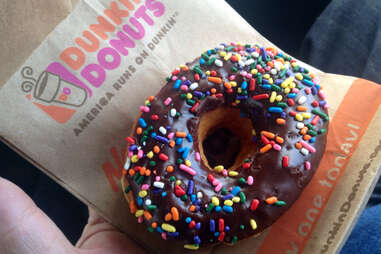 SaMo isn't the only LA neighborhood getting a Dunkin'
Three additional restaurants in Long Beach, Downey, and Whittier are expected before the end of the year, and franchisees have signed agreements to open nearly 200 stores in California by 2020. Two. Hundred.
Sign up here for our daily LA email and be the first to get all the food/drink/fun Los Angeles has to offer.
Jeff Miller is Thrillist LA's Senior City Editor, and thinks all breakfast sandwiches should be made with donut buns. Follow him on Twitter and Instagram.