A former World War II bunker, now a burger HQ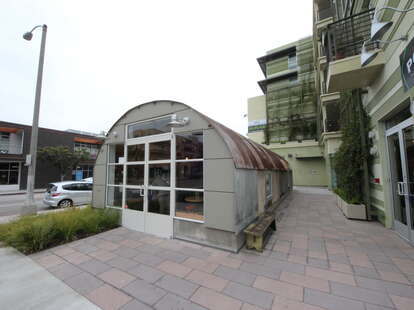 Pono Burger's a ground-beef palace from a lauded Hawaiian chef, housed in a location with an unexpected history... meaning: no, that thing you're looking at isn't a grow-house. Find out more by clicking on the image and starting up the glorious slideshow...
... the dining room for Pono Burger, the first LA ground beefery from a Hawaiian who made a name for herself burgering on the Islands.
This WWII-era bunker's a historical landmark, but now it's hiding something far more awesome than your grandparents cowering in terror:...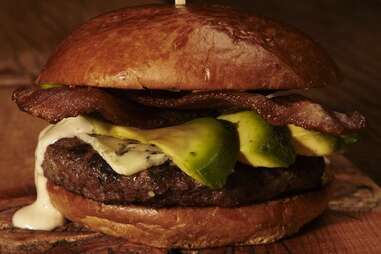 The menu's super-simple: 1/3-pound, handmade patties slathered with next-level toppings like cheeses from Andrew's Cheese Shop (one-year-old cheddar/Mycella blue/etc.), Niman Ranch bacon, fresh avo, and sauteed mushrooms...
... as well as rotating chef's specials, like the Mona Burger (w/ balsamic/organic strawberry compote) and the truffled-up Posh Burger, which you'll Gingerly admit isn't very Spicy... er... Sporty? Girl power!
Sides're simple but delicious -- hand-cut pomme frites, as well as these sweet potato guys served with bacon/chipotle aioli.
Drinks-wise, they keep the pigginess coming with a caramel sauce/bacon-bit milkshake (!) and a small selection of craft beers and wines, which, if over-imbibed, could definitely lead to your own D-day.