Why Do Good Restaurants Struggle to Survive in Santa Monica?
I always root for good restaurants to succeed in Santa Monica, but after years of disappointing closures, I've come to think of its dining scene as star-crossed. On one side, the city is locked in by the ocean, while on the other, it must contend with LA's dense sprawl and traffic, which often discourages many Angelenos from making the trek over here. Sure, they come for the beach and ocean breeze, perhaps to take out-of-towners for a stroll along Third Street Promenade, or -- if they're under 30 -- to hit up the Main St bar crawl. But unless they're Westsiders, not many feel like braving gridlock and battling for parking for their stomach's sake -- even if a celebrated and now shuttered restaurant like Aestus once served the best seared foie gras this side of the 405.
Over the past few years, a handful of restaurants have opened in Santa Monica with well-deserved fanfare. But for every shiny newcomer, there's a stellar eatery in the neighborhood that succumbs to closure -- whether it's a long-standing fixture like 18-year-old French bistro JiRaffe, or a relative newcomer such as the short-lived Cadet. Great restaurants -- not all, but many -- can't seem to make it here for very long, and we wanted to get to the bottom of it.
In some cases, the closings are in part due to a restaurant's natural lifespan. Take Real Food Daily, whose original Santa Monica outpost enjoyed a 24-year run before shuttering in April (the restaurant still has locations in Pasadena and West Hollywood). "Things turn," says owner/chef Ann Gentry, who pioneered organic, plant-based food long before the health craze. "Restaurants that have been around for two decades are going out of business because you have a new generation who wants something different."
Rustic Canyon

| Emily Hart Roth
It also doesn't help that the industry's notoriously tough. Beloved Rustic Canyon, celebrating its 10-year anniversary this December, only broke even in the beginning. "It's a tight profit margin business," says Josh Loeb, the man behind the Rustic Canyon group of restaurants, including Esters and Huckleberry. "For the first couple years of Rustic, we weren't making a whole lot of money."
However, even taking into account the industry's built-in struggles, Santa Monica's been slow to catch up to the dynamic restaurant scenes in Downtown Los Angeles, Koreatown, and Silver Lake. There are certainly gems, from full-service places like Tar & Roses, Cassia, and Mélisse to take-out spots like Bay Cities and Sweetfin Poké. But among those who love to eat and explore new restaurants, Santa Monica has a reputation as a mediocre foodie destination.
Welcome to the tourist trap
Lately, even warmly received, locally supported eateries can't seem to keep their doors open here. Some have enjoyed long-term tenure (Monsoon Café, Border Grill) and others scored decent runs (Hostaria del Piccolo, Rawvolution), but many barely lasted one or two years (Ciboteca, Cadet, Aestus, Maru). Santa Monica's proximity to the ocean, which makes it an alluring place to live and a tourist draw, is both a blessing (flip-flops year-round) and a curse (traffic galore). Although the increased foot traffic from visitors boosts the area's economy, it also means significantly congested streets. According to Jennifer Taylor, the city's Economic Development Administrator,
Santa Monica hosted 8.3 million visitors
last year (as opposed to
7.3 million in 2014
).
"In the last 20 years, Santa Monica has totally exploded with tourists," says Gentry. "The traffic is so much thicker that people don't want to leave their 'hood. Old customers of mine who live in Venice told me, 'We don't want to cross Ocean Park or Pico because of the congestion. We just don't do it for anything.' For me, less locals were coming in and my business was always based on locals." Brandi Hackett, the General Manager of 1212, which is housed in the former Monsoon, agrees: "Trying to convince a local to come to such a congested area is hard. Why would a local want to fight traffic, pay for parking, and get through the crowds for a two-hour dining experience? [Also], the Promenade hasn't been traditionally known as a dining destination, so we're trying hard to break that stereotype."
Santa Monica Place

| Flickr/Kevin Labianco
The influx of tourists also means the proliferation of shiny corporate chains, which offer out-of-towners familiarity and consistency. "When I opened 24 years ago, Santa Monica was a sleepy beach town," says Gentry. "This was pre-Promenade. Then Starbucks came and made a Frappuccino. They pushed out the independent coffee shops, the funky places, and they got the competition to come, like Coffee Bean and Peet's." Then there's Santa Monica Place -- once heralded as the city's crown jewel of a mall, replete with a spanking-new dining deck -- which hemorrhages restaurants (casualties include Pizza Antica, Redwood Grille, and Xino). Now, its pride and joy is a perpetually busy Cheesecake Factory.
But while tourists may appreciate the comfort and convenience of chains, locals crave a little more diversity -- leaving Santa Monica's dining scene in a tricky position. "Cheesecake Factory's always going to be the highest-grossing restaurant in the immediate vicinity of somewhere, but there's a lot of people living here, too," says Nick Meyer, the current Beverage Director at Sprout Restaurant Group, which includes Venice's Rose Café. "There's a fine line you have to draw with being approachable but exclusive enough to appeal to locals. Cheesecake Factory will never have a Santa Monica-centric dish; they'll just have their corporate menu that serves the lowest common denominator." (Mayer formerly headed up the beverage program at Santa Monica's highly regarded Brilliantshine, which closed in 2015 because of a reported partner split.)
"Right now, Santa Monica's trying to show the rest of LA that it too is a dining scene to check out," says Hackett. "There's a blend of boutique restaurants for locals and big chains that tourists are comfortable with. I think in the future restaurants here will start trying to find a happy medium. It's a hard market to be in when you're trying to make tourists and locals happy. The locals are what keep restaurants alive in the off-season, so if you don't appeal to them, you will never survive."
Parking and perceptions
Compounding the tourist and traffic issue? The lack of accessible parking. Mayer recalls how even the Brilliantshine staff had trouble finding spots, while Gentry says the situation has grown to be impossible over the years. "It used to be easy," she says. "Meters used to end at 6, now it's 8 or 9. You've got way more valet, so they take up spots. And look, nobody wants to go into the parking structure because getting out is so bad."
Plus, Gentry brings up another deterrent: "I know that homelessness is a terrible situation in our whole country, and it's certainly been accelerated in Los Angeles over the last five years in every neighborhood. I know that no one thing is going to solve it. But it really had gotten ugly in the alley we were on. Ugly, unsafe, and scary things were happening. That's not a reason to say, 'I can't do business here anymore,' but it was a factor because of people's safety. We have a lot of very generous people in Santa Monica that feel for homeless people, but how about all the crazy people that came by [my restaurant], the profanity, the flashing? You'd call the police and that's ugly and you've got that going in the front. Whether you're a local or tourist, nobody wants that."
Regardless of the actual impact of homelessness on safety, the perception held by many is that more homeless people equals increased crime. That could deter diners from visiting and new restaurants from opening in Santa Monica, which has a higher percentage of homeless people than other nearby affluent communities. To put it in perspective, a 2016 report counted 728 homeless individuals in Santa Monica (according to a 2013 census, the city's population is 92,472), whereas Beverly Hills, which boasts a population of 34,658, and West Hollywood, with a population of 35,288, have a homeless count of 13 and 87 respectively.
Rustic Canyon

| Emily Hart Roth
Rents on the rise
It doesn't take a real estate genius to figure out that doing business this close to the beach costs a premium, although according to former Aestus co-owner Rex Licklider, rents are just as steep in other desirable neighborhoods. "[Santa Monica's high rents do] make it more difficult to thrive in such an environment," he says. "The rents in Abbot Kinney, in Venice, Beverly Hills, and in parts of West Hollywood are equally high, but many restaurants are thriving in those areas. I believe supply and demand will eventually balance out and rents will seek a reasonable level."
City officials readily admit that high rents factor into many recent closures. Former Santa Monica mayor Kevin McKeown, who currently serves on the City Council, says: "When restaurants here close, it is often because their success spurred landlords to jack the rents when leases expired." And according to Taylor, the city has 396 dining establishments, so competition is stiff. "When people are spoiled for choice, it forces our businesses to stay ahead of the curve and offer the highest level of quality and service possible," she explains. "Several of the restaurants [that closed recently] were victims of rising rents. When a long-term lease expires or comes up for renewal, the landlord has the ability to raise rents to market rates. For some restaurants that have enjoyed long leases at lower rates, this can be quite a shock and forces them to re-evaluate their business model and location. This problem is not unique to Santa Monica."
By all accounts, Loeb's Rustic Canyon group is extremely successful, but even he experienced cost-related challenges when opening Cassia and Esters. "New legislation was passed halfway through our city planning permitting process, so we were delayed a year," he says. "The city worked with us toward the end, in large part because we had relationships with them already. We still had issues because people were waiting on jobs and our construction costs increased because we had to pay our architect and contractors for an extended work period, but we had other restaurants and our own salaries to live off of. We could wait it out, but most people, especially a brand-new business, wouldn't be able to. A lot of corporate chains would, but that's not who any of us really want taking over these businesses or buildings." Loeb worries that mom-and-pop restaurateurs aren't receiving enough government support. "Instead of someone from the city coming in with the mindset of, 'Hey, we want more independent businesses, so we are going to hold their hand through this process and have a common sense approach to expedite some of these things that are oppressive,' there's none of that. I think that's why a lot of people run into trouble."
Chickpea Curry at Cassia

| Flickr/T.Tseng
Loeb credits a good landlord, a good lease, and goodwill in the neighborhood for Rustic's initial success. "We had the time to figure it out," he says humbly. "We've been able to adapt because we have multiple restaurants in Santa Monica and having a good track record has allowed us to negotiate good deals with landlords." But nowadays, most aren't as lucky. "Some of the people I know who have had restaurants [in the area] just started in a hole," he explains. "They had to spend so much time going through the permitting process, getting caught up in delays, that by the time they opened they needed to kill it from the beginning. But it takes a while to get your sea legs, build your customer base, and become efficient in your kitchen and front of house. You've seen that in a couple restaurants locally that closed within the first year even though they were well-regarded. There wasn't enough space for people to learn and no part of the city has done anything to support that. The rent's overly expensive for what you can actually operate at unless you have a landlord who's willing to work with you."
A city that means well
That's not to say the city doesn't have good intentions -- which Loeb, a born-and-raised Santa Monica native, is quick to point out. "The city has a big vision for the way it wants to operate," he says, referencing the
Land Use and Circulation Element (LUCE)
of Santa Monica's General Plan. "There's great stuff in there about the environment, education, and so forth. When they talk about business, they talk about businesses owned by locals. In theory, they want to support [these businesses]. They're not like, 'We only want corporate chains,' but there's not enough awareness of the [challenges mom-and-pop places face with] rules and regulations. Any time you make the regulations for a business to operate harder and harder and you don't do anything to balance it out on the other end, the only people who can survive are those with deep pockets. If I'm Starbucks and I want a new location in Santa Monica, I can wait out a delay. If I'm a mom-and-pop who's taken out a loan, I don't have the time. Most landlords will make you pay rent during that time. So while the City of Santa Monica does a lot of great things for its residents, it does not do a good job of supporting independent businesses. The city doesn't do it intentionally, but it fosters an environment where the big corporate chains are best set up to succeed."
It makes sense. After all, Santa Monica's corporate takeover is happening in other metropolitan areas, too. Just like the federal and state governments, local authorities need to generate tax revenue to provide services to their constituents. And whether we like it or not, many believe larger corporations are more stable revenue generators, so local laws and regulations are tailored to attract the Starbucks, Gaps, and Apples of the world.
To its credit, the city has implemented policies intended to nurture restaurants, such as discounted sidewalk space. "The outdoor dining license fees are kept affordable in order to serve as an incentive," says Taylor. "This helps restaurants expand their visibility, increase seating, and take advantage of the climate. It also helps to make our commercial districts active and vibrant, so it's a win-win." Taylor says the city's leasing policy guidelines, which apply to city-owned property at the Santa Monica Pier and in Downtown Santa Monica, prioritize locally owned businesses. In the hopes of helping people navigate the city's permit and license process, they've also developed resource guides for starting a restaurant or cafe. And Buy Local Santa Monica, an ongoing free marketing campaign designed to raise awareness of local businesses, was first launched in 2009.
Courtesy of Border Grill
For chef and restaurateur Susan Feniger, whose venerable 26-year-old Border Grill just closed its original Santa Monica location this October (the restaurant's Downtown and Las Vegas joints remain), the city's been incredibly helpful. "I feel like we're supported by the city emotionally," she says. "I'm probably the worst [to ask] because I'm not that tied into everything, but whenever I've needed to call anyone, I've gotten a response back." But while Feniger's been a prolific influencer in Los Angeles's culinary scene for quite some time -- and likely has enough experience to navigate any operational difficulties -- the city's efforts may not be enough to assist mom-and-pops that are just starting out. "When I opened Rustic, I didn't really have any direct operational experience, so it was a pretty big learning curve," says Loeb. "You shouldn't have to have the strongest business acumen to open your own restaurant. That should be reserved for people who have a vision and passion, who want to serve the community."
The Third Street Promenade

| Flickr/Andrew Rollinger
Passing up on the Promenade
Aside from the obvious, like helping ease traffic and increase parking, what else can the City of Santa Monica do to support homegrown restaurant owners? Feniger thinks the key lies in developing less-trafficked areas. She's already announced plans to open a new, smaller (and still Mexican) concept in the neighborhood -- just not by the Promenade. "We're looking at a less touristy [area], a little bit off the beaten path, so [we'll] maybe draw more locals," she says. She also has a personal interest in Bergamot Station, a hub of art galleries by the new Metro stop. "It's the most amazing place," she says. "I'd love to see the city support that whole area because art is such an important part of culture. Bergamot should be open and booming on Sundays."
Maybe that's why so many mom-and-pop hopefuls are passing up the Promenade and adjacent areas. "There's the touristy Santa Monica, like Ocean Avenue, the mall, and Third Street," says Loeb. "Then there's the Santa Monica of our streets, our neighborhoods, where all of our restaurants are down Wilshire, and even some of the areas that don't have a lot of restaurants now but are cool, like Olympic, Colorado, and Broadway." Gentry, who identified issues with the landlord and building's infrastructure as the final deal breaker, isn't against returning to Santa Monica one day: "If I came back, I don't think I'd necessarily do downtown," she says. "I see Wilshire as an option. Twenty-four years ago, Wilshire was just a wasteland. It was a bunch of printing places and stationery stores, but now it's happening."
All the new development heading east might be a great thing for restaurants who want to attract regulars and create a local community. Mayer recalls how Brilliantshine's location, just outside the Promenade, allowed them to do so. "That [would be] tough for a place on Third Street," he explains. "It gets a little more impersonal because of the volume of people there for the first time and consequently for the last time because they're just passing through."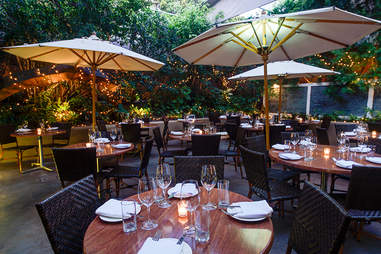 Courtesy of Michael's Santa Monica
The future of Santa Monica's culinary scene
Those who've lived or worked in Santa Monica for a long time say that the city's come far, even if it may have lost some of its cool, indie cred along the way. "[The restaurants] have become more sophisticated," says Feniger. "Blue Plate, Water Grill, Santa Monica Yacht Club, Milo & Olive -- all these places popped up in the last five, seven, years."
When Loeb returned here after living in food-centric cities like New York City, San Francisco, and Berkeley, he realized his was missing out on something: "Santa Monica had some high-end, special-occasion restaurants like Mélisse and Michael's," he says. "And then they had [Numero Uno]. There wasn't a whole lot in between." His solution was Rustic Canyon, which the community welcomed with open arms. "The story in Santa Monica is that you shouldn't open a restaurant here because everyone eats at home," he says. "The reality is that we do have access to a great farmers market and generally a lot of people have nice kitchens, so they can cook at home if they want. They're not going to go out unless there's something worthy. But as soon as something is worthy, they'll go crazy. A lot of restaurants, including ours, have seen that if you make something really good, people will go. Nobody wants to have to drive across town for a good restaurant. So the community here is very supportive of the restaurants they love -- at least in our experience."
Santa Monica has almost everything: beaches, balmy weather, beautiful homes, laid-back vibes. But even with all of its charms, the city's culinary scene still comes up short compared to LA's thriving food destinations. (Which is too bad, considering how much its residents appreciate good food). "I think a great city is when you hit on all cylinders and the people, environment, independent businesses, and physical beauty is supported," explains Loeb. "I think you want to have all those things going and it's the one part of the city that's kind of brushed off. We opened these restaurants in Santa Monica because we love it and we wanted to have good places to go to, not just because we wanted places to own. We want others to open great places here and it's frustrating when you see spaces taken up by corporate chains that don't have any soul or connection to the area."
The city insists that despite these adversities, opening a restaurant in Santa Monica is still highly advantageous. "For any challenges Santa Monica presents as an expensive, competitive location, the benefits are greater," McKeown promises. There's no shortage of people clamoring to do business in this beautiful city, including Makani Gerardi, who's the chef/owner of Pono Burger. "We chose Santa Monica because we wanted to be a part of this community, especially because it's always changing -- from the growth of the tech segment to most recently, the new Metro line. There are a lot of restaurants here, but there are also a lot of people to feed, so we just focus on doing that and doing it with care." Meanwhile, Licklider says that since Aestus closed, he's received numerous inquiries from restaurant operators about the location. No wonder new incarnations keep popping up where Santa Monica restaurants shutter: Real Food Daily's been turned into another plant-based concept, Erven; a modern Greek joint called Inotheke has set up shop in the old Hostaria del Piccolo space; and seafood restaurant Maré's taken up residence in the former JiRaffe.
Only time will tell if these dining establishments will survive and thrive -- and for the sake of our stomachs, fingers crossed they do.
Sign up here for our daily LA email and be the first to get all the food/drink/fun Los Angeles has to offer.
When she's not crusading for great restaurants in Santa Monica, Tiffany Tse freelances for Thrillist. Follow her on Twitter at @twinksy and Instagram at @twinksy.