Old Main St? Frat bar, pizza, frat bar. New Main St? Ramen! Date Spots! Artisanal coffee! (Frat bar! Pizza! Frat bar!) In just a year, Santa Monica's most-hopping thoroughfare has gone from Most Common Street Name in America to LA's Hottest New Food Corridor.
Here's everywhere you need to eat before the rest of LA finds out.
Recommended Video
These Taco Shells Are Fried Chicken
What you're getting: Ashland Hill Burger
Posting up at the old Wildflour Pizza space, new restaurant/beer garden Ashland Hill serves up way-better-than-your-average-gastropub fare, like a crisp, crack-level-addictive(-we-assume-even-though-we've-never-done-crack) cauliflower dish. Not down with cauliflower? FINE. Hit the Shishito Mac & Cheese; an obscenely juicy half-chuck, half-short rib burger; and a range of well-chosen beers (including an ultra-tasty peanut butter stout) instead. Pro tip: make sure you're hitting them on its outdoor patio.
 
What you're getting: The Benedict Flight
All you really need to know about brunching at Fork in the Road is that the menu features a Benedict Flight, meaning you get not one, not two, but THREE of 'em smothered in a creamy hollandaise sauce.
What you're getting: Grilled country-cut Niman pork chop
The unmarked storefront on Main where Joe's Diner used to be is the brainchild of another Joe... Jonas, that is. Along with several actual restaurateurs, the middle Jonas bro recently opened up this understated eatery, which serves up both Southern-slanting dishes (shrimp and white cheddar grits) and seafood-y goodness (charred octopus salad).
What you're getting: Ramen. Duh.
Ramen fiiiiiiiiiiiiiiiiiiiiiinally comes to Main St thanks to Jinya Ramen's latest outpost. You'll find Westsiders slurping noodles in a thick, rich, cholesterol-spiking broth that's crazy filling; it's also got insane pork belly buns and a dynamite scallop-and-crab-and-mayo, uh, dynamite.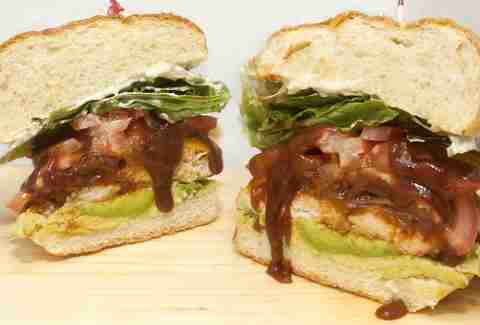 What you're getting: Shoops' Famous Bacon Pancakes
Because why wouldn't you want to go shopping after inhaling thick-cut, house-smoked bacon-stuffed pancakes? Shoops -- the newly renovated neighborhood joint -- also has a market where you can stock up on imported European snacks like authentic Haribo licorice and hard-to-find jams, mustards, caviar, and chocolate.
What you're getting: Salted Caramel gelato
Speaking of Shoops, its new next-door gelato place is another European import opened by a bunch of Italians who decided Santa Monica needed real gelato in a rotation of flavors like Salted Caramel, Strawberry Cheesecake, and Ricotta, all made in-house.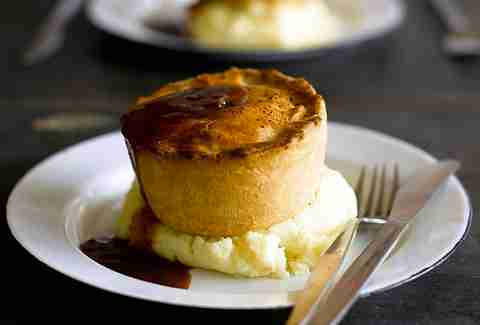 What you're getting: Lamb & Rosemary pie stacked with Yukon spuds
In order to maximize Aussie Pie Kitchen's flaky, meat-filled carb bombs, you'll want to add a "stack" to your order -- which basically means it'll be layered with your choice of gravy, mashed potatoes, and more. Hello, hangover cure.
What you're getting: Miso beef omosubi
This quirky spot slings made-to-order rice balls and froyo by the beach, a random combo that somehow works perfectly. Try the tuna mayo or salmon-stuffed version (of the rice balls, duh), or if you're feeling even more ballsy, a more traditional Japanese flavor like sautéed miso mushroom or pickled plum paste.
What you're getting: Whatever, so long as you're also getting coffee
A local favorite ever since it opened its doors three years ago, Dogtown Coffee serves up good organic-brew coffee, savory burritos and bourekas, and acai bowls -- with zero pretense. Okay, maybe just a little pretense.
What you're getting: Green Apple Italian ice
Main St clearly isn't hurting for great ice cream -- which is why you go to Rita's when you're in the mood for other kinds of frozen deliciousness, like Italian ice made with actual fresh fruit and velvety-smooth cold custards.
 
What you're getting: Chocolate Peanut Butter Cup (and, okay, Lemon Cookie)
No, this isn't a reference to your secret sex fantasy, it's BETTER THAN THAT, KINDA: an ice cream shop that set up its first non-Bay Area shop on Main last summer, where it's been scooping delicious classic-with-a-twist flavors like Land of Milk and Honey and Lemon Cookie ever since.
What you're getting: Anything with burrata
It's hard to go wrong with pizza, but throw in an open kitchen (where you can watch cooks tossing the dough), a perfectly balanced crisp/chewy crust, and toppings like shaved mushroom with truffle, and it's even harder to go wrong.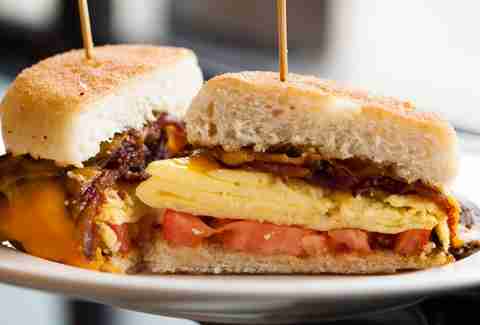 What you're getting: Huevos rancheros
On any given weekend morning, you can assume the crowds at M Street Kitchen are gathering for under-$6 mimosas, Bloody Marys, and Baileys and coffee -- though the Orange-Chocolate Chip Pancakes and huevos rancheros are also possible culprits.
Sign up here for our daily LA email and be the first to get all the food/drink/fun Los Angeles has to offer.
Tiffany Tse is a freelance contributor for Thrillist and looking for a place near Main St (and not just because she wants to be within walking distance of charred octopus salad). Send tips her way via Twitter at @twinksy and Instagram at @twinksy.