Drive Back to the '90s with a Scream-Themed Happy Meal at This Collab Dinner
Unmasking BJ Novak and Chef Tim Hollingsworth's latest nostalgia-fueled pop-up dinner.
Photo by Justin Slade McClain, courtesy of Chain
You're crammed in the back seat of a Ford Taurus with three friends, squished up against the window on a chilly winter evening. The car crawls through traffic and "No Diggity" plays quietly on the radio. The car inches ahead until you reach a window, and someone hands over a bag—you have made it to the end of the drive-thru—and it's full of burgers and fries. It is 1996 and life is good; you're on your way to see Scream.
Those were the good old days, back when things were simpler, easier, better. But those days don't have to be gone forever—Scream VI comes out in a couple weeks, and the wild pop-up dinner series Chain has partnered with Paramount Pictures and Spyglass Media Group to bring a beloved meal from the past into the present, just like the iconic slasher film series. In the run up to the movie's release, Chain is recreating and reimagining the classic McDonald's Happy Meal as a Scream-themed Stabby Meal, with a Bone Marrow ChainBurger, Throwback Fries, and Woodsboro Orchards Apple Pie.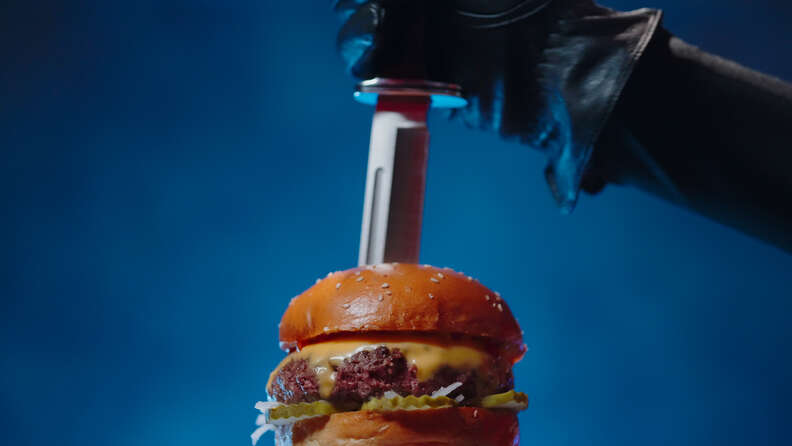 Chain is the brainchild of Chef Tim Hollingsworth, actor/writer BJ Novak, and a host of other cool kids, a project that started as a bit of pandemic silliness and evolved into West Hollywood's hottest dinner party, with a guest list that has included Chrissy Teigen, Mindy Kaling, Finneas, John Mayer, Kiernan Shipka, and more. For every pop-up, the Chain gang picks an iconic dish from a chain restaurant then chops and screws it into something new, elevating hits like Taco Bell's Crunchwrap, BJ's Pizookie, Chili's Southwestern Egg Rolls, and Outback Steakhouse's Bloomin' Onion. They recreate them with high-quality ingredients, precise technique, and a chef's touch, bringing your childhood favorites back to life in exciting, modern ways.
Hollywood loves a nostalgia play, and any intellectual property with the slightest glimmer of residual attachment gets a gritty reboot, so it was only natural that the industry would come calling for Chain's specific brand of updated old-school chain food.
Scream VI hits wide release on March 10, and Chain's killer combo will debut at the Chain house in West Hollywood on February 24th. The Extremely Medium Sized Bone Marrow ChainBurger comes as a half-pound bone marrow beef patty topped with American cheese, pickles, onions, ketchup, mustard, and Chain's umami seasoning blend all on a poppy seed bun. The Throwback Fries are simple, classic fries done right. And then Woodsboro Orchards Warm Apple Pie is, of course, a take on McDonald's Baked Apple Pie, a hand-held cylinder of hot apples and cinnamon.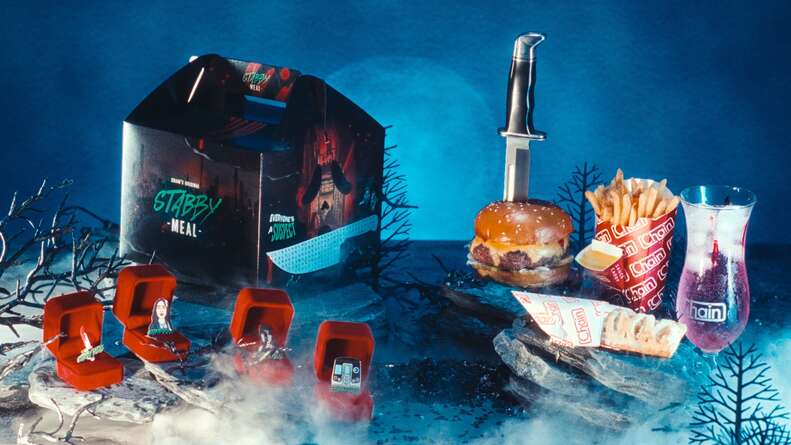 And it wouldn't be a Happy Meal without a toy—in this case, one of four collectible pins, featuring a bloody buck knife, a subway car, and two of the actresses who star in the movie, Jenna Ortega and Melissa Barrera. The promo video is set to drop later today, featuring Roger L. Jackson, who voiced the original Ghostface in the 1996 Scream.
To get on the list is the same process as a typical Chain drop—if you sign up through their Instagram, you'll get a text alert when reservations open up, and you'll be able to follow instructions to register to attend one of the pop-ups.
Then head to the house, walk through the psychedelic chain-restaurant interior and pick up your food. Take a bite of that thick and juicy bone marrow ChainBurger, and think back to the '90s again—maybe some things are better today, after all.
Ben Mesirow is an Echo Park native who writes TV, fiction, food, and sports. At one time or another, his writing has appeared in The
LA Times
,
Litro
,
McSweeney's Internet Tendency
,
Los Angeles Magazine
, and scratched into dozens of desks at Walter Reed Middle School.