To Get the Best Food in Los Angeles, It's Not Who You Know: It's What You Know
Recently, two of the senior editors at Thrillist came to visit LA from NY and New Orleans. I've been the LA editor for a long time -- nearly a decade -- and I know when the top brass visits it's time to pull out the big guns and eat the best meal possible in the city. Which is why I told them not to get dressed up at all, to buy a couple beers or bottles of wine, and that we were going for dinner at a guy's house in East Hollywood.
If you've been to New Orleans or New York, you know that they were confused -- but if you're someone who's involved with the food scene in LA, even casually, nothing about this equation sounds weird at all. In fact, we're all used to the presumption of laid-backedness that infuses the scene here so much that even the oddball way to get in to this house party is something we'd never question: a spot at the massive wood table in his living room/kitchen didn't come through traditional make-a-phone-call-and-hope-there's-availability means -- instead, the open-seating table was full of people who'd applied through a waiting list, letting the host know a bit about them while competing with thousands of other people for a chance to be among this curated guest list of diners. There's no OpenTable page, no phone number to call, and no maitre 'd; all there is is an overfull email box and crossed fingers.
Of course, the guy whose house we were at isn't just any guy: it was Craig Thornton, whom the New Yorker once called a chef with "above-ground legitimacy, with underground preeminence." He's revered by chefs all over the world and could, with just a quick phone call, get the kind of funding other young chefs dream of -- yet chooses to operate his not-a-restaurant-restaurant Wolvesmouth out of his own comfortable home in a neighborhood you would barely expect to find a fast-food joint in, let alone a pop-up with a perfect five-star Yelp rating. (Seriously, his next door neighbor is a liquor store; the rest of the street is completely unassuming apartments. It's a guarantee that the only kitchen with an immersion blender in it on the block is the one we're in.)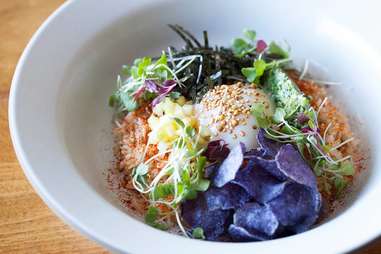 The dinner, unsurprisingly, was phenomenal, a nine-course smorgasbord that started with a squid-ink sauce-covered ribeye cap and shimmied into seafood dishes like an ocean trout with potato gallette. The format began with the heaviest dishes and transitioned to lighter, rather than the traditional start-light end-heavy routine -- an inventive twist that in the hand of a lesser chef would seem gimmicky, but here was clearly a choice defined by confidence and not contrarianism. Each dish was prepared right there in the kitchen in front of us, which guests were invited into both to observe and, if they were available, to wash dishes; that communal experience only added to the casualness of what, in most other circumstances, would be considered fine dining (case-in-point: when was the last time you were at a dinner party where the host just whipped up a rabbit-lobster raviolo with fresh bechamel, then enhanced it with broccoli and... apricot?)
The whole thing was effortless: the music was blasting, people who had never met were talking. In short: it felt so LA.
And it's far from an outlier: while we were at the table, I started throwing around have-you-been-there-yet recommendations with the couple next to me and a common theme about LA dining became obvious -- the barrier to entry at LA's best restaurants isn't reservations, as it is in almost every other major city in the country, but knowledge.
It's not just knowing which chefs throw secret pop-ups in their house, though. It's knowing which strip mall the bizarre, yet amazing James Beard-nominated fermented grain bowl restaurant Baroo -- which has no sign -- is in; or what Melrose address to walk through to get to Maré, Eric Greenspan's all-outdoor seafood-and-noodle date spot. Neither of those spots could ever exist as they are in another city -- with no reservations, with menus that won't break the bank (you could conceivably get out of either for less than $20 per person) and with full access to anyone, so long as you know where to go. And even a place like Wolvesmouth, despite its reputation, isn't exactly breaking news at this point: Thornton's been one of LA's most revered chefs for almost five years, and the "secret" aspect of his restaurant, if you're someone who follows these things, is actually far from secret at all -- despite how difficult it sometimes may be to actually get in.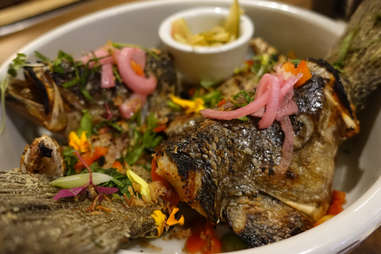 People who still hold onto their Los Angeles conceptions from the '90s and early '00s think of it as the home of the velvet rope, but that exclusivity has transformed into a new era of inclusiveness -- provided, of course, you know where to go and how to get in. (This concept also applies geographically to our vast city: if you're in Hollywood and you're talking about dim sum, your proverbial red velvet rope is navigating traffic on the 10; likewise a drive from Pasadena to Santa Monica for a rooftop ocean view means the wont to ignore traffic and common sense). It's made even haters of LA's notoriously non-stuffy food culture take note: the generally snobbish New York Times has been raving about LA's dining scene all year (a recent piece focused rightly on the tiny-tiny, totally casual, barely marked Sqirl and the not-a-restaurant-stand Eggslut leading the charge of what they called the City of Breakfast) and the new Bravo digital show Going Off The Menu focuses exclusively on Los Angeles's underground food and booze scene. (Full disclosure: I worked on the show and appear in an episode -- mostly because I rave about this stuff all the time.)
More examples, both of secret dinners that let their freak flag fly and amazing food in unusual locations abound. Disco Dining Club, is a bi-monthly (or so) over-the-top party that's the brainchild of a Studio 54-obsessed woman who lives by the mantra "Consume Everything." The secret DTLA location for her last party was a quick Uber ride from the hipster-central Arts District, rather than in an extraordinarily out of the way location, which would be the by-default case in a more-typical metropolis like NYC. The actual site? A massive warehouse used as a costume design shop by day -- clearly bartered for by the host. And again, that's not an outlier: I've been to Top Chef-cooked dinners in apartments overlooking WeHo and dinner parties with performances by Coachella-level bands in soundstages used for porn shoots, and if you're doing LA right, you've eaten the best goddamn tacos you've ever had in someone's backyard or in a parking lot of a gas station; it's that adaptability and openness, not to mention the creative pull of the city, that makes this city so unpredictable -- and so special.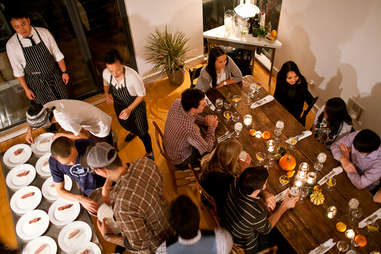 Look, of course there are more-traditional restaurants that are totally worthwhile: for every Button Mash/Starry Kitchen success that starts as a pop-up and makes it big, there's a Bestia that follows the traditional model and delivers on all counts -- and even though reservations are tough to come by, even they allow a certain amount of at-the-bar walk-ins every night. But this rush -- it's too big to call a trend -- of casual, unpretentious restaurants that don't follow any sort of formula has become the lifeblood of the city, driven not just by LA's creative culture but by our relatively modest rents and our open-ended geography; it's much easier to have a kitchen big enough for a massive dinner party here than it is in Chicago, and much easier to find an empty warehouse in LA than it is in Boston. And anyone who's involved with the creative sectors in LA has seen New Yorkers and San Franciscans coming in droves due in no small part to the untenable rents in those much-geographically smaller cities: they bring with them both great ideas and the possibility of a huge hike in property prices in the next couple years; between that and restaurant-industry minimum wage disputes waging right now, this burst in creativity may be on a precipice.
That means that right this very minute there's a whole slew of people doing very creative things with food who want you to share in that experience, and there are just as many eager people who have already eaten that food and are ready to tell you about it, which is how the cycle continues: you're going to eat at an amazing Korean BBQ spot because you heard people talking about it while you were eating tacos inside that gas station. The beauty is that it doesn't take much for you to become one of the people who's in the know -- all it takes is one bold afternoon waiting in the line you've seen by that strip mall sushi place, or a late-night stop to the one food trucks in your neighborhood that stays open past 3am. And as soon as you've got one part of that knowledge, it's up to you to share it with everyone else -- because nothing fosters a growing community like being an active part of it. Especially if you never need to change out of your jeans.
Sign up here for our daily LA email and be the first to get all the food/drink/fun Los Angeles has to offer.
Jeff Miller also sometimes just eats at Doughboys. Find out where he is right now at @Jeffmillerla on Instagram and @ThrillistLA on Twitter.