Shake Shack 101: An LA Beginner's Guide
Hey, Los Angeles, it's me, Thrillist's New York editor. So, you're finally getting Shake Shack! Exciting! First things first: why exactly wasn't this part of some sort of trade-off where New Yorkers got In-N-Out in exchange... ? I mean, it's fine... we're COMPLETELY FINE...
But to prepare you guys (who, again, I in no way harbor any resentment towards) for all the ShackBurgers, crinkle-cut fries, and frozen custards that are about to be supplementing your Double-Doubles, animal-style fries, and shakes, here's a handy cheat sheet of everything you need to know about Shake Shack.
It started as a hot dog cart
Many forget that Danny Meyer's burger empire began as a hot dog cart in Madison Square Park. The cart opened in 2001, as part of an art installation called "I Heart Taxi," and lasted two summers before a permanent kiosk opened in June of 2004 -- and from there came the burgers. Meyer actually drew the idea for the "roadside burger stand" on the back of a napkin. No word on whether or not it was used afterwards.
You'll still like it, even if your heart belongs to In-N-Out
People often try to compare Shake Shack and In-N-Out, but even though they're both elevated burger chains, they're totally different. Which is to say, no, you won't have to hide your Shake Shack receipts and burn all your clothes and take several showers post-burger consumption so your wife doesn't know you've been cheating on In-N-Out. Shake Shack's burgers are made with all-natural Angus beef and come cooked medium (though you can request another temperature if you'd like) on a Martin's potato roll. The go-to order is the ShackBurger (get a double) with cheese, lettuce, tomato, and ShackSauce -- which is a Thousand Island-style sauce like In-N-Out's, but far less sweet and more mustard-y. If you're a vegetarian, go with the equally great 'Shroom Burger, which features a fried portobello mushroom filled with lots and lots of oozing cheese, L + T, and ShackSauce.
And because it did start as a hot dog cart, you'll also find split flat-top grilled dogs like the Chicago-style Shack-Cago Dog (shown above) topped with relish, onion, cucumber, pickle, tomato, and pepper. And don't forget the crinkle cut fries! If there's one thing we can say definitively about Shake Shack vs. In-N-Out, it's that Shake Shack's crispy, salty crinkle-cut fries beat In-N-Out's fries by a landslide. Add cheese.
The newest surprise standout item isn't a burger
Last year, Shake Shack introduced the ChickenShack, a fried chicken sandwich that rivals those from some of NYC's best non-chain restaurants. It's simple but carefully executed, with perfectly crispy and well-seasoned chicken breast, lettuce, pickles, and buttermilk herb mayo on a potato roll. For a while they were only available in Brooklyn, but now they're they're available nationwide. How will it stand up to LA's fried chicken? That's for you to decide.

There's a secret menu
Since you've surely already eaten your way through In-N-Out's secret menu (and no doubt have very strong opinions about it), you'll be happy to know that once you've worked your way through the regular menu at Shake Shack, you have a secret menu to explore as well. Secret menu items include a peanut butter & bacon ShackBurger, a quad burger (à la In-N-Out's 4 x 4), and a grilled cheese (with buns flipped inside out pre-grilling). If they can't put something together for you behind the counter, you'll have no problem getting all the supplies to do it yourself -- as long as you know how to order.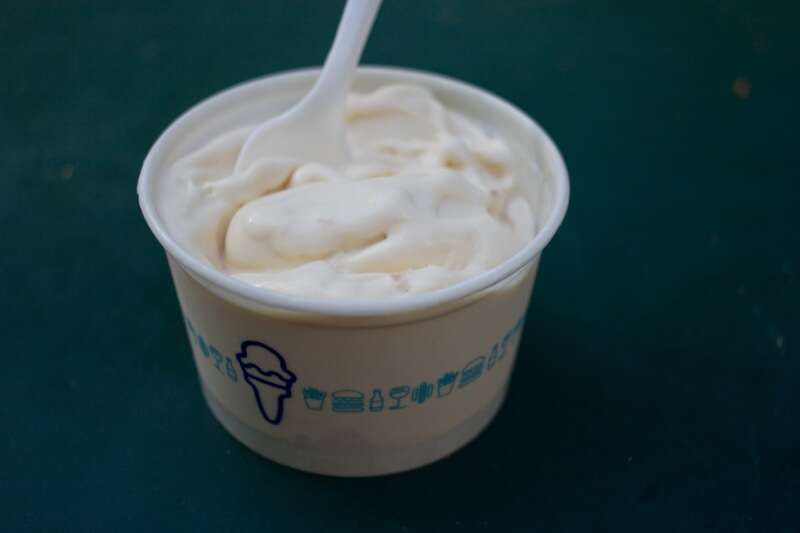 Don't forget dessert
It's in the name, so you'd be remiss not to order a shake, available in vanilla, chocolate, caramel, black & white, strawberry, peanut butter or coffee. But Shake Shack's also known for its insanely good frozen custard ice cream (called concretes), which are customizable with a variety of mix-ins.

There's booze, too
Because no burger should be consumed without a beer, Shake Shack offers its own Shackmeister ale on draft, made in conjunction with Brooklyn Brewery. There are also a number of bottled beers, as well as wine.
Sign up here for our daily LA email and be the first to get all the food/drink/fun Los Angeles has to offer.
Lucy Meilus is Thrillist's New York editor and doesn't even want an In-N-Out OK?! Follow her on Twitter and Instagram.