Holy Shit! Shake Shack Is Finally Coming to Los Angeles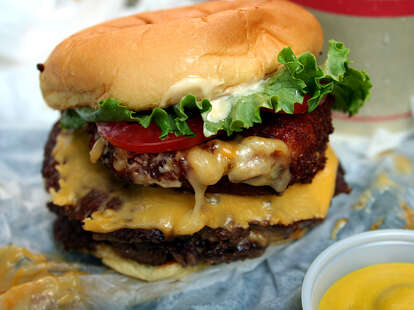 Shake Shack, Danny Meyer's wildly popular NYC-based better burger chain, announced Tuesday morning it has plans to finally expand into In-N-Out Burger's turf as soon as next year.
As part of its plans for global burger domination after going public earlier this year, Shake Shack said it will open its first-ever store in Los Angeles in 2016 -- right in the middle of West Hollywood at the corner of Santa Monica Boulevard and West Knoll Drive, a mere 2.5 miles from the nearest In-N-Out store, on Sunset Blvd. Which means that with a short drive, Angelenos will be able to visit both Shake Shack and In-N-Out consecutively, and finally put to rest the debate: which is better, West Coast In-N-Out or soon-to-be bi-coastal Shake Shack?
"We've heard from our West Coast fans for years that they'd love a Shake Shack in California, and at long last, we're delighted to say Shake Shack LA is on its way," Shake Shack CEO Randy Garutti said in a statement. According to Shake Shack's release, the new shack will be a freestanding building at 8520 Santa Monica Boulevard and is designed to look like a "roadside" stand with parking and a huge outdoor patio space.
The announcement doesn't include an exact opening date, but we'll keep you updated when we find out more.
Tony Merevick is Cities News Editor at Thrillist and hopes LA is ready for the lines! Send news tips to tony@thrillist.com and follow him on Twitter @tonymerevick.