The Best Donuts We've Ever Had Are Finally in Santa Monica. Seriously.
Since Sidecar Doughnuts opened in Costa Mesa in 2012, anyone we know who's been willing to drive to Costa Mesa for breakfast has been espousing ridiculousness about the donut shop, saying it's the best thing since the fryer was invented, mythologizing its process, and just generally ensuring we feel guilty for not living in Costa Mesa.
Well, guess what: the Santa Monica location finally opens tomorrow, November 17th. We went for a preview and it turns out we should stop doubting our friends; all the stuff they've been yelling at us is true, plus these donuts are damn incredible. So that you can start planning exactly what to order in the AM, these are our favorites, plus a shot of the inside 'cause we know you were wondering, and it's actually seriously good looking.
Timothy Norris/Thrillist
This is a huckleberry-glazed huckleberry donut. Actually, it's many huckleberry-glazed huckleberry donuts. And like all of Sidecar's donuts, they're made individually by hand, instead of on a machine.
Timothy Norris/Thrillist
These? Oh, when the glaze melts, they'll be covered in cinnamon crumbs. And, like the rest of the donuts, they'll be remade every hour, so you never get one that's not fresh.
Timothy Norris/Thrillist
This month's fresh releases also include this apple fritter, with a vanilla bean glaze; like many of Sidecar's best donuts, it's crispy on the outside and chewy in the middle, thanks to a totally hands-on frying process that guarantees hardcore quality control.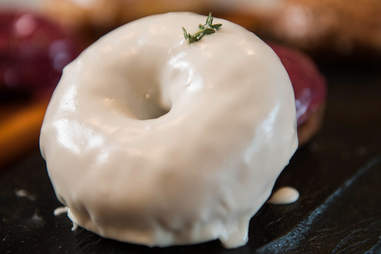 Timothy Norris/Thrillist
Another of the monthly specials: lemon and thyme, which is a cake donut actually flavored with thyme in the mix. And right now, it's thyme to get one in your mouth. (Sorry.)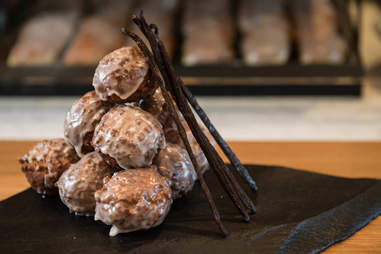 Timothy Norris/Thrillist
These buttermilk/nutmeg drops are like Dunkin' Munchkins... if Dunkin' Munchkins were the best donut holes you've ever put in your mouth.
Timothy Norris/Thrillist
You're gonna find this hard to believe, but it's true: this dude up front is a savory breakfast donut, stuffed with a poached egg, Benton's ham, and basil hollandaise sauce. Seriously. And it's flanked by some other serious contenders for our new favorite breakfast (or, like, anytime): Southern Gentleman Pecan Pie, and Pumpkin Fool (with whipped sour cream).
Timothy Norris/Thrillist
Oh, and seriously, look how nice it is inside!
Sign up here for our daily LA email and be the first to get all the food/drink/fun Los Angeles has to offer.
Jeff Miller may be the king of hyperbole, but for real, these donuts are absolutely incredible. He took some other pictures that are on his Instagram and Twitter, too.