For whatever reason (because it's so far South? Because bays are intimidating??), the South Bay doesn't get a whole lot of love when it comes to food. The thing is, though, it totally should, which's why we turned to one of its most outspoken advocates: beloved BBQ pitmaster Neil "Bigmista" Strawder, who just opened his first-ever brick & mortar spot in Long Beach after years of killing it at farmers markets and events throughout LA.
Here are his picks for the South Bay's 10 must-visits.
Gardena
The Lowdown: This surprisingly nice, totally off-the-radar, strip-mall Peruvian place balances traditional foods with unique presentation.
Bigmista says: "This spot is definitely a find -- the classic Saltado de Pollo (stir-fried chicken, tomatoes, potato, and onions served over rice) and the adventurous Pescado a lo Macho (shrimp, squid, mussel, scallops, and octopus w/ aji amarillo creamy sauce on fish filet with rice) are both served with flair."

Long Beach
The Lowdown: This pizza joint has you covered with both wheat- and original-crusted pies topped with unusual options -- like the Bixby pie with pine nuts and goat cheese, and an Indian tandoori option with jalapeño, cilantro, and spiced chicken.
Bigmista says: "Surprisingly, I don't come here for the pizza: the salads are huge and inexpensive. They come in small, medium, and large, but I have to be super-hungry to even finish a medium. My favorite is the Works, with romaine, tomato, cucumbers, mushrooms, black olives, onions, croutons, and ranch dressing -- for $6.95. Did I mention it was huge?"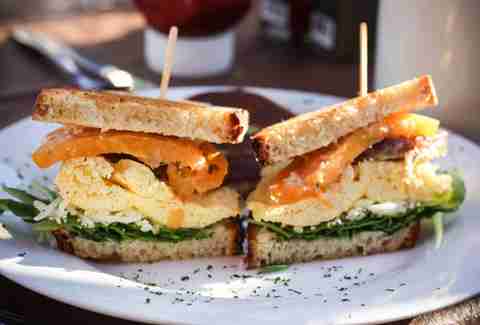 Long Beach
The Lowdown: Right by the beach, this family-run spot's got a married team of restaurant veterans, with a massive menu of grease-laden greatness.
Bigmista says: "I am hooked on the 'Hung Over.' It's two eggs scrambled with cheese and sausage, served over french fries, and smothered with Nana's sausage gravy, with house pico de gallo & spiced sour cream. It'll definitely soak up last night."

Long Beach
The Lowdown: This mini-chain also has a location in Bellflower, and both serve Mexican goodness ultra-casually.
Bigmista says: "I like Mexican food, but I rarely love Mexican food because it's pretty hard to distinguish one taco from another. But at El Picosito, I found my standout burrito: the lengua is truly excellent, tender, and flavorful. And here, I always said I wouldn't eat tongue because I didn't want to taste anything that would be tasting me back."
Manhattan Beach
The Lowdown: This beachside fishery's got all sorts of Japanese goodness, from soba to tempura, as well as an all-you-can-eat sushi option.
Bigmista says: "Need to pound some sake and Sapporo while watching a game? Want some really fresh sushi and sashimi? This is your place -- it's great to take some friends to without getting all dressed up."

Bellflower
The Lowdown: Angels memorabilia hangs in this no-frills pizzeria, which's got a surprisingly well-curated craft beer list alongside its pies.
Bigmista says: "Now, THIS is my pizza place. Great crust, lots of cheese, and fresh ingredients make the pizza head and shoulders above anything else in the area. Get the meat-laden Carnivore -- you'll eat the whole thing in one sitting. Promise."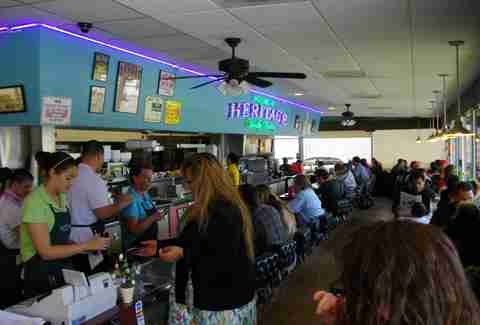 Lakewood
The Lowdown: This homestyle diner's one of those places that feels like you've been there hundreds of times, even if you've never been there one time.
Bigmista says: "You can get a great meal here anytime, but breakfast is my favorite -- if you're brave enough, get the LA Marathon: three eggs, two french toast triangles, two pancakes, ham, bacon, sausage, and home fries. You probably need to run a marathon to work it off, but it's worth it."
Long Beach
The Lowdown: Already repped on our best Southern Food list, Sal's is ultra-legit comfort food, straight from Louisiana.
Bigmista says: "Sal's is one of the very few places that I will eat gumbo outside of my home."
Torrance
The Lowdown: This beloved ramen mini-chain's Torrance location has long been a mecca for slurpy noodle enthusiasts.
Bigmista says: "I'm sure there are a lot of ramen dishes at Yamadaya, but I can't get past the tonkotsu. The pork broth is simmered twenty hours for maximum flavor -- and you can taste ALL of it."
Long Beach
The Lowdown: This date-friendly seafood restaurant comes with a Cajun bend.
Bigmista says: "This is seafood bliss -- you can get anything from lobster and king crab legs to fish tacos, and it's all done well. But you've got to have the Cajun Dirty Fried Rice. It's awesome, and big enough to share."

You can find Neil "Bigmista" Strawder on Twitter at @bigmistasbbq or stop by Bigmista's Barbecue and Sammich Shop in Long Beach to hash it out over brisket and ribs.

Sign up here for our daily LA email and be the first to get all the food/drink/fun Los Angeles has to offer.

Jeff Miller is Thrillist LA's Senior City Editor, and Bigmista's spot is one of his favorite BBQ places in the city. He's at @jeffmillerla on Instagram and @ThrillistLA on Twitter.