The Best LA Super Bowl Takeout and Delivery for Sunday
Now that LA is about to become a two-football-team city, maybe someday we'll all be proudly rooting our home team on in a Super Bowl -- and when that happens, the sports bars in town'll be the place to do it. But for now, the best spot to watch the game is at home, which means upping your takeout game, which is why we're here. Here are seven places with killer takeout or delivery deals for the Big Game.
Charcoal
Venice
We think the manly menu at Charcoal -- where nearly everything gets cooked over an open flame -- kinda lends itself to game-day fare, and Executive Chef Josiah Citrin clearly agrees. His Super Bowl Sunday package includes plenty of menu staples like smokey grilled chicken wings, lamb and pork ribs, bacon-and-havarti-laced chopped salad, and coal-roasted shishitos (which you can use to halt any complaints from the vegetarians). It'll cost you $30 a person with a four-person minimum and it's pick-up only. Place your order by EOD Friday.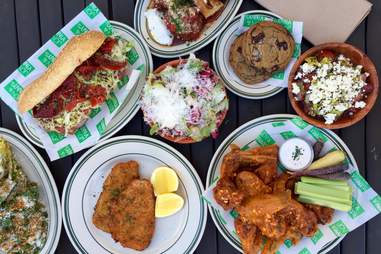 Brianne Chan
Fairfax
Leave it to the guys with one of the most beloved pizza-and-pasta places in town to come up with an insane amount of amazing Italian food you can use to become the best Super Bowl party host ever. They'll be doing takeout trays of various pastas, salads, and that legendary chicken Parm, along with more expansive to-go party packs complete with cheeky names. The smallish "First Down" deal ($275) has enough wings, salads, meatballs, and Italian deli sandwiches to serve around six to eight people and the packs get bigger from there, topping out at "The Touchdown" for 50, which also adds serious helpings of chicken cutlets, spicy fusilli, wings, antipasto, and a few desserts to the mix. Each comes with a pairing option of Italian wines and plenty of Peroni (ranging $55 to $600) or you can go with something more serious wines from in-house wine shop Helen's. And they'll deliver the whole shebang, too, God bless 'em. Order by 4pm on Friday.
Courtesy of Belcampo
Various
This restaurant-slash-butcher shop has some pretty good deals you can order last-minute from all three of their LA outposts. The "2 for $20 special" lets you mix and match quarts of chili, soups, and ground beef for DIY burgers, and they're also doing half-price kielbasa, chicken, and old-school sliced pepperoni. And in the pets are Super Bowl people too category, you can buy Belcampo's raw green tripe for your dog for half price too, to thank him for giving up his spot on the couch to all those people you invited over. Pickup only, and, in case you want more of the same next week, deals will run through the rest of the month.
Contemporary Catering
Contemporary Catering
Encino
If you're confident that wager you placed in Vegas last week is going to hit and are ready to celebrate with an epic party, call this high-end catering outfit. Yes, it'll cost you, but owner Nathaniel Neubauer says he and his crew can customize a high-end event at your house with as little notice as the morning of... and you can add whatever over-the-top extras you feel like. (A mini-football stadium on the dining room table for displaying the food? Sure. An army of servers wearing team jerseys? If you like.) The company will work with you on a menu of your faves, but you can get some inspiration from this sample Super Bowl Sunday menu, touting gourmet game day fare like Gruyere queso fundido, ginger-lemongrass strip steak skewers, and apple BBQ pulled pork sandwiches with lime-and-peanut-butter slaw on brioche.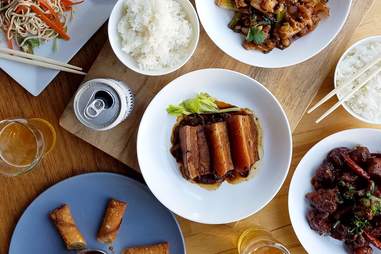 Little Fatty
Mar Vista
Mar Vista's increasingly popular new Asian concept (formerly Status Kuo) will be doing spreads of what chef-owner David Kuo has dubbed Taiwanese soul food for your Super Bowl enjoyment. For $20 a person (with a six-person minimum) you'll get white rice, orange chicken, and a sampling of the deep-fried fare Kuo is best known for, including egg rolls, popcorn chicken, and fried wontons. Get your order in at some point Friday and pick up between 11 and 1 on Sunday.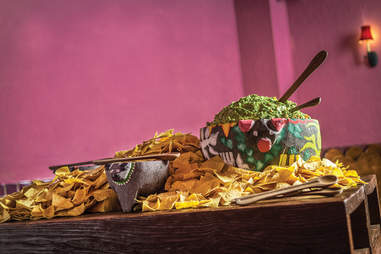 Rosa Mexicano
Downtown
This colorful LA Live spot knows there are plenty of people out there who still insist on calling their Super Bowl party a "football fiesta" and they're here to help. The goofily named "Guac Bowl" menu offers taco and enchilada platters galore (at around 100 bucks each, meant to serve eight to 10 people), along with a cheaper flautas and empanadas platter ($50 for 10 of each), some salads and sides along with a giant portion of their famous guacamole, paired with chips and salsa for $50. Pickup only, but you only need to give them 24 hours notice.
Mainland Poke
Mid-Wilshire & more locations
Be that guy serving poke at your Super Bowl party (hey, they've been doing it in Hawaii for decades) with a platter of build-your-own-bowl components. For $11 a person (premium stuff like blue crab and avocado is extra), you get two bases of either rice, greens, or kale (only in LA, poke Super Bowl guy!) along with two types of fish (tuna, salmon, albacore, octopus, or scallops); various toppings ranging from edamame to tobiko to crispy onion; and four sauces, which can be traditional soy-based versions or jazzier stuff like coconut sauce and sweet chili-lime vinaigrette. Mainland also throws in garnishes like sesame seeds, furikake, and sea salt, and you set the whole thing up at home and nod proudly as your guests go to town. You'll need to order from and pickup at one of the three locations -- Third St, Marina del Rey, or Glendale -- at least 24 hours ahead.
Sign up here for our daily LA email and be the first to get all the food/drink/fun Los Angeles has to offer.