Your burrito, now with French fries. Your fries, now with carne asada.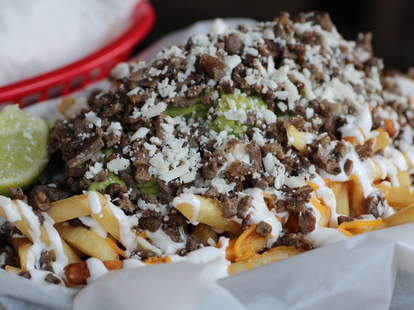 Not just your attitude toward your favorite character on The League, Taco Love is an ultra-casual Mexican munch-fest from some folks who used to work at SBE and Umami Burger, that's serving up "San Diego-style" amazingness... which basically means tons of ish on top of French fries, and also French fries stuffed inside burritos. So yeah, they know what they're doing.
Jeff Miller
Unsurprisingly, since they're all like, "We're doing things San Diego-style", the place is full of super-angry Phillip Rivers lookalikes super-chill, with surf-themed art on the walls...
Jeff Miller
... and abundant Micheladas available to chill you out even further.
Jeff Miller
They've even got aguas frescas available in their self-serve, non-alkie line. Now would be a good time to test the limits of exactly how much horchata one can safely consume.
Jeff Miller
Of course, you should leave room for this spit-roasted BBQ pork...
Jeff Miller
... which you can stuff into guac-slathered mini-tacos for a snack...
Jeff Miller
... or this burrito, which is pretty much like your normal burrito except HOLY HELL DID THEY JUST STUFF THAT THING WITH FRENCH FRIES?!
Jeff Miller
Of course, sometimes no tortilla can possibly contain the amount of fries and meat your body requires. Enter the carne asada fries, which you've already seen in all their glory up top. Here they are being prepped, first topped w/ cheese...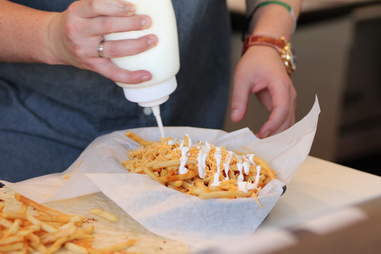 Jeff Miller
... then liberally doused with sour cream...
Jeff Miller
... and finally buried under an avalanche of beef, which is also a recurring vegan nightmare. But that's their problem.
*Drool*. So, are they as good as they look?
Claudia Gonzalez