The 11 Best Udon Spots in LA
Yeah, yeah, ramen is great. And we're not telling you not to eat ramen -- especially not if you're doing it at one of these 15 spots. What we're telling you to do is to also eat ramen's thicker, wheat-flour noodle cousin udon.
Especially if you're doing it at one of the 11 spots below.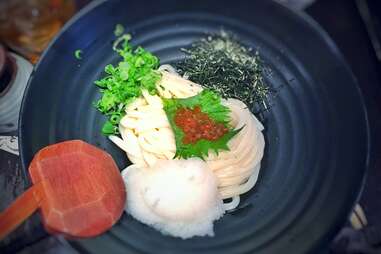 Little Tokyo
What you're getting: Uni cream udon
Marugame Monzo exploded onto the udon scene not too long ago, and its noodles have been driving LA completely batshit ever since. Grab yourself a bowl of uni cream udon, or the mentai squid butter udon, then praise the noodle gods: noodle heaven is real.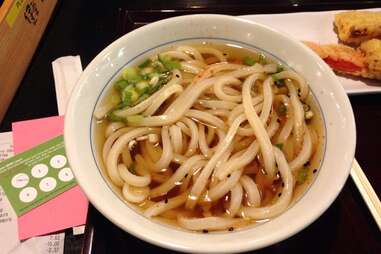 Little Tokyo
What you're getting: Ume bukkake
Look, just ignore the fact that it's called bukkake, okay? The noodles are outstanding. The ume bukkake comes with the house ume (like a pickled plum) sauce, more plum, dried bonito, grated radish, and ginger. And don't be a fool, pop some Japanese beef on top of that bad boy for full greatness.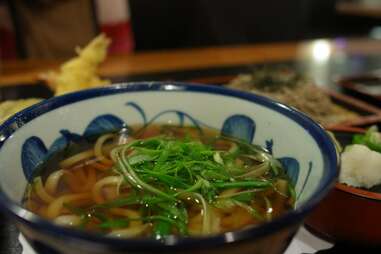 Gardena
What you're getting: Yukinabe udon
The South Bay is proud of itself with this one, and so are we. Sanuki No Sato's yukinabe udon comes with grated daikon and mentaiko (marinated cod roe), all mixed in with perfectly thick noodle-dom.

Studio City
What you're getting: Nabeyaki udon
When will we start shutting up about the Valley's best noodle spot? Never. That's when. Its udon? Super good.
Gardena
What you're getting: Shoyu udon
Super popular? Lucky you, this place does group udon meals, so you can bring all your friends. Hate spending money? The takuan and potato salad are free. Got a heart and a soul and a brain? You'll eat here, soon.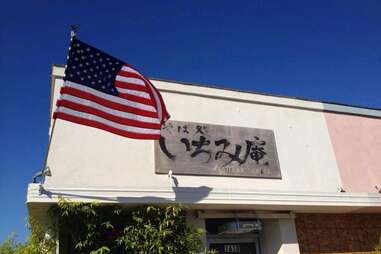 Torrance
What you're getting: Cold kakiage udon
When it's hot, like always, cold udon noodles are here to make that all better. Load 'em up with as many toppings as ya can, 'cause, duh. And pssst, cash only.
Little Tokyo
What you're getting: Squid ink udon
Sushi Gen too packed? You're gonna be fine, because Kinjiro is right next door, and it's waiting to stuff you full of delicious noodles. Between the squid ink udon and the uni udon with hijiki seaweed, you cannot go wrong.

Mid-Wilshire
What you're getting: Cold tofu udon
Yuko Kitchen's sesame sauce kicks its udon up, like, a billion notches; its homemade mint lemonade is also the perfect foil for it.
Sawtelle
What you're getting: Tanuki udon
Yabu has a killer selection of different styles of udon for your noodle-aching bones. Try the tanuki udon, with a tempura butter clusters, spinach, scallion, and fish cake. Related: is there a better combination of words in this language than "butter cluster"? (The answer is no.)
Lomita
What you're getting: Shrimp and mochi tempura udon
Mochi tempura, you guys. Mochi. Tempura.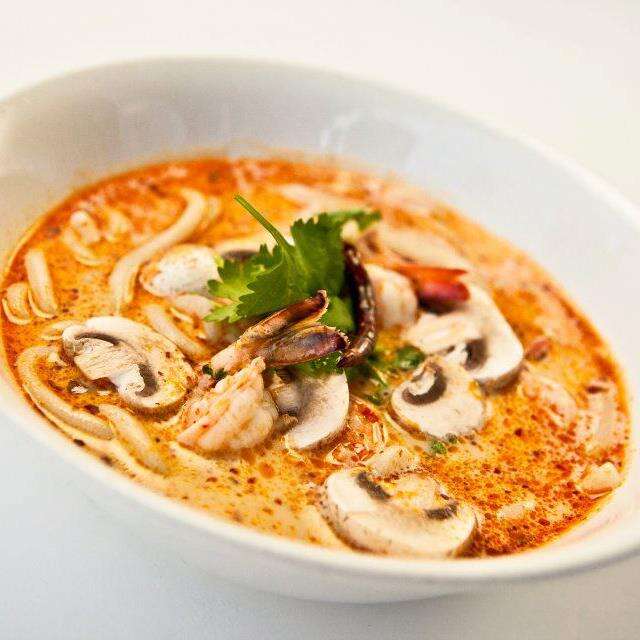 East Hollywood
What you're getting: Tom kha udon
"But Wat Dong Moon Lek is a Thai restaurant! Surely it can't have udon also!" Well it does. And don't call us Shirley. The tom kha udon is everything that makes regular tom kha so great (chicken, mushrooms, coconut/lemongrass broth) plus -- PLUS!! -- the house udon noodles.
Sign up here for our daily LA email and be the first to get all the food/drink/fun Los Angeles has to offer.
Wilder Shaw is a regular Thrillist contributor who will never stop marveling at how effing incredible the Japanese are at making food. Plan a trip to Japan with him on Twitter at @WilderShaw_ and Instagram at @wildershaw.