This was the wettest July ever recorded in LA. This was also the delicious-est July ever recorded in LA, thanks to these 12 restaurant openings, which included everything from a members-only lounge in Hollywood to a Filipino street foodery Downtown.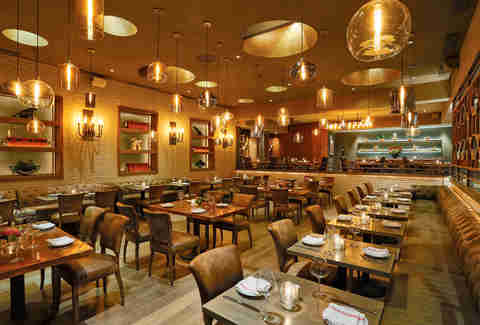 Santa Monica
Your next Westside hit is this eclectic, dark-toned dining room, which is busting out fish and more from all over the globe, including Greek branzino and Alaskan black cod.

North Hollywood
This new East Valley eatery at The Garland boasts New American greatness like linguini with Dungeness crab and a lunchtime short rib ground "Royale w/ cheese," which your stomach will beat to a Pulp.
Manhattan Beach
David LeFevre is already MVP of the Manhattan Beach dining scene (M.B. Post! Fishing with Dynamite!!!) so consider this his Hall of Fame move: a new-school-meets-old-school steakhouse with a 28-day dry-aged 36oz T-bone steak for two and a classic pot roast with potato puree and rutabaga.
Downtown
A chef who did time at Momofuko partnered with the woman behind Cliff's Edge for this simple-minded American spot in a space that was once both the club Bordello and an actual Bordello, but's now delivering mouth orgasms via perfectly-fried chicken and a pork chop w/ wheat berries and summer sauce.

Hollywood
No longer just a sorta funny Paul Rudd movie that you kinda remember seeing on cable that one time, Wanderlust is also now a new healthy-living "cultural events center" a la The Springs Downtown, with a yoga studio, a members-only lounge, and a cafe serving up avocado toast.
Hollywood
This first-ever US branch of a French-based hotel chain is a hipster haven: it's got chalkboard ceilings with artist-driven rotating art, in-room LA scripts (Pulp Fiction! Lebowski!), and free porn (yes, free porn) as well as in-room webcams that broadcast to the lobby (FREE PORN) where there's also a new casual restaurant with an espresso-braised short rib pie.

Downtown
Remember the award-winning Austrian restaurant BierBeisl that used to be open in Beverly Hills and was great? Well, it closed for a while, and now -- aw, shnitzel! -- it's re-opened under a slightly different name Downtown, with veal loaf sandwiches using fresh bread from the next-door bakery.
Downtown
The dudes from Silverlake Wine and Papilles have opened up this unbelievably tiny lunch-only spot dedicated to upmarket renditions of Filipino street food: rice bowls with homemade sausage and Angus beef strips, with your choice of rare, imported rices (or boooooring white or brown).

Manhattan Beach
The former Redondo fave moved just down the beach to Manhattan, with Eastern European specialties like borscht and grilled lamb shashlik sharing menu space with coffee from Red Bay, an Oakland beanery brand not served anywhere else in LA.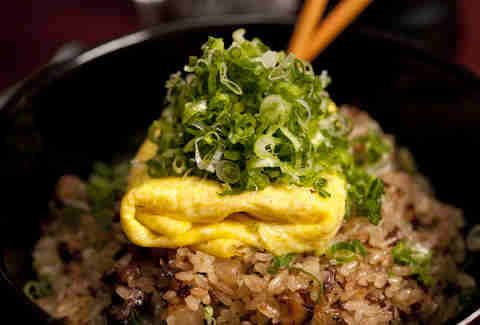 Mid-Wilshire
NY and Vegas's beloved sushi spot finally comes west, swimming into The Grove in the former spot of Gordon Ramsay's The Fat Cow. It's bringing in Japanese red snapper and Atlantic amberjack daily, as well as busting out its famous wasabi-honey fried chicken.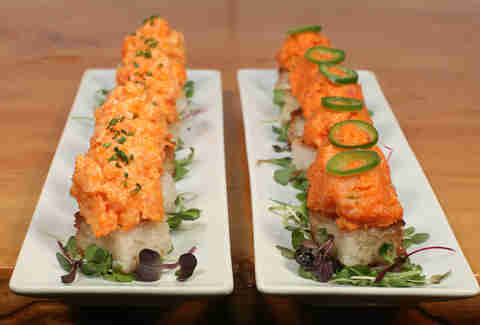 Sherman Oaks
Another sushi newcomer, this mid-Valley joint is going the Sugarfish route, with two omakase options that vary in size, as well as a la carte goodness for you to do battle on, like spicy shrimp on crispy rice, and lamb chops w/ truffle mashed potato.

Venice
The South Bay favorite finally opens up... uh, outside of the South Bay, though you can expect the same casual goodness that's made it locally beloved, including grilled fish tacos and a killer beer list.
Sign up here for our daily LA email and be the first to get all the food/drink/fun Los Angeles has to offer.
Jeff Miller is the editor of Thrillist LA and thinks there can't be enough new sushi restaurants. He posts tons of sushi photos on Instagram at @jeffmillerla and Twitter at @ThrillistLA.