Los Angeles Much like the rest of LA, Long Beach is having a resurgence -- or is it just a surgence? Either way, this increasingly diverse little cousin of the LA beach scene has a lot more to offer these days than Snoop Dogg, the 710, and the Queen Mary. If you're looking to dip your toe into the LBC, there's no better place to start than these 12 restaurants and bars.
Best late night food spot: Holé Molé
421 Obispo Ave
Whether that 16th microbrew is starting to wear you down, or you just have a hankering for the 'real' thing, Holé Molé is dishing up tacos and treats 'til late. You catch our drift? Ladies, leave the club before that last drink -- the tacos need you.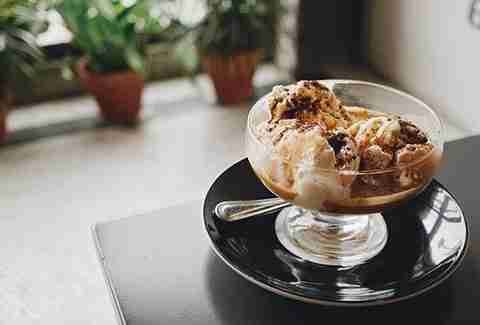 237 Long Beach Blvd
So, you and your buds made that 2016 resolution pact to learn how to surf, but lessons are at 5am. Why not wake yourself up with one of this place's signature roasts? Or better yet, cut to the chase and just get the Sea Salt Affogato because it tastes better than actual salty sea in your nose (first and last lesson).
3700 E Broadway
The brunch spot of choice for locals, The Pot Holder serves an all-day breakfast menu of classics with down-home charm -- opt for the Super Spuds, or The Works (oatmeal with... well, the works). And now, because Long-beach-is-changing-we-told-you-so, there's a dedicated vegan menu for those who want their bacon "Babe"-free.
Best place to drink with other hipsters: The Stache
941 E 4th St
Cool kids by the sea, rejoice! The Stache is here for you, serving up organic cocktails that are light on cash and heavy on the pours. It's the perfect dive bar for when Silverlake feels too far away.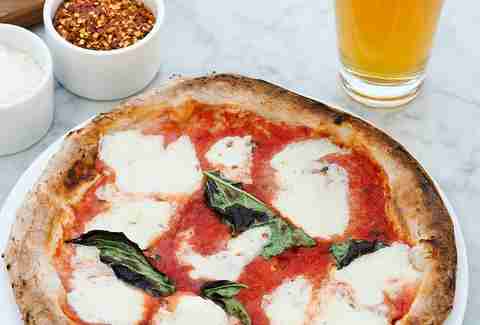 5616 E 2nd St
Attention, fellow Italian transplants to Southern California: finally, a slice of the real stuff! It's thin, wood-fired, and topped with the ultra-flavorful sauce and fresh mozz you've come to expect. Oh, and every Monday night is "buy a pizza, get a free margarita pizza to keep it company" night -- because no pizza should ever be single.
210 E 3rd St
With a menu to weep salty tears over and a constantly rotating beer line-up, Beachwood has all the classics and some less expected seaside additions. It's comfort food done so right you won't even feel guilty after you're done (provided you skip the hushpuppies, but c'mon, who are we to turn down six servings of them?).
5335 E 2nd St
So maybe you just wanna slam some brews with your bruhs and talk about the game, maybe even pretend to watch it. Say hello to Shannon, where dive meets college, meets "what's a 401K, exactly?"
Best family-style meal (without your weird aunt): The Attic
3441 E Broadway
Going to dinner at The Attic is like going home to mama's house -- if mama were Creole, and made MAC AND CHEETOS!! If you're still reading past this point, put down your phone and go eat the Mac and Cheetos. Seriously, stop reading.
Best Korean-Mexican-this-is-so-SoCal fusion: Seoulmate
4712 E 7th St
Like its name suggests, Seoulmate plates Korean-fusion cuisine with its tongue squarely in its cheek -- as in, the Korean burritos are so good you'll forget that carne asada and kimchi aren't from the same place.
1836 E 4th St
This is the place to hear real humans playing real music as you mix and mingle with Long Beach locals eating chili cheese fries and casually spilling their drinks. Not always quiet, but always a fun time.
5521 E Stearns St, Long Beach, CA 90815
You'll never have to look too hard to find a fish worth eating in the LBC, but Kinoya's the place that makes us feel like we're in a fun little izakaya somewhere in the backstreets of Tokyo (minus the inebriated businessmen). Not only that, it's so fresh you'll blush -- provided extremely fresh fish makes you blush.
3701 E 4th Street
Oh Whistle Stop, you had us at "burger and date shake." Whether you're eating on the IG-worthy patio or grabbing to go, Whistle Stop has a simple menu of classics done to perfection (fried green tomatoes in SoCal?!). And not to harp on about it, but we DID mention the date shake, right? Just checking.
Sign up here for our daily LA email and be the first to get all the food/drink/fun Los Angeles has to offer.