13 Perfect Reasons to Eat & Drink in Malibu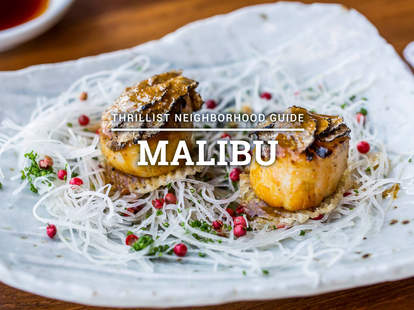 Los Angeles Malibu: it's the go-to place for a day at the beach, snapping that perfect #TBT Insta capturing your best Marissa Cooper, or just watching celebrities driving badly. Whatever your reason for being there, you've probably been sitting in traffic for at least an hour, and you've definitely worked up an appetite -- luckily, we've done the legwork and picked out Malibu's 13 best restaurants and watering holes. More Stuff You Will Like
  31740 Mulholland Hwy Go early in the day (pre Bachelorette parties), grab a picnic spot, and make yourself as comfortable as you'd be in your own backyard -- you know, one that has rolling, vine covered hills, live music, and we-are-pretty-sure curated spots for cute pictures in every direction. There's no food service, but the wine's great enough that bringing your own eats isn't too big of an ask. Continue Reading
Best "Your Folks Went Here but It's Still Cool" spot: Duke's
  21150 Pacific Coast Highway When you think of the 'Bu, Duke's is pretty much what you imagine: a restaurant perched above the waves, on the lip of the Pacific Coast Highway and that ocean it's named after. This place is an institution, and between the Hawaiian-themed menu and that stunning view, it's pretty obvious why.
  25653 Pacific Coast Hwy This was a close call, but if you're looking for fresh seafood without the fine-dining price tag, grab a table on the patio here. Everything's made in-house, so don't be shocked if there's a queue at lunch -- the fish and chips, as well as the sea and the sunshine, will make it all better.
  23000 Pacific Coast Hwy Maybe you're pretending you married well and are now living next to one of the Real Housewives? Well then pull up a seat, girlfriend, and order something from this delicious, organic menu: the grass-fed burger and the breakfast burrito are tops. This place is on the end of the pier, under the sun, and from another world -- or maybe just another tax bracket.
  23823 Malibu Rd When chewing food is just too much like hard work, get your nutrients without the calories or overworked jaw muscles at this juice bar haven. The protein shakes are delicious, and the wellness shots range from wheatgrass and elderberry to açaí  and turmeric -- in other words, it's everything your health-conscious heart desires under one roof.
Best sushi that won't require a second mortgage: Bui Sushi
  23733 Malibu Colony Rd #700 If you're in the mood for Sushi without the sticker shock, Bui is the place to come. Super fresh, with an eclectic menu and drinks list to match -- grab the spicy edamame and a baked lobster roll, or go classic with some sweet shrimp sashimi.
Best sushi that will require a second mortgage: Nobu
  22706 Pacific Coast Hwy Really, what's left to be said about one of the world's most famous restaurants, in one of the world's most beautiful locations? Perhaps this -- the food is equal to the experience, and with a reputation like this, that's saying an awful lot. Save up your shekels and go in on the omakase menu: it's $80-$100 per person, and totally worth the unbearable lightness of wallet that follows.
  23410 Civic Center Way Tony's has been serving up Greek realness for years, in the form of classic dishes (moussaka and spanakopita) and live music seven days a week. If it's packed inside, try the patio for that Malibu breeze. And then try the desserts -- all of the desserts.
  29211 Heathercliff Rd #60 This spot also sports the best misleading name, because as good as Lily's coffee and pastries are, it's her breakfast burrito you'll probably want. If heaven were a burrito [Editor's Note: it is], Lily's might just be the pearly gates.
  327 Latigo Canyon Rd Because sometimes you just want to lie around with friends on the grass for a good whine and some good wine. Think of this place as Malibu Family Wines' more chill cousin, but with a menu that makes anybody a foodie, and an outdoor pool table that will turn you into a champ. Enjoy the sunshine. And the music. And the FERRIS WHEEL?!
  29169 Heathercliff Rd #102 A gastropub with a vibe as welcoming as the food is enjoyable, Duck & Dive is your go-to for guilt-ridden eats in Malibu. The menu's packed with gold -- the Drunken Mac & Cheese (with pork belly!), the chicken tacos, and the bison burger just to name a few -- and it's no wonder this place is a favorite for locals looking to while away the afternoon. Just make sure to stay around for the live music... and try to blend in.
  3900 Cross Creek Rd, Ste 3 For all your picnic needs and then some, Malibu Kitchen's got you covered -- think smoked salmon and pulled pork sandwiches to go, as well as all the artisanal bread, cheese, and salads you'd ever ever want. We're pretty sure this is the stuff Nancy Meyers' dreams are made of. And maybe yours.
Best slice by the sea: Spruzzo
  29575 Pacific Coast Hwy Malibu, the Italian gods heard your lament and gave you Spruzzo's pizza menu -- it's full of specialty pies, from the classic Napoletana to the funkier Thai Chicken. With generous servings and a spectacular view, this little taste of Italy might start to feel more like a trip to Abruzzo. Plus, saying "Spruzzo Abruzzo" with a mouthful of hot pizza is a blast in and of itself. Sign up here for our daily LA email and be the first to get all the food/drink/fun Los Angeles has to offer. Frank Sweeney (@frankcsweeney) is an aspiring gay best friend for any and all bachelorette parties taking place at one of these locations. Resumé includes, snarky jokes, fine wine appreciation, and inebriated Uber-ordering skills.