Los Angeles It's easy to mistake Manhattan Beach for a sleepy beach town (especially compared to its busier northern neighbors like Santa Monica or Venice), but don't be fooled: the dining scene is full of diverse and legitimately great choices, from modern Eastern European to simple, homey American. Here are 15 area eateries you need to explore. More Stuff You Will Like
Recommended Video
It's Worth Getting Sloppy For This Grilled Cheese Taco
  1142 Manhattan Ave Chef David LeFevre kickstarted Manhattan Beach's restaurant revival by opening MB Post back in 2011, and locals still flock here for the killer brunch menu, which includes the savory (famously flaky bacon cheddar biscuits) as well as the sweet (sticky buns and pumpkin skillet cake).
  1101 Manhattan Ave Ercole's isn't fancy, but you don't need a cloth napkin to sop up the juice from this dive bar's phenomenal burger. Expect a high-quality beef patty (from Manhattan Meats next door) loaded with toppings, and tucked inside a small bun for a sloppy and satisfying burger experience. Continue Reading
  317 Manhattan Beach Blvd Love & Salt is so much more than a pizza place, but when you consider the TLC that goes into making their dough, ordering a pie is a must (the duck egg pizza is a favorite). The restaurant brushes its dough with olive oil and sea salt before tossing it into an almond wood oven -- an untraditional method that yields a perfectly crisp, tasty crust.
Best fancy restaurant for when the parents are paying: The Arthur J
  903 Manhattan Ave When the 'rents are in town, take them to LeFevre's first-class steakhouse by the beach. The melt-in-your-mouth steaks aren't the only stars on the menu; everything from the football-sized cheesy popovers to succulent Swedish meatballs and dill-soaked shrimp cocktail is downright delicious. (Mom and Dad will also dig their impressive wine selection.)
Best oyster hour: FishBar
  3801 Highland Ave This sports bar doesn't serve anything like your typical bar fare. Instead, you'll find upscale seafood starters like chipotle shrimp quesadillas, salmon bites, and lobster guac, as well as a popular weekday oyster hour: $1.75 each, in increments of six.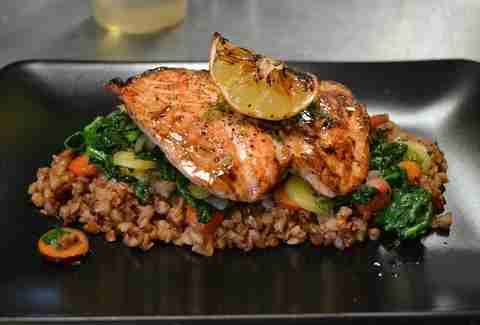 3562 N Sepulveda Blvd Stuff like Siberian-style chicken dumplings, Ukranian borscht, and a spicy/mint lamb salad come out of this eclectic, multiethnic kitchen, but you won't walk away feeling turgid. Every dish is made with a modern, healthy twist, using fresh farmers market ingredients and house-made spices.
  3505 Highland Ave This cozy, family-owned eatery is a beloved neighborhood staple serving up Lamill coffee alongside satisfying croissant sandwiches, chorizo scrambles, and pancakes -- just what you need to kick-start of surf and sand.
  1148 Manhattan Ave Another LeFevre gem, Fishing With Dynamite serves up some of the most succulent seafood in the South Bay. We're talking still-kicking shellfish and tender octopus, as well as more inventive dishes like their creamy, flavor-packed Koshihikari rice and a must-try pretzel and chocolate bread pudding.
Best for raucous groups: Petros
  451 Manhattan Beach Blvd Suite #B110 Feel free to bring an obnoxiously large group of friends here: this Greek restaurant's patio can accommodate bigger parties, and their various dips and appetizers make tapas-style dining easy.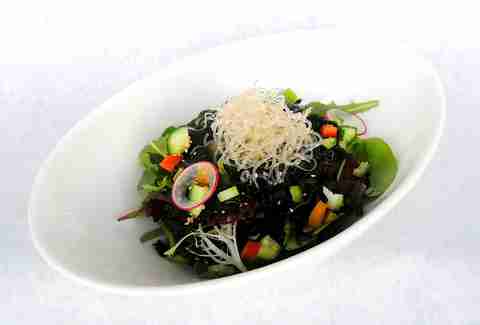 Best for vegetarians: Rice
  820 Manhattan Ave Suite #105 Borderline ascetic fare (meaning mostly organic and vegan-friendly) becomes mouthwatering under the direction of Rice's chef, Hiroyuki Igarashi. Nosh on spicy miso ramen made with tempeh, a seaweed-and-kelp "beach" salad, and a variety of shareable, well-prepared veggie plates -- ideally washed down with a not-so-ascetic sake cocktail.
  3421 Highland Ave Sure, it's tough to mess up a sandwich, but it's also tough to come by a truly memorable one. The latter -- fresh, hearty, and made with quality ingredients -- is what North End boasts on its comprehensive sammie menu, which includes everything from BBQ-basted turkey to slow roasted pork.
  1131 Manhattan Ave There's never a quiet moment at this upscale Asian fusion spot, meaning zero awkward silences for you and your date. Go here for the stellar food (like pork belly crepes and lemongrass beef noodles) as much as for the relaxed-yet-hip vibe.
  350 N Sepulveda Blvd This hole in the wall has served up greasy, flavorful, easy-on-the-wallet Mexican food to locals for decades. Feel free to come here shirtless, shoeless, and starving straight from the beach -- no one will blink an eye.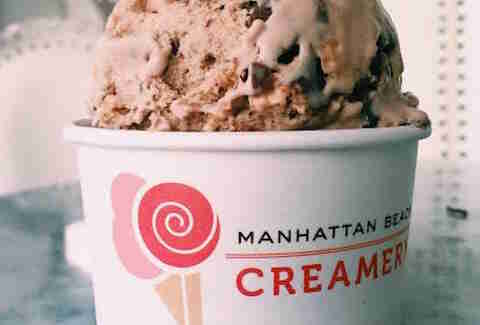 1120 Manhattan Ave The ice cream here (which comes in 28 from-scratch flavors) is made with 14% butterfat, meaning it's extra-rich, dense, and decadent -- in other words, zero help to your summer six-pack.
Best late-night eats: The Kettle
  1138 Highland Ave Whether you're stone-cold sober or the opposite, this always-open-for-business diner's insane muffins will do the trick (seriously, everyone talks about them).
Sign up here for our daily LA email and be the first to get all the food/drink/fun Los Angeles has to offer.
Tiffany Tse is a freelance contributor at Thrillist and, unfortunately, is never in the mood for a kale salad. Follow her adventures around town at @twinksy.