It's hot. Like, REALLY hot. If you're looking for a way to deliciously cool off but aren't in the mood for another ice cream sandwich (just go with it), check out these: LA's 15 best poke, tartare, and crudo dishes.
Century City
What you're getting: Yellowfin tuna
The raw bar here is packed with nom-iness, including yellowfin tuna (w/ pistachio furikake, cucumber, and ponzu) and hamachi (w/ jicama, kohlrabi, and myoga). It might cost you an arm and a leg, but you won't care because you don't need arms or legs to eat crudo. Just your mouth.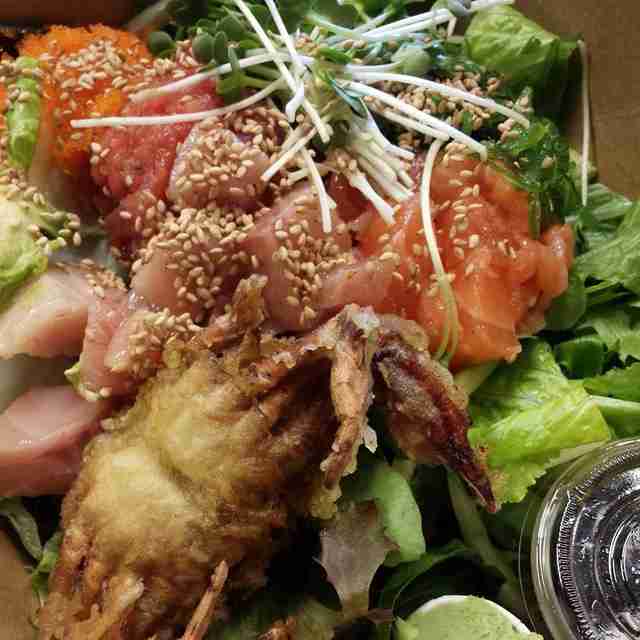 Glendale
What you're getting: Poke salad with yuzu soy sauce
Poke N Roll can be a daunting undertaking just based on the sheer number of options, but take a deep breath and get the poke salad (the fish is nice and chunky). Also: any place where you can get mini sausages with your poke is okay with us.
Downtown
What you're getting: Seared yellowtail w/ diced chiles
We don't really understand why people aren't running around all day long screaming about how great Takami is. BECAUSE THEY SHOULD BE SCREAMING THAT. Everything on its menu is absolutely killer, and the fact that you're 21 floors in the air with an spectacular view of Downtown doesn't hurt either. It's got lots of crudo options, but give its yellowtail a shot. (Or, if you're smart, several shots.)
 
Studio City
What you're getting: Mixed poke bowl
Do your best to ignore Sugarfish and the Armenian Deli at The Greatest Strip Mall on Earth Probably and you'll find Daichan. Serving appropriately named "Japanese soul food," Daichan is one of those places where literally everything on the menu is incredible. Daichan's mixed poke bowl is unreal, and goes great with some of its house-made cucumber miso or Hawaiian ginger chicken.
Downtown
What you're getting: Seafood crudo bowl
Bäco Mercat chef Josef Centeno does a seafood crudo bowl on top of a bed of barley, faro, quinoa, and rice. Nothing this healthy should taste this good, but it does.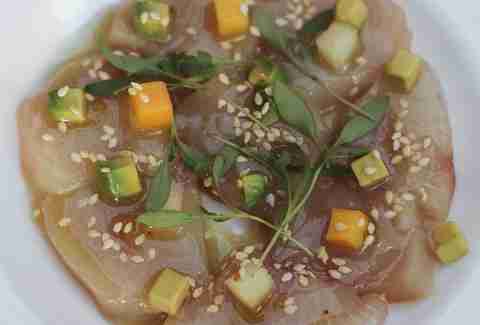 Hancock Park
What you're getting: Hamachi crudo
If you live in LA in 2015, you've probably been told by at least five people to go eat at Republique. And you should. And when you do, you should get the hamachi crudo w/ ruby red grapefruit, tomato, tarragon, and vanilla.
 
Silver Lake
What you're getting: Salmon poke bowl
Everybody's favorite place to wait in line is now serving up an amazing salmon poke bowl, and in typical SLR fashion, it's extremely affordable. Grab a half order for $5.95 and a full for $8.95.
Koreatown
What you're getting: Poke Me
Roy Choi is a poke wizard. His family-style sanctum in The Line Hotel brings you a multitude of killer Choi dishes, like his Poke Me -- yellowfin tuna, edamame, sea beans, Maui onions, smoked sesame, and shoyu vinaigrette. And good news: you can eat at Pot on the 20th of any month you choose.
 
Koreatown
What you're getting: Spicy poke with tuna, salmon, and yellowtail
Wiki just might have the best value poke in the city. Just $8.50 gets you a poke bowl with three fish choices and two sides (like spicy edamame and crab meat). Pineapple and three levels of spice give this place a Hawaiian edge over many of the other poke spots. Oh, and it's pretty quick. Hence the "wiki."
Hollywood
What you're getting: Ocean trout crudo
It was only a matter of time before the Houston brothers ventured into food. Between Dirty Laundry, No Vacancy, and Butchers & Barbers, Hollywood and Hudson might as well just be referred to as Hollywood and Houston. Before you head over to their secret speakeasy or their hidden brothel bar, be sure to grab some ocean trout crudo at B&B first. And then, when you're done, order another one. And then three more.
 
Hollywood
What you're getting: Kanpachi
Any old jabroni can get salmon crudo at Hungry Cat's Santa Monica location, but the Hollywood Hungry Cat is the only one where you'll find kanpachi -- amberjack with coconut milk, fried shallots, blood orange, kumquat, cilantro, Fresno chili, and peanuts. Hooray for Hollywood!
Westwood
What you're getting: Salmon crudo
You've probably been worrying that all the crudo you've been eating doesn't come with enough pecorino horseradish aioli. Well, thanks to Hamasaku, you can stop worrying. It has a ton of goodies on the menu, including its salmon crudo and tuna poke with shiso salsa, Sriracha dressing, and taro chips.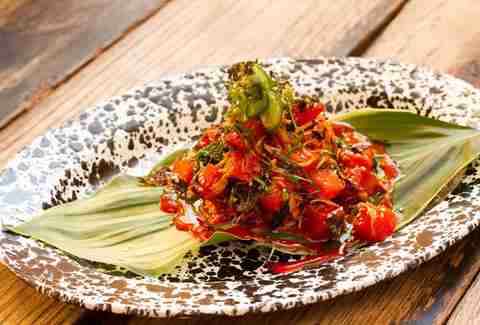 Culver City
What you're getting: Poke of the day
Say aloha to Roy Choi's Hawaiian spot in Culver City (and maybe an extra aloha to the deals for Luau hour). He's got a poke of the day for $15, as well as a poke sampler for $16. You can wash 'em down with some killer Hawaiian-style cocktails, and then follow 'em up with some classic RC munchies like furikake kettle corn and hoisin-glazed short ribs.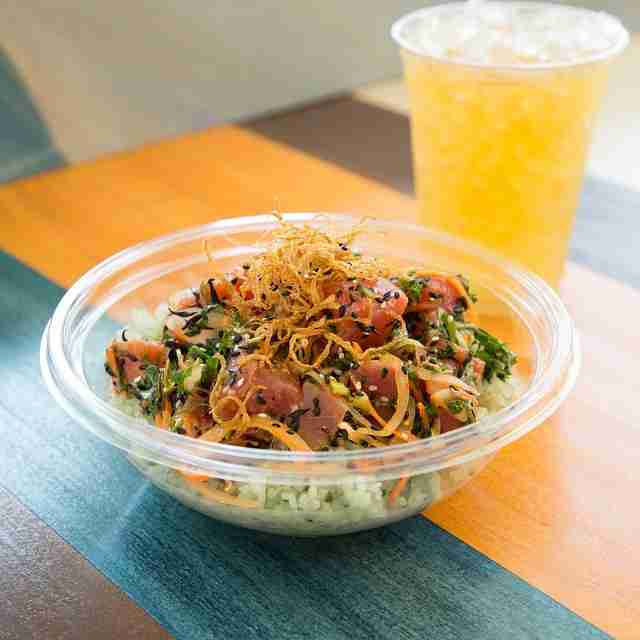 Santa Monica
What you're getting: Spicy yuzu salmon poke (or you can just build your own bowl)
Sweetfin exists for the sole purpose of making people who live on the East Side sad they can't go there for lunch every single day. It's is one of the few poke spots that boasts snapper, as well as an appreciable selection of sauces (like yuzu kosho and Sriracha ponzu).
Huntington Beach
What you're getting: Poke nachos
The good people at North Shore Poke Co. don't believe bowls are the only worthwhile vehicle for your poke, and by Jove, they're right. In addition to their multitude of poke bowls, they've got sashimi sandwiches, poke tacos, and even POKE NACHOS (Waimea-style poke over tortilla chips w/ house hot sauce and furikake).
Sign up here for our daily LA email and be the first to get all the food/drink/fun Los Angeles has to offer.
Wilder Shaw is a writer and comedian who is psyched that he correctly (?) used two different Hawaiian words in this story. Talk tuna with him on Twitter at @WilderShaw_ and Instagram at @wildershaw.