The best bar snacking in LA
You know that feeling when you're at a bar, you're not quite yourself because you're hungry, and there are no Snickers in sight? Or who knows, maybe there are Snickers around... but either way, it shouldn't matter, because you're smart and you're going to eat some delicious bar snacks instead. Here are some of LA's finest, across numerous critical categories:
Best Ridiculously Oversized Item: Bavarian Pretzel
The Red Lion, Silverlake
This Eastside institution serves up all sorts of German-themed food, but none'll satisfy you as quickly as this carb-monster, which is at least as big as your head, is so fresh it hurts to touch, and comes with a mayo-mustard hybrid that goes great with a Spaten (or, really, anything).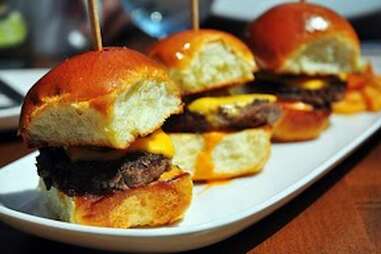 Best Sliders: Goal Sliders
Goal, Mid-Wilshire
This longstanding sports bar's recently upped their grub game, with a former private celeb chef (who's rumored to have cooked for one of the world's most famous Scientologists) now indoctrinating patrons with deliciousness like these extra-moist mini-(but not TOO mini) patties on perfectly sweet Hawaiian rolls. Aloha.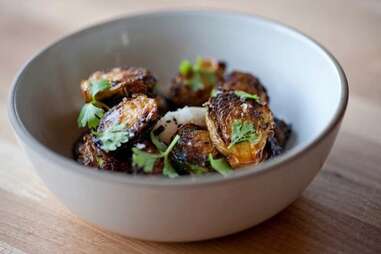 Best Worthwhile Non-Meat Item: The Fried Brussels
Freddy Smalls, West LA
This cocktail bar's fried brussel sprouts're sweet (thanks to apple cider), savory (thanks to some goat cheese), and crispy (thanks to oil). Thanks to all, equally.
Best Freebies: Hot Dogs
Whitehorse, Hollywood
So you're drinking, and you're like, "This popcorn isn't filling me up, but I've only got a fiver in my pocket, and I can either use that for another beer or a hot dog, and, duh, I'm drinking", and then you're like, "Wait, there's a bar that has FREE HOT DOGS," and then you're like, "Yes, it's called the Whitehorse, and I'm already here, and it is magical". You have a very active inner monologue.
Best Surprise-Use Of Buffalo Sauce: Buffalo Cauliflower
Mohawk Bend, Echo Park
This barstaurant's got a sick beer list and a vegan-friendly menu that some carnivores may find a bit off-putting (they do have an actual beef burger, so, no real worries there), but the magic's in the Buffalo Cauliflower -- soaked in Buffalo sauce, fried, and served with a side of bleu cheese. Sounds weird, sure. Tastes amazing.
Best Schmancy Snack: Beef Tartare
Sidebar at Cut, Beverly Hills
Sure, you can't schlubbily walk in off the street and order it without getting dirty looks, but the beef tartare at Wolfgang Puck's BH steakhouse is quite possibly the best in town -- made with prime sirloin, served with grilled bread, and totally delicious. Bonus -- you're eating raw steak, son!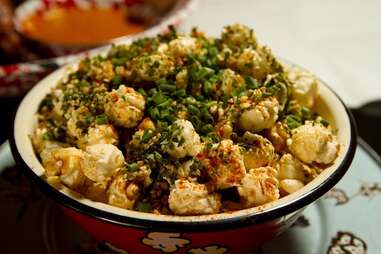 Best Popcorn: Furikake Kettle Corn
A-Frame, Culver City
"As addicting as crack". That's the way most people who have never tried crack describe the Furikake Kettle Corn at Roy Choi's Culver City gastro-bistro (which, sure, is also a great restaurant, but you can definitely just pop in for a drink). Why's it so good? Well, it's got seaweed. And red pepper flakes. And goddamn corn pops. And kettle corn. And bacon. That's why.
Best Overall Bar Snack Menu: Beer Belly
Beer Belly, Koreatown
This you'd-never-see-it-if-you-weren't-looking-for-it craft beer bar's at the back of a parking lot, but their kitchen doles out consistently stellar (and consistently spicy) artery-cloggers like duck fat fries, Fontina & cracked pepper mac and cheese, and the killer Jidori wings that also made our best wings in LA list.