Since everyone in LA wants to be out of their house at all times over the summer, it's no surprise that May saw a lot of restaurant and bar openings hoping to get those customers in (and -- if they've got a patio -- out) for the season. Here are the best, including the hottest new bar in town, and your next Mexican stop.
All of the restaurants on this list are part of our ongoing quest to find this year's best new restaurants in America, and we're combing through every opening in every Thrillist city. Get involved on Instagram -- #BestRest2016 -- to let us know your picks and your favorite dishes at each of these new spots.
Downtown
This new intimate Arts District drinkery is both gorgeous (it's modeled after the interior of an old-school train car, with lush banquettes and purple-tinged wood walls) and delicious. Head bartender Dee Ann Quinones, from NY's acclaimed Booker & Dax, is pouring crafted drinks made with fresh and unusual ingredients (think black sesame and tamarind) and chef Gary Nguyen did time at Alma, which means all the bar bites are absolutely on point. Pro tip: even if you're not a vegetarian, order the beet tartare.
Hollywood
Since opening in a mixed-use apartment complex, this old-school-feeling (low banquettes, quiet interior, wine racks, etc) restaurant is a contender for best new restaurant in LA. It actually opened super-softly for lunch in April, but went full bore (to that unexpected acclaim) in May. Chef Greg Bernhardt, who did time with LudoBites, makes a scallop crudo that would make the trip to Paley worthwhile no matter where it was located, but its proximity to all the Hollywood action is just a bonus.
West Hollywood
If you're into that whole celeb-hang thing, Doheny Room (unsurprisingly from SBE) is for you: Vanessa Hudgens and some of the Jonas Brothers have been spotted there recently. But here's the thing: if you're into just eating and drinking in West Hollywood, it's the spot for you, too, because the Asian chicken sliders, pictured above, have also been spotted there recently.
Frogtown
Chef Esdras Ochoa -- one of the guys behind Mexicali Tacos (whose Vampiro we recently called out as one of the best cheap chicken dishes in town) -- just opened this Sonoran spot, the newest addition to the rapidly growing Frogtown neighborhood. At Salazar, he'll be doing tacos and burritos, as well as big dishes like mesquite-grilled rib-eye served up on one of the best new patios in town. Grab a seat before it gets too hot, both literally and figuratively.
Downtown
Anything from a former Mozza alum is an ear-perker, including owner (and former Mozza sommelier) David King's new Italian-and-more bistro Downtown. He's working with executive chef Duke Gervais -- formerly of Cube -- on short-rib ravioli and bottled, smoked cocktails in an intimate, common-table, and tiled wall-abutted space.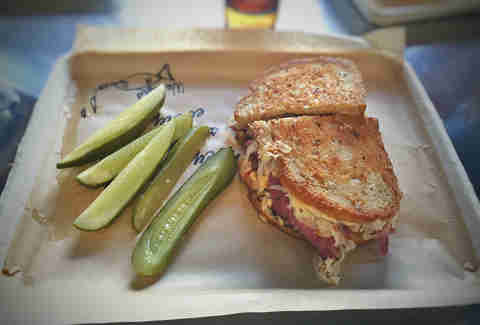 Santa Monica
Rejoice, Westside: LA's best pastrami (OK, maybe second to Langer's) has found its way from Downtown to your part of town, in a brick-and-mortar location that gives the team room to do more than was possible at the Grand Central Market stand -- including pastries from award-winner Nicole Rucker, and new savory additions like matzo ball soup.
Silver Lake
This new Silver Lake spot (from an all-star team of owners, including some of the founders of The Hudson and The Churchill) is destined to be a brunch favorite for its gorgeous patio and dishes like duck hash confit when it launches weekend brunch service in June. Until then, hit it up for seafood dishes like soft shell crab sandwiches from the chef team behind Brooklyn's Egg.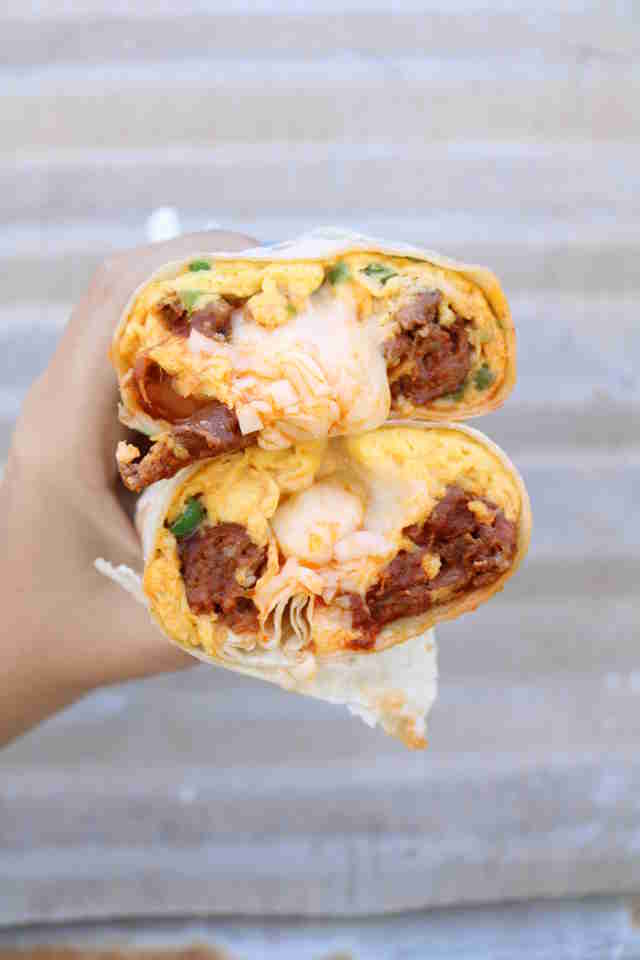 Santa Monica
This Australian restaurant snuck in at the end of April, but when you have a breakfast burrito this monstrously huge and cheesy, we'll let that pass. It also has plenty of healthy options, like smoothies and cold-pressed juices, plus additional not-so-healthy options, like pastries, served all day long.

Sign up here for our daily LA email and be the first to get all the food/drink/fun Los Angeles has to offer.
Other Stuff You'll Like In Openings Cheat Sheet