Every Single Restaurant at Disneyland, Ranked
OK, you're gonna go to Disneyland for sure, but while you're there, why suffer through cafeteria dreck aimed at families on budgets when you could be downing spiced-up lobster rolls and tonsil-slapping gumbo in the shade of the Haunted Mansion? Why put up with quickie heat-lamp crap in Tomorrowland (this just in from the future: cheap pizza still tastes like cardboard) when you should be feasting on lamb scallopini and blue crab cakes at a reserved table across the way in California Adventure? That's why we ranked Every. Single. Restaurant. In. The. Magic. Kingdom. And. California. Adventure. (Note: some of the top 10 take reservations, so get on that if you're getting on that.)
38. Pluto's Dog House/Daisy's Diner/Clarabelle's
Toon Town (Magic Kingdom)
You can expect pizza slices, hot dogs that don't outdo even Wienerschnitzel, and other things only suitable for 5-year-olds, which is why if you're caught eating here without one, your annual pass may be revoked. (Same goes for similar stands at the Cozy Cone Motel in Cars Land.)
37. Stage Door Café
Frontierland (Magic Kingdom)
If there's one thing you can never find enough of in the Magic Kingdom, it's chicken nuggets. No, wait, here's another spot that sells 'em. Right next to another. Which is around the corner from that other one, and is that one too? I think what I meant was they're everywhere. Don't eat them.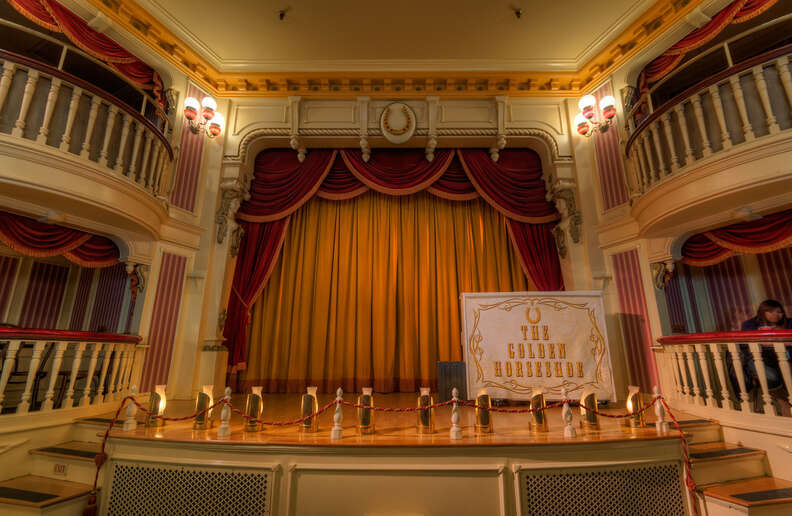 36. The Golden Horseshoe
Frontierland (Magic Kingdom)
Decent enough for chili on a chilly day, whether slathered on fries or poured into a bread bowl. Otherwise, skip. Enjoy the fish and chips at your own peril.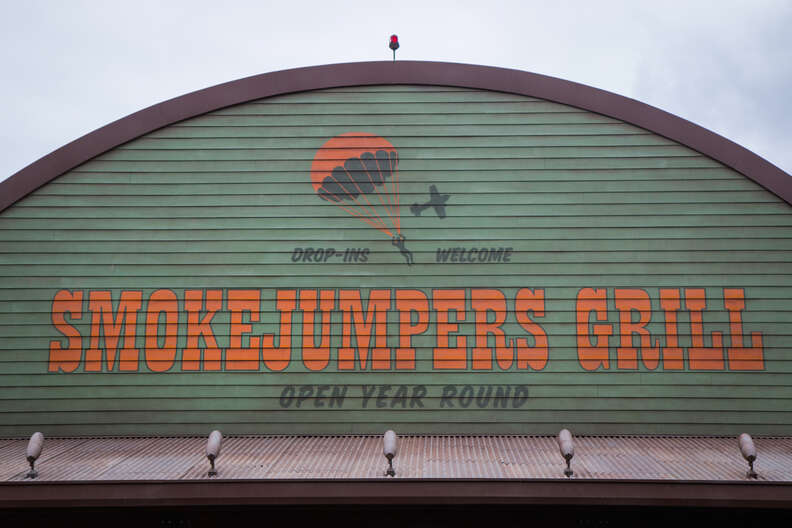 35. Smokejumpers Grill
West of Buena Vista Street (Disney California Adventure)
Burgers, fries, onion rings, a token salad. Nothing special at all to see here. Move along.
34. Aladdin's Oasis
Adventureland (Magic Kingdom)
Looks like a ride from the outside, or a curiously flamboyant spot for shade. Actually it's a meet-and-greet and photo-op with characters from Disney's desert classic. So what's it doing on this list? To take part, you also can (but maybe shouldn't) order one of the site's many oh-so-"Middle Eastern" dishes, like... lasagna bolognese. Not that your kids will care about eating spaghetti while laughing at a giant blue genie in pajama pants.

33. Hungry Bear Restaurant
Critter Country (Magic Kingdom)
Has three things going for it: chili cheeseburgers, churro funnel cake, bathrooms.
32. Market House
Main Street (Magic Kingdom)
Breakfast at Disneyland is actually a thing, no matter how little-known. Like Fiddler, Fifer & Practical Cafe, preferable if you're in DCA, this fruits-and-pastries spot on Main Street also offers assorted breakfast sandwiches. Unlike FF&P, they stop selling them before lunchtime.

31. Troubadour Tavern
Fantasyland (Magic Kingdom)
This stand outside the Fantasyland Theater is nonetheless worth checking up on, if only to snag a bratwurst sausage on a garlic-and-herb brioche or a baked potato stuffed with broccoli and cheese. Or both. So why's it so low on the list? The hours are sparse... and unpredictable.

30. Maurice's Treats
Just outside Fantasyland (Magic Kingdom)
Downgraded only because there isn't actually much on offer here, this stand in the west-side shadow of Sleeping Beauty's Castle has the most delicious cheddar garlic bagel twists, while the strawberry and chocolate varieties are nothing to sneeze at. Any one of those plus a Boysen Apple Freeze works better than a smuggled-in Snickers at carrying you past lunch when riding rides matters more.
29. Little Red Wagon
Main Street (Magic Kingdom)
Not that we know anyone who calls it that. Everyone else just says "that corn dog stand at the end of Main Street." That's all you need to know, because they're that damn good, and apart from pouring Diet Coke, that's all they do here. If the line is insane, also try Corn Dog Castle in DCA, or settle for Hot Dog Hut.
28. Award Wieners
Hollywood Land (Disney California Adventure)
Standard dogs are easily found, but if you want your wiener done any other way, you'll need to head to this street front next to the theater that used to house the Muppets. Minor plus over other franks-pushing stands? There's a shaded seating area attached here.
27. Edelweiss Snacks
East of Fantasyland (Magic Kingdom)
The best place for one of those ginormous turkey legs, nestled near the Matterhorn but far enough from It's a Small World that you won't have to hear That Goddamn Song That's In Your Head Right Now Oh My God Make It Stop. Gets a very slight edge over the Little Red Wagon only because they offer those fat chimichangas, too, which are so tasty before they start coursing through your intestines like Finding Nemo submarines. In a pinch, also try Don Tomas Turkey Legs along the Midway in California Adventure, or find the blink-and-you'll-miss-it Hot Foods at Hollywood Land stand, right next to what rightfully ought to be the Muppets' theater before they got iced by Frozen.

26. Fiddler, Fifer & Practical Cafe
Buena Vista Street (Disney California Adventure)
For breakfast -- no, seriously, people do this -- better bites can be found at Carnation Cafe or even Flo's V8 a short walk away from this spot. But there are two upsides to the FF&P. Its three egg sandwiches (bacon and gouda, sausage and cheddar, spinach and feta with egg whites) are available throughout lunchtime as well. And there's an adjacent Starbucks.

25. Pinocchio Village Haus
Fantasyland (Magic Kingdom)
Good work, you drab Fantasyland emporium you. Finally figured out that lumping pastrami onto a hockey puck of a burger might make it taste like there's genuine meat on it. Smart! Putting chicken sausage INTO the pretzel roll? Genius! What else ya got? Just a BLT flatbread pizza? Nothing more? Ohhhhh. Now I remember why this place smells like nuggets and Pampers.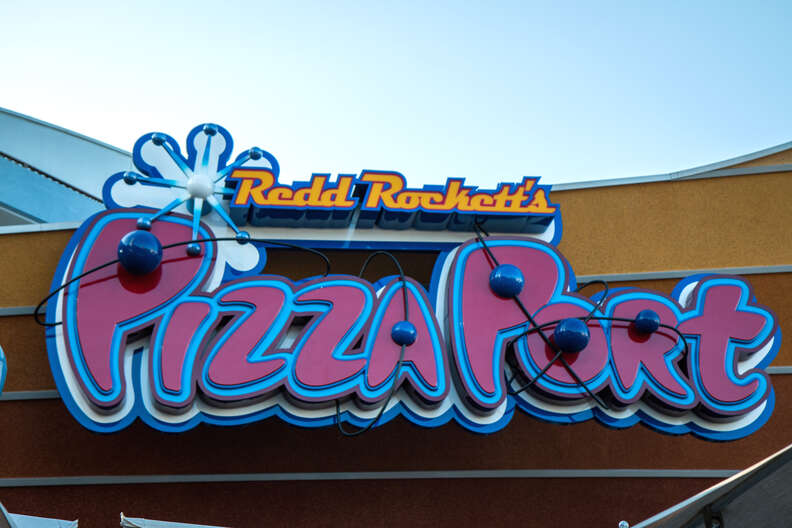 24. Redd Rockett's Pizza Port
Tomorrowland (Magic Kingdom)
Not, in fact, as bad as an afternoon trapped in a Chuck E. Cheese's. The grub is much less revolting, bolstered by vegetarian options, curry chicken pizza, and a bountiful harvest called the Forest of Endor that's got everything plus kale. But given its proximity to Space Mountain, not to mention Star Tours and Buzz Lightyear's Astro Blasters, the kid quotient can be moon-high. Not the most tranquil of bases you'll ever visit.

23. Boardwalk Pizza & Pasta
West side of Paradise Pier (Disney California Adventure)
Way fewer people here -- that's why it gets the pizza & pasta nod over Redd Rockett's. Otherwise it's the same stuff.

22. Galactic Grill
Tomorrowland (Magic Kingdom)
If this generically interstellar spot in Tomorrowland hadn't been revamped with the arrival of Disneyland's first Star Wars-pimping Season of the Force promotion, it might well be at the bottom alongside inedible dreck like Pluto's Dog House. Instead, it's become cool again, thanks to items like the Darth Tamale (with chorizo and eggs) and the First Order Specialty Burger (which comes on a dark bun). The Cheese-3PO Burger is still just a lousy cheeseburger. But at least now it's fun to order.

21. Royal Street Veranda
New Orleans Square (Magic Kingdom)
Hello, gumbo. And hello to you, too, clam chowder bread bowl. That's all they got here, and sometimes that's all you need.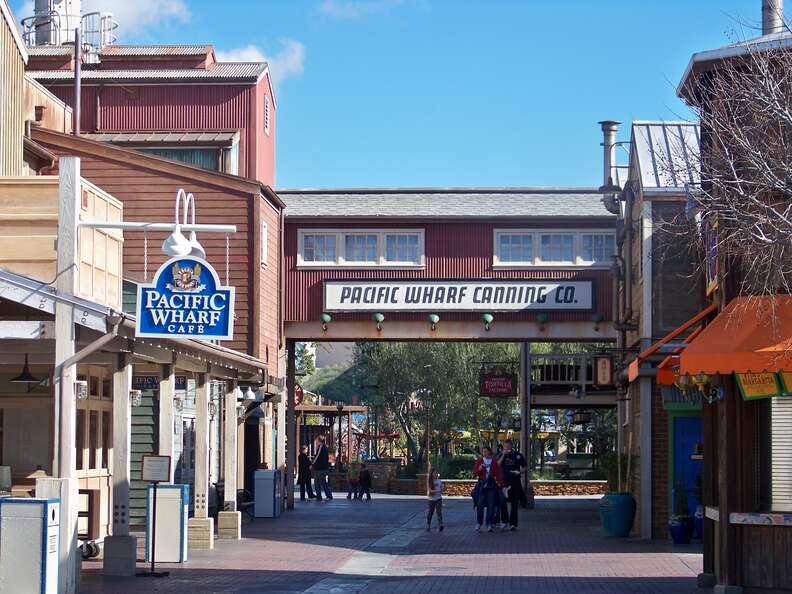 20. Pacific Wharf Cafe
Pacific Wharf (Disney California Adventure)
Same situation as Royal Street Veranda -- you're only coming here for a soup in a bread bowl, preferably chowder, but here you've also got other options to insert, typically a tomato bisque or loaded baked potato. Avoid the only substantial alternative, the turkey pesto sandwich. The ingredients are up to Disney standards, but the Boudin sourdough bread, so perfect when soaked in thick 'n' cheesy goodness, is impossibly tough 'n' chewy when wrapped around meat and garnish.
19. Jolly Holiday Bakery Cafe
Main Street (Magic Kingdom)
Blueberry sour cream muffins in the morning, lemon cupcakes with white chocolate and strawberry filling at night, and a swath of sandwiches in between, from lighter fare (caprese on focaccia) to thicker wads (roast beef and blue cheese on a baguette). Very good for lunch.

18. Paradise Garden Grill
West side of Paradise Pier (Disney California Adventure)
Lots of skewers, like at the superior Bengal Barbecue, just not in as many memorable varieties. The link of spicy meatballs is worth trying once, and this is the place to hit up if you get off Goofy's Sky School suddenly jonesin' for gyros and a Greek salad. Bonus points for being tucked away and not too crowded when it isn't July.
17. The Harbour Galley
New Orleans Square (Magic Kingdom)
The tuna and shrimp salads at this slightly secluded seafood stand, just a scream away from Splash Mountain and a bone's throw from the Haunted Mansion, may be standard and prepackaged. But the lobster rolls are freshly made and highly addictive, heaps of chopped tail smothered in spices and slotted into soft, buttery bread. Dip it into the lobster bisque for a win-(Crustach)win.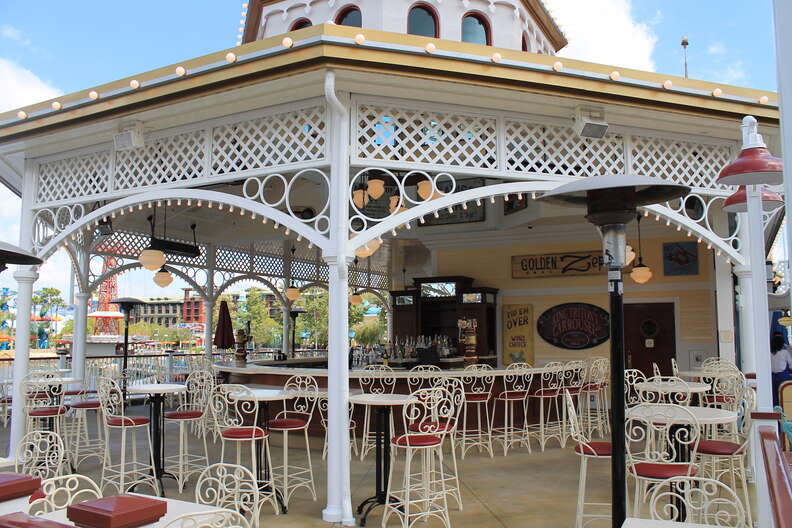 16. Cove Bar
Paradise Pier (Disney California Adventure)
Can't get a table at Ariel's Grotto but still want all the booze? See if they'll squeeze you in next door, where you can still get a Smoked Turkey (bourbon + bourbon + more bourbon + Odwalla lemonade + hickory smoke) to sip while devouring lobster nachos.
15. Flo's V8 Cafe
Cars Land (Disney California Adventure)
From the outside you could easily confuse this Cars Land spot as just another cash-grab swag shop dressed up as a '50s diner. What's inside is surprisingly hearty: piled-high turkey dips, rotisserie chicken, pork ribs, plus pies, pies and pies, from a pear/cherry concoction with cream cheese to slices of apple-cheddar. Grand-Am pale ale and Racer 5 IPA on tap also doesn't hurt. And another bonus: breakfast, if you get there early enough for the brioche French toast or the chicken tamale with scrambled eggs.

14. Cocina Cucamonga Mexican Grill
Pacific Wharf (Disney California Adventure)
The food's just about as good as at the Magic Kingdom's Mexican secret, Rancho del Zocalo, plus there are tamales here, not there. So why is it so much lower? 1) It almost always takes longer to get what you ordered. 2) It will look heat-lamp-damaged, no matter how much your plate avoided that fate. 3) This is but one of three eateries that feeds into a single seating area. It fills up fast even on lightly populated days. Reason to rethink its standing: both the Karl Strauss beer truck and a margarita bar (Rita's Baja Blenders) are just steps away.

13. Lucky Fortune Cookery
Pacific Wharf (Disney California Adventure)
Disneyland Resort's Asian offerings overall are sorely lacking, especially considering how superior they are at Disney World in Orlando, where you can at least get decent sushi in Epcot's Japanese corridor. Even so, the most stereotypical of the Anaheim park's storefronts is still one of the best places to chow down. It's a self-satisfying operation. Pick your protein: chicken, beef, or tofu. Pick your sauce: Mandarin orange, teriyaki, Thai coconut curry or, the tastiest choice, spicy Korean. Now add edamame or mango slices. All that a drink for less cash than any dish at Blue Bayou.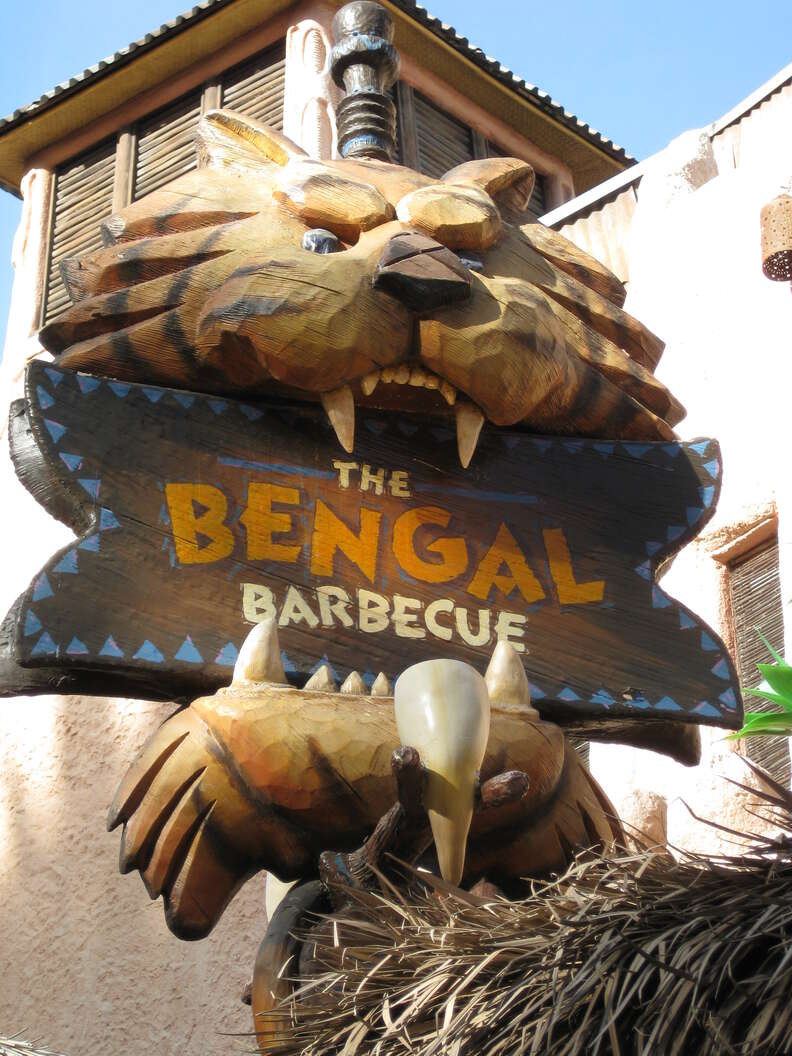 12. The Bengal Barbecue
Adventureland (Magic Kingdom)
Easily the best quickie stop, assuming the line hasn't backed up to Tarzan's Treehouse. There are five types of skewers available, including an all-veggie option. None of them is weak, but the bacon-wrapped asparagus is a must. Tough call as to which is better, the hot 'n' spicy Banyan Beef skewer or the sweeter Bengal version. Add tiger tails, aka breadsticks. Don't go late -- it always seems to close earlier than you think it should.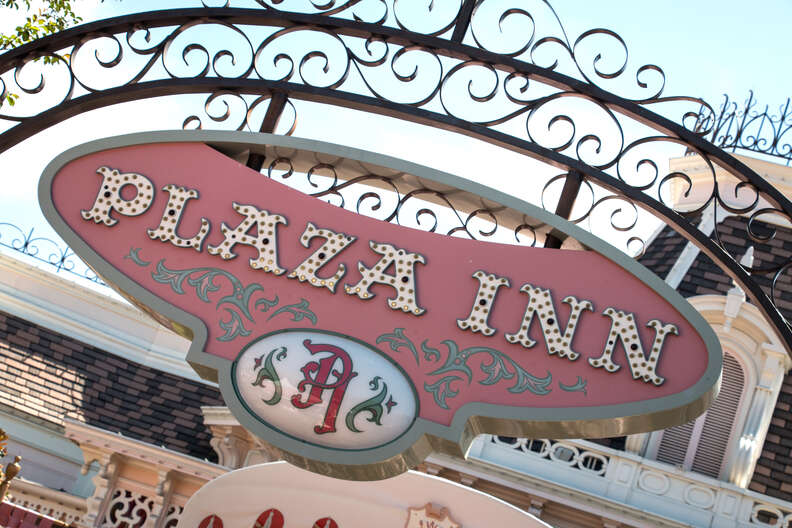 11. Plaza Inn
Main Street (Magic Kingdom)
Earns its probably too-high ranking largely for location, as the best offerings in this DIY shuffle are plenty tasty but entirely standard-issue: fried chicken, pot roast, penne with a pick of sauce, Cobb salads. Far from the worst on site, and it's especially helpful on blustery-or-worse days, because it's indoors and crowd-regulated, so it never gets too cramped. But you're apt to get more flavor from the next few places.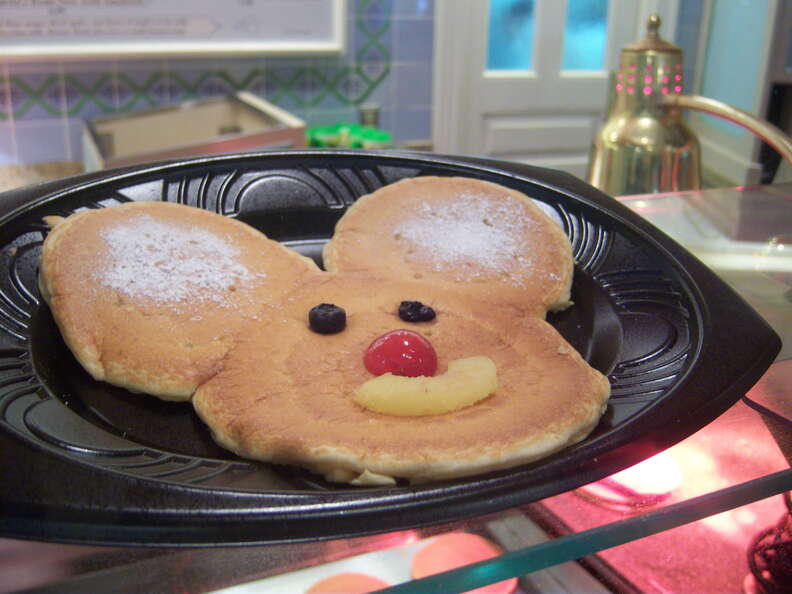 10. River Belle Terrace
Where Adventureland meets New Orleans Square (Magic Kingdom)
A windowed expanse overlooking the now-inactive Rivers of America and Tom Sawyer Island, this is essentially a high-grade cafeteria disguised as a sit-down-get-served restaurant. But it's a pretty good one, too, specializing in Southern bites, heavy on pulled pork, brisket, and spare ribs. Those reasons -- and the view, if you get the right table -- are why it's a slight notch above its Main Street counterpart.
9. French Market Restaurant
New Orleans Square (Magic Kingdom)
A faster taste of N'awlins for the Splash Mountaineer on the go. Chomp through shrimp po-boys and French dips, or pause long enough to savor beef stews in bread bowls and andouille sausage over red beans and rice. Good eats across the board -- but good luck finding a table any time other than Tuesdays in February.
8. Carnation Cafe
Main Street (Magic Kingdom)
The basics done right, potentially within eyeshot of the Main Street parades, if you time your reservation properly. Nothing is complicated here: penne pasta with shrimp, sourdough bacon melts, fried pickles, simple salads, and several of Walt's favorites, from his preferred chili to chicken-fried chicken and meatloaf. The results, however, are consistently satisfying, appropriately priced, and swiftly delivered.

7. Rancho del Zocalo Restaurante
Frontierland (Magic Kingdom)
Don't recognize the name? Probably because you've blitzed past this place en route to Big Thunder Mountain and assumed the tables out front were simply a rest spot. Everyone else knows that space houses a walk-up, self-serve Mexican joint with quality bites -- maybe not to the level of El Cholo, but you've certainly had worse at El Torito. Try to get the carne asada immediately off the grill, if possible, lest it toughen from overcooking. Better yet, tear apart the citrus-lime half-chicken, after first asking for extra salsa. The less-involved -- and less-expensive -- choices actually taste better, from a right-sized trio of street tacos (chicken, steak, and carnitas) to a chock-full tostada salad (chicken or beef). Bonus: a rare DIY soda fountain, and no one bats an eye when you go back for refills.
6. Wine Country Trattoria
East side of Paradise Pier (Disney California Adventure)
Further proof that alcohol can make the blandest meal better. The truth about the Trattoria -- which also boasts two occasionally available tasting terraces -- is that it probably ought to rank lower, courtesy of pasta and seafood dishes that are just OK. For every genuinely savory entree, like the osso buco, there are three mediocrities, like the thin bolognese sauce or the mediocre lasagna. And yet... there is WINE! All the wine! In flights, in tall glasses, in bottles and carafes! Soon enough you stop caring that the fritto misto is so skimpy.
5. Cafe Orleans
New Orleans Square (Magic Kingdom)
Two words: Monte Cristo. Do that deep-fried sandwich one of two ways here: traditional with turkey and ham and Swiss, or the meatless version, which is oozing with cheese. Do not skimp on the berry puree for either concoction. There are in fact several other delectables on the menu, from a filling French onion soup to braised beef crepes in Bordelaise sauce, capped by Mickey-shaped beignets. You should definitely try some of those once you get over your Monte Cristo craving, which will be sometime around your 10th visit.
4. Ariel's Grotto
Paradise Pier (Disney California Adventure)
The food here is every bit as good as anything on order at the iconic spot listed next, and arguably better in a few instances -- there isn't any grilled lobster tail with oak-smoked, honey-whiskey barbecue tri-tip on offer at the Blue Bayou. That said, how much you'll enjoy this under-the-sea hideaway depends on three things: 1) your love of Disney princesses, since they parade around this place for pictures; 2) your eagerness to see World of Color, given the front-and-center access you're granted after eating here; and 3) your propensity to drink. Because when Jasmine drops in from Agrabah and flits over to your table for a snapshot, you really ought to be double-fisting cocktails.
3. Blue Bayou Restaurant
New Orleans Square (Magic Kingdom)
Now with illuminated tablet menus! Beats the Grotto on ambience alone. Anyone who just took the Pirates of the Caribbean plunge while hungry wants to immediately snag a table at this indoor-but-outdoor-but-really-indoor landing across the way, where everyone is dry apart from drowning in jambalaya. Those smells still whiff-able from the boats don't deceive. The citrus chicken, for a simpler example, is skin-on succulence, all buttery and juicy, with a fine risotto side that would be even more memorable if you hadn't also devoured the goat cheese mashed potatoes underneath the grilled salmon. Word to the wise: order the strip loin mid-rare with the sauce on the side, lest it arrive drenched in Disney's approximation of A1. Also important: the seven-layer chocolate cake.
2. Club 33
New Orleans Square (Magic Kingdom)
Most people who have dined inside this much-hyped, rarely seen, impossible-to-get-into speakeasy of an eatery in New Orleans Square would probably slot it in pole position, and they wouldn't be so laughably wrong. Dishes here are sometimes stuffy and old-fashioned, but they're also undeniably delicious, the finest in the whole of the Magic Kingdom (though not the entirety of Disneyland Resort). The bonus of sipping cocktails within the original D-land can also be a taboo thrill, seeing as alcohol is verboten everywhere else. And the memorabilia you glimpse while noshing (including more than a few items from Mary Poppins last time I was there) should be catnip to any longtime Mouseketeer. So why is it No. 2? Inaccessibility. You very likely will never set foot inside. You gotta know someone who knows someone who knew just that right someone to get you on the list. Sorry.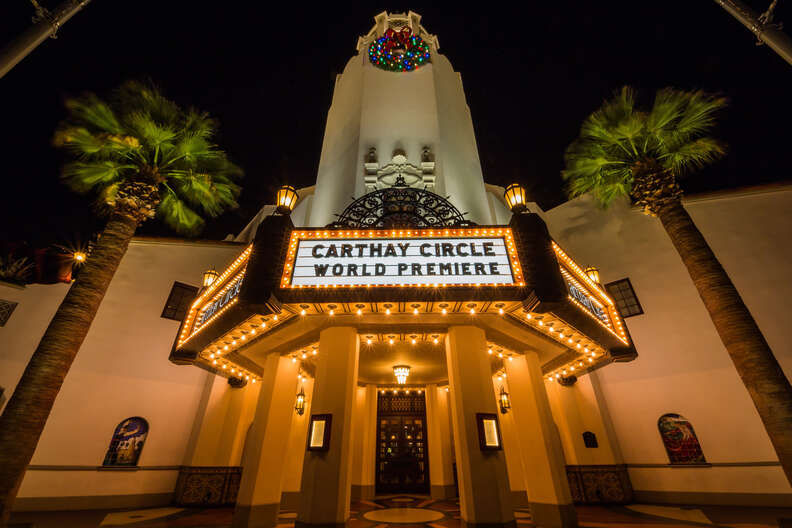 1. Carthay Circle Restaurant and Lounge
Buena Vista Street (Disney California Adventure)
The benchmark by far; Club 33 is overrated and ordinary by comparison. The Carthay is exactly what you hope would spring from the oxymoron "Disney fine dining": retro elegance that doesn't put class above comfort, impeccable service, a touch of that Mouse magic in both dishes and decor, and superior eats that measure up to most anything the steakhouses and bistros in Newport Beach are slinging.
Start in the lounge, where tables can also be booked for smaller plates. Sip on a Tequila Daisy (a frothier sour margarita) while eyeing archival photos of Walt and his contemporaries festooned throughout the two-story art deco replica. Once upstairs -- and, if you're lucky, seated on the balcony patio with a perfect view of the fireworks over Sleeping Beauty Castle -- shrug off that FastPass for Radiator Springs and settle in for a leisurely meal that deserves to make all the stops.
Blue crab lettuce cups and ginger-lemongrass chicken satay are excellent starters, and the jalapeño-laced fried biscuits are a signature for a reason. From there, you pretty much can't go wrong. Having tried all but one current entree (the menu changes seasonally), only a hearty-yet-still-lacking shellfish cioppino came off average. The Delmonico steak is outstanding, the chicken superbly smoked, the thick-cut pork chop expertly cooked for maximum succulence. And you're a fool not to finish with a warm dulce de leche marshmallow turnover, the sort of reconstructed s'more only an Imagineering chef would dream up.
Sign up here for our daily LA email and be the first to get all the food/drink/fun Los Angeles has to offer.
Ben Wener is the former pop music critic at The Orange County Register and also has written for The Hollywood Reporter, Consequence of Sound, and more. Find him (and not much else) on Twitter and Instagram.