Los Angeles You know when you eat all that great Thanksgiving food in a couple days -- turkey, and gravy, and stuffing, and cranberry sauce -- and think to yourself, "Self, how great would all that stuff be ON A SANDWICH??" Well, someone else thought of it first. And they sell it all over LA. And you can have it not on Thanksgiving. Boom.

Turkey dinner sandwich
The Carving Board (
address and info
) Burbank (& other locations) If you're worried about all this turkey being of the not-shredded variety, look no further than The Carving Board. This place is hookin' it up with shredded turk, homemade stuffing, simmered and grilled onions (boo-ya), and dried cranberries. And if you're too full from real Thanksgiving to get to this sandwich by the end of the fall... fear not, 'cause we've got a year-round winner on our hands.
Gobbler panini
Vine Street Deli (
address and info
) Hollywood It's easy to miss Vine Street Deli in the crazy mess of Hollywood -- but like, dude, don't miss it. It does its Gobbler panini-style, on a baguette, with turkey, Swiss, avocado, and cranberry sauce. You sooooooooo need that in your life. More Stuff You Will Like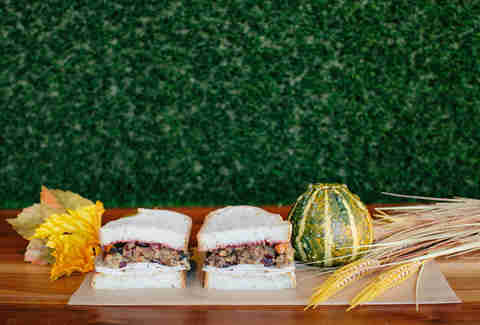 November to Remember
Mendocino Farms (address and info)   Mid-Wilshire (& other locations) The trick with Mendo is that it's never done a thing wrong in its life, so like, why would it start now? If you're afraid of chains, be not afraid, because the ingredients are always top notch & fresh. Such is the case with the seasonal November to Remember sandwich: it's got hand-carved turkey, applewood bacon stuffing, herb aioli, cranberry chutney, lettuce, and tomato. No, thank you.
Thanksgiving menu
Simplethings (
address and info
)   Westwood (& other locations) Sick of always having the same stuffing in your Thanksgiving sandwiches? Simplethings is here for you. Beyond its always-juicy roast turkey, cranberry chutney, and sage gravy, it uses jalapeño cornbread stuffing (and then sticks it all in a michetti roll, like the good lord intended). Continue Reading
The Bobbie
Capriotti's (address and info)   Beverly Hills (& other locations) Not a lot of sandwich shops can hang their hat on a gobbler. Capriotti's is not a lot of sandwich shops. The Bobbie is probably its most popular sandwich, and with homemade turkey, cranberry sauce, and stuffing, it's not too hard to see why. And since it's year-round, you can give thanks to Capriotti's anytime you please.
Hot turkey sandwich
Tallyrand Restaurant (
address and info
)   Burbank The inconspicuously named "hot turkey sandwich" at this Burbank legend is actually everything you start dreaming of as soon as the pumpkin-spice thing starts each fall: the herb dressing poured over the roast turkey is perfect with mashed potatoes, gravy, and cranberry sauce. And spoiler alert -- that's how it's served.
Holiday turkey sandwich
Earl of Sandwich (address and info)   Anaheim You're (trapped) in Downtown Disney and you don't know where to eat. Well guess what, now you do, 'cause Earl of Sandwich is ready to prepare you for/make you reminisce about T-Day with its holiday turkey sandwich. Once you sink your teeth into the thin-sliced turkey, cornbread stuffing, turkey gravy, cranberry sauce & mayo, you'll definitely agree you're in the happiest place on Earth.
The Last Supper
Holy Aioli (
address and info
)   Pico-Robertson Besides being a very fun exclamation to shout at people, Holy Aioli is also dishing out a killer Thanksgiving sammie. Appropriately named The Last Supper, it's got roasted turkey breast, cranberry chutney, honey-mustard aioli, homemade coleslaw, diced apple, roasted almonds, and provolone cheese. Holy Aioli!
Holiday Bird
Umami Burger (address and info)   Los Feliz (& other locations) You guys you guys you guys you guys you guys Umami is doing a Thanksgiving burger this fall and it has its signature turkey patty, topped with a cornbread stuffing patty, house-made turkey gravy, fresh ginger-cranberry chutney, spiced Japanese yams, and sprinkled with Umami-dusted fried sage ohmyGod ohmyGod ohmyGod ohmyGod. (Also, $1 of every single Holiday Bird goes to Meals on Wheels, so you can feel like a good person.)
The Pilgrim
Dave's Chillin'-n-Grillin' (
address and info
)   Eagle Rock DC&G is the most fun you'll ever have in a place that is supposed to look like a garage, and Dave only serves his Pilgrim (turkey, cranberry sauce, stuffing, and turkey gravy) from September through April, so get your hands on one while you have the chance. Since you can't spend actual Thanksgiving with him (or maybe you can? Believe in yourself.), this is about as close as you'll come to making that wonderful man a part of your family for the holidays.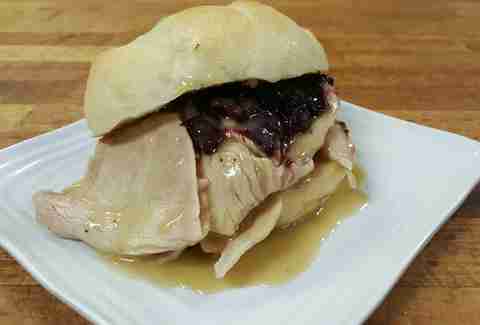 Thanksgiving on a Bun
The Village Bakery & Café (address and info)   Atwater Village Village Bakery's Thanksgiving on a Bun (freshly roasted turkey breast, stuffing, gravy, and cranberry sauce on a maximum-tasty bakery bun) is available year-round, and shit is bananas (b-a-n-a-n-a-s), even though it has none in it.
Thanksgiving turkey sandwich
Roast Deli & Market (
address and info
)   Brentwood & Pacific Palisades Chef Whitney Werner is keeping it simple at his upscale carvery with his Thanksgiving turkey sandwich. The turkey is suuuuuuuper fresh, and it comes with lettuce, cranberry sauce, and sage aioli on cran-walnut bread. Though you can't go wrong with any of the available side choices, get down on the cucumber tomato salad. Or rather, get a side of a whole other Thanksgiving turkey sandwich, because it's so effing good.
Sign up here for our daily LA email and be the first to get all the food/drink/fun Los Angeles has to offer.
Wilder Shaw's favorite holiday is Thanksgiving. For reals. Tell him how right he is on Twitter at @WilderShaw_ and Instagram at @wildershaw.