Yeah, yeah, Cofax has an amazing breakfast burrito, and so does Lucky Boy, and so does Corner Cottage, blah blah blah. We get it. Thing is though, there are so many more tortilla-wrapped, egg-stuffed gems that you DON'T know about (but should!).
So today we're highlighting those with this list of LA's 12 best under-the-radar breakfast burritos, none of which appeared on any of the most recent "best of" lists from LA Weekly, Eater, Thrillist, or, uh, Thrillist again.
Recommended Video
These Dumplings Are Bite-Sized Breakfast Sandwiches
Do yourself a favor and get yourself the Mixto burrito (four eggs, cilantro, tomatillo salsa, avocado, queso fresco, and Jack cheese) from Silverlake's best casual-upscale-but-also-still-cheap Mexican spot. And for $2, add carne asada, because guys, $2.
Ham! Bacon! Sausage! Turkey! Onion! Pepper! Mushroom! Tomato! Ole! Ole! Ole!
The line takes 10 billion years, but it's worth it for the $7 bacon burrito, which is perfectly simple: scrambled eggs, bacon, American cheese, and a side of homemade tomatillo salsa. Grab one, head outside, dig your toes in the sand, and say a little thank you prayer to the breakfast gods.
George's is really proud of its breakfast, and it absolutely should be. There are a ton of BB options and not a single one of them is over $8. And in addition to standard breakfast burrito meat choices, you can also pop some chicken in there, for a which-came-first-oh-who-cares kind of morning.
Blink and you'll miss it, Tortas Mexico is in the back of a strip mall where you can't even see it. But like, trust us and go see it, 'cause its tortas are the stuff of dreams... and so is the breakfast burrito (with eggs, hashbrowns, sausage, AND bacon).
If you like a side of breakfast burrito with your potatoes, head over to VIP's, which serves A TON of taters with your torpedo. Good thing they're both outstanding -- and if you don't trust us, trust John Wooden: the Wizard of Westwood used to eat there on the daily.
Covina's best drive-thru also has Covina's best (and probably biggest) breakfast burrito. Pop as many meats as you want in there to go along with the standard eggs, cheese, and hashbrowns. And order 100,000 sides of the homemade salsa.
The tortillas at Lily's are super thick, so when you think to yourself, "Should I add French fries to my burrito to go along with the eggs, cheese, bacon, and refried beans?" it makes sense that you'd think about it for, like, at least five seconds before saying, "Yes."
Nat's has been rocking the Valley for 30+ years, so it's definitely doing something right. And that something right is its perfectly cooked onions and peppers, which kick the burritos up a notch (BAM!). Oh and if you don't wanna wrap your breakfast in a tortilla, you pretty much can't go wrong with any of the South-of-the-border options, especially the Mexican omelet.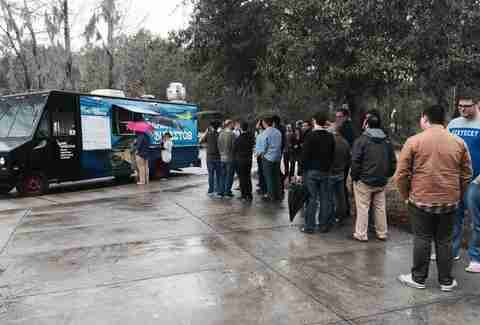 Before you get in your car and head over there, chill -- you can only get this baby one day a week. Every Sunday at the Studio City Farmers Market, there's one spot with the biggest line, and it's for good reason. $5 for regular, and $6 for meat. So bring an extra buck. For sure.
"Every breakfast burrito in this city seems to have the same ingredients," you say in a huff. Well relax, 'cause Paper or Plastik is here to soothe your huffy bones. Along with the more-standard eggs and taters, its kick-ass breakfast burrito comes with baby spinach and melted Muenster. Mmmmmmmm.
3 Square hooks you up with eggs, chorizo or apple-smoked bacon, black beans, potato, cheddar, salsa, and the piéce de résistance... delicious guacamole. Also, there's beer. Good morning!
Sign up here for our daily LA email and be the first to get all the food/drink/fun Los Angeles has to offer.
Wilder Shaw is a regular Thrillist contributor who is really sorry he used the phrase "breakfast torpedo." Forgive him on Twitter at @WilderShaw_ and Instagram at @wildershaw.
Stuff You'll Like