19 Essential LA Sandwiches
Grab these for your next picnic at the beach, park, or pool.
Summer is already halfway over which means you still have a few weeks left to get your last picnic (or two) in. There are plenty of parks, beaches and outdoor spaces to post up and enjoy the sunshine with a good book in hand, summer jams, and maybe even a game of frisbee. But, let's be real, no picnic is complete without an epic sandwich and lucky for you, we've scoured the city for the best sandwiches to-go. From Italian delis to wine shops and everything in between (even a few newcomers), we've got some of the best spots in town to get your meat and cheese fix.
The Godmother
Bay Cities Italian Deli
Santa Monica
The Godmother is like an LA rite of passage so if you haven't had it, stop what you're doing and go try it. Like NOW. Except, try to avoid weekends when it's always packed and make sure to bring cash or a debit card (credit cards are not accepted). This place has the original Godmother sandwich and you can bet anything else in LA named even slightly close to it, is a copycat of this. The signature sandwich has prosciutto, ham, capocollo, mortadella, Genoa salami, and don't even *think* about not getting The Works and hot peppers. Then, block out the next two hours of your day because you're going to need a cat nap after you're done.
How to order: Via Doordash or in person.
The Godfather
All About the Bread
Mid-City
You can't have The Godmother without The Godfather and this one is a nod to it's Westside rival (see above). While some will debate which sandwich is better, we're perfectly fine declaring both as winning sandwiches because now you have options on both sides of the city. The Godfather is stacked with meat like spicy capocollo, mortadella, prosciutto di Parma, ham, and Genoa salami. And just like Bay Cities, they also offer "The Works" which is an assortment of pickled hot peppers, spices, carrots and cauliflower for a crunch.
How to order: Via Postmates, Doordash on in person.
Garlic aioli chicken sandwich
Carla Cafe
West Hollywood
This underground sandwich is a total gamechanger and if we had to pick the ultimate winning sandwich from the list, it's this one. The garlic aioli chicken sandwich has all the key ingredients for a perfect sandwich -- crunchy bread, a generous portion of meat, an insanely delicious spread, and all the fixings. Carla Cafe was born out of COVID when two friends decided to start selling sandwiches to friends and family out of their house as a side hustle during quarantine. The overwhelming response led to taking orders from Instagram, expanding the menu, and opening a soon-to-be sandwich shop. They've moved into a ghost kitchen at Bootsy Bellows to keep up with the demand, so be patient and stay on it -- they sell out FAST.
How to order: Follow them on Instagram, watch out for their weekly menu drops on Instagram Stories, and then DM them for the website link to order.
Old Fashion Salumi
Haute Mess
West Hollywood
While the Cosmopolitan E Rosati might be the most popular sandwich, the Old Fashion Salumi is our top pick. In case you couldn't tell, the sandwiches are named after popular cocktails, and there is one for everyone. The Old Fashion is made on freshly baked ciabatta bread with a generous serving of thinly sliced meat including mortadella, spicy capocollo, soppressata, Genoa salami, and the fixings. The deli is inside an Italian specialty market so you can pick up all your sweet and savory picnic necessities in one stop like a fantastic bottle of Italian wine for $20, European cheese, freshly baked baguette, and homemade sauces like salsa verde.
How to order: Via website or in person.
Tongue sandwich
Attari Sandwich Shop
Westwood
Yes, tongue. As in, cow's tongue. This is actually a delicacy in Iranian cuisine and Attari Sandwich Shop in Westwood does it best. Warm slices of tender tongue, lettuce, tomato, and pickles on soft French bread. But don't knock it until you try it -- people line up for this sandwich!
How to order: Via Postmates or in person.
Chicken special panini
Il Tramezzino
Beverly Hills and Studio City
Some people think a good sandwich is all about the bread, others will argue it's in the sauce. We're here to tell you the Chicken Special is a winner on both fronts. Take one bite of the classic pressed sandwich and then immediately wipe your lip because the basil garlic sauce will be oozing out. Succulent chicken breast, sun dried tomatoes, and melted provolone inside a freshly baked pressed Italian baguette make this sandwich perfection and don't worry, you don't have to pay extra for avocado, it's already included.
How to order: Via Seamless, UberEats, or ChowNow.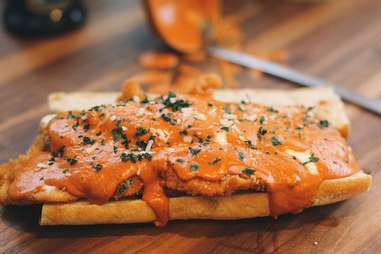 The Spicy P
Ggiata
Pico-Union
You can't go wrong with any of the sandwiches at Ggiata, but the Spicy P is our first choice. It's a twist on the classic chicken Parmesan smothered with a spicy vodka sauce, fresh mozzarella, and grated Romano on a seeded baguette. Ggiata is the brainchild of four childhood friends who wanted to bring their East Coast deli memories to the West Coast. They don't take orders over the phone but they do deliver to most areas in LA.
How to order: Via Chownow
LA Street Pastrami
Dan's Super Subs
Woodland Hills
You've probably never heard of this place because it's deep in the Valley, like real deep. But if you want a good ol' fashioned sub sandwich, from a tiny hole-in-the-wall spot that locals love, then Dan's Super Subs is your spot. The LA Street Pastrami is so good it's worth making the drive over the 405. It comes with pastrami, cheese, bacon, grilled onions, jalapenos, and a spicy homemade Baja sauce.
How to order: Via Doordash, Postmates, or Grubhub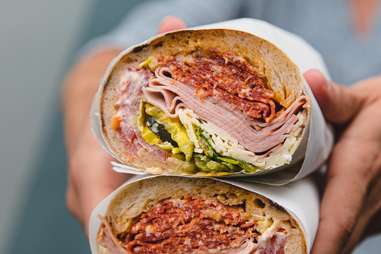 The Padrino
Pizzana
Brentwood and West Hollywood
You might be thinking, LA can't handle another Godfather sandwich. But once you've had The Padrino (which means Godfather in Italian), you'll realize there's room for more than one Godfather in this town. The Padrino is a meat lover's dream, made with two pounds of prosciutto cotto and spicy soppressata, layered with pepperoncinis, provolone, Calabrian slaw, tomatoes, pickles, and aioli on housemade ciabatta. It weighs about as much as a newborn so you'll probably eat half of the sandwich and save the other half to use as weights later.
How to order: Via ChowNow
The Turkey Pesto
Uncle Paulie's Deli
West Hollywood
Cold-cut gourmet sandwiches are the name of the game at this classic Italian-American deli. The Turkey Pesto is one of the best sellers and for good reason. Served on a plain or sesame baguette, the Italian-style sandwich is piled high with meat and slathered with homemade pesto sauce. All the sandwiches are inspired by New York delis but with a California flair, taking advantage of the abundant local produce.
How to order: Via Chownow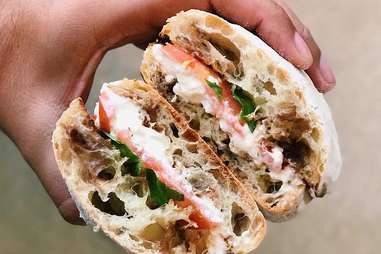 Caprese
Potato Chips Deli
Culver City and Beverly Grove
Sometimes a simple, no-frills sandwich is what you're craving and the caprese at Potato Chips Deli is just that: Creamy burrata, tomato, basil, oil and vinegar, served on ciabatta bread. They just opened a new location in Culver City and they're open for pick-up, delivery and outdoor seating.
How to order: Via UberEats, Postmates, or Doordash
Sweet n Spicy Salami
E Stretto
Downtown
The sweet n spicy salami is like a cheese plate in a sandwich made with Genoa salami, homemade spiced Calabrian honey, and parmesan cheese. Restaurateurs Joel Miller and David Fernie wanted to pay homage to the former panini shop they took over so they decided to open up an Italian-inspired deli (with locations in both LA and NY). They offer nine different sandwiches like the Ill Papa, turkey pesto, roast beef, and prosciutto di parma but the one common ingredient among all of the sandwiches is the ciabatta roll from Bread Lounge. Also, keep an eye out for the meatball sandwich which only makes an appearance every few months.
How to order: Via Caviar, Grubhub, or Postmates
#3 Soppressata Salami
Larchmont Village Wine & Cheese
Larchmont Village
Larchmont Village folks have loved this family-owned wine shop and deli for years. Salami, Manchego cheese, and a sun dried tomato spread on your choice of freshly baked ciabatta or baguette for $9 is a steal -- valet parking in LA costs more than this sandwich. Pair it with a bottle of chilled rosé and you're ready for a summer picnic. They currently offer takeout-only sandwiches from 11am-5pm Monday through Saturday.
How to order: Via Doordash or in person
The Fairfax
Eggslut
Downtown
Sure, it's greasy but it's damn good. It's also a great way to start your morning. Soft-scrambled eggs, chives, cheddar cheese, grilled onions, and of course, sriracha mayo fill a warm brioche bun and it's only $8.25. They have locations all over LA but the Grand Central Market location is the OG.
How to order: Via UberEats or in person
#19 pastrami sandwich
Langer's
MacArthur Park
Langer's #19 pastrami sandwich is pretty legendary in this town and it doesn't need much introduction. It comes with thick cuts of juicy pastrami, Swiss cheese, and a Russian-style cole slaw dressing in between two slices of rye bread.
How to order:Postmates, UberEats, Caviar, or Doordash
Porchetta Melt
Gjusta
Venice
Before you try this hot mess of a sandwich you should be prepared to circle the block for 15 minutes just to find parking, elbow your way through the Venice hipsters to get your order in but only after you get a few eye rolls from the guy behind the counter impatiently taking your order, and then dish out $20 for a small sandwich (no sides included). Then, be prepared to come back again next week and do it all over again because somehow Gjusta has that effect on you. The Porchetta Melt is made with tantalizing porchetta, melted fontina cheese, onions, and rapini -- a very fancy, Gjusta way of saying broccoli rabe.
How to order: Via ToastTab or UberEats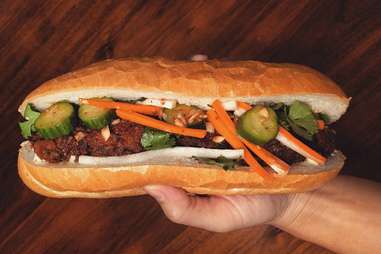 Roasted Pork Banh Mi
The Los Angeles Banh Mi Company
Huntington Park
We'd be remiss not to include at least one banh mi sandwich on this list and the roasted pork at The Los Angeles Banh Mi Company is stupid good. Slow roasted pork shoulder is the star ingredient in this savory sandwich and the Korean style pickles, carrots and daikon also add a solid crunch. The sandwich also comes with a side of fried shrimp but the best part? The sandwich is only $7.50.
How to order: Via Seamless or UberEats.
DA Special
Eastside Market Italian Deli
Chinatown
This sandwich is a mountain of meat and a total savage. It's like merging four-in-one -- sausage, meatballs, roast beef, and pastrami. The deli has been around over 90 years so they know a thing or two about meat. Come hungry because it's a hefty meal but you can do it. We have faith in you.
How to order: Via GrubHub or UberEats
Cemita
Los Poblanos or Cemitas Tepeaca Puebla
Boyle Heights
This food truck turned restaurant has been serving up cemitas in Boyle Heights since '91. What's a cemita, you ask? If a burger and a sandwich had a baby you get a cemita that is served on a seeded bun, with avocado slices, cheese, jalapeños, and onions. If you see Oaxacan cheese and papalo on the menu, don't think twice, add it on. There are 25 different combinations of this sandwich but we'll save you the time and tell you that the Milaneza beef is what you should order.
How to order: In person
Sign up here for our daily LA email and be the first to get all the food/drink/fun Los Angeles has to offer.