The LA Sandwich Bucket List
Los Angeles For a city that seems to be getting more and more gluten intolerant by the day, we sure do have a lot of great sandwiches. Even if you disqualify burgers (because they're burgers guys, not sandwiches), pita sandwiches (because pita bread ≠ bread bread), and wraps (it's basically just a burrito, dude), you're still left with a massive list of sandwiches well worth checking out before you head through the pearly purple and gold gates. (Note: if that last part should happen while you're trying to eat every sandwich on this list, please don't sue.)

1. The Godmother
Bay Cities (address and info) Santa Monica Let's just get this one out of the way right quick. If you live in LA, you need to have the Godmother at least once. Sure, you may eventually realize that Bay Cities' hot sandwiches are better (chicken Parm FTW) and All About the Bread's "Godfather" might be even better (see below), but it doesn't change the fact that no LA sandwich bucket list would be complete without this mother on there. Which brings us to...
2. The Godfather
All About the Bread (address and info) Mid-City You might think its bread is better than Bay Cities', sure, and that its cold cuts are better than Boar's Head, totally fine, but you'll only think those things after you try it, which if you haven't, you need to, so you can think those things (or different things!). More Stuff You Will Like
Zach Brooks/Thrillist
3. DA Special
Eastside Market Italian Deli (address and info)   Chinatown In some ways, this classic Italian deli on the outskirts of Chinatown is the Bay Cities of the east side -- if Bay Cities only sold sandwiches and had a ton of seating and TVs. Its sausage and meatball sub with peppers and onions is pretty terrific, and its shredded pastrami and hot roast beef isn't too bad either. But the showstopper is the life-risking DA Special, an obscenity featuring all four IN ONE SANDWICH. In other words, if you do plan on making this a real bucket list, you'll want to leave this sandwich for last. Continue Reading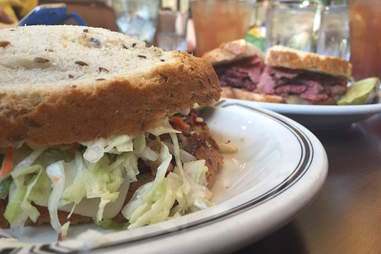 Zach Brooks/Thrillist
4. #19 pastrami sandwich
Langer's (address and info)   MacArthur Park Like The Godmother at Bay Cities, you need to have Langer's pastrami sandwich with Swiss cheese, Russian dressing, and cole slaw before you're really even allowed to call yourself an Angeleno. It's not just the best pastrami sandwich in LA, it's the best in the country. (Pro tip: it's even better without all the stuff on it. Trust us.)
Zach Brooks/Thrillist
5. French dip
Philippe The Original (address and info)   Downtown Just remember these first two words: Double. Dip. Whether it's beef with mustard. Lamb and blue cheese. Pork. Doesn't matter which one you're eating, provided you remember those first two words. Double. Dip.
Zach Brooks/Thrillist
6. Egg salad sandwich
The Apple Pan (address and info)   West LA "WHAT?" you might yell at us when we say egg salad sandwich and The Apple Pan in the same breath, but here's the thing: have you ever had an egg salad sandwich at The Apple Pan? Because you should. Because if you look up "the best classic egg salad sandwich" in the dictionary, there's a picture of this sandwich. Also we use a really weird dictionary that's probably different than yours.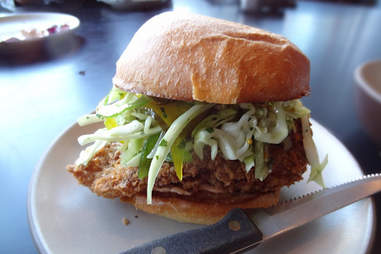 Zach Brooks/Thrillist
7. Fried chicken sandwich
Son of a Gun (address and info)   Melrose If you're looking for ground zero of LA's fried chicken sandwich craze, here it is. Is there a spicy slaw made from bread & butter pickles? Yes there is. And aoili made from Rooster sauce? That too. But the real secret is the overnight brine, which gives it big flavor (and moistness) all the way through.
8. #2 Cold Cut Special
Banh Mi My-Tho (address and info)   Alhambra The biggest problem with banh mi is deciding between cold cuts and roast pork, but at this Vietnamese sandwich shop in the SGV you don't have to! Its #2 features roasted pork plus all the things you'll find in your favorite đặc biệt (including pate and butter). And the best part is, it's under $4. Yes, we said $4.
Zach Brooks/Thrillist
9. Beef on weck
Top Round (address and info)   Mid-Wilshire It's like Arby's! (But good.) With curly fries like Arby's! (But good.)
Zach Brooks/Thrillist
10. Fat Jerry
Fat Sal's (address and info)   Hollywood You know what's cheaper than going to Rutgers to eat a sandwich monstrosity at one of their famous grease trucks? Driving to this place and ordering the Fat Jerry, a cheesesteak topped with mozzarella sticks, French fries, bacon, chicken fingers, and fried eggs. You can say you're only going to do it once, but you'll be back. If you can walk afterwards.
11. Porchetta melt
Gjusta (address and info)   Venice You know how you can tell this is the one of the best sandwiches in all of LA? Because after struggling to find parking, and navigating its crazy counter (you can order from anyone... but no one will look at you!!), and shelling out $15 for a small sandwich that doesn't even come with anything, and probably not finding somewhere to sit *breath* you STILL want to eat this sandwich. Every. Single. Day.
12. The Burger
Father's Office (address and info)   Santa Monica/Culver City OK, so maybe we'll allow one burger. Because the burger at Father's Office isn't a burger, it's a sandwich -- it's served on an oblong roll instead of a bun, and most of what you taste is blue cheese, onion jam, and arugula. If it were a burger, you'd be allowed to put ketchup on it. It's a sandwich. A supremely delicious sandwich you need to eat before you die, but still a sandwich. Call us trolls if you want. Sandwich.
Zach Brooks/Thrillist
13. Tortilla Espanola
ink.sack (address and info)   Melrose So maybe you can't afford ink., but you know what you can afford? Top Chef Michael Voltaggio's little sandwich place... right next to ink. You can't go wrong with any of the little $5-$7 sandwiches, but the Tortilla Espanola is topped with chips, so...
14. Tongue sandwch
Attari Sandwich Shop (address and info)   Westwood You didn't know Perisan sandwiches were a thing? Persian sandwiches are a thing. And Attari in Westwood is the place to have one. Warm slices of tender tongue, lettuce, tomato, and pickles on soft French bread. And if you're freaked out by tongue, you're missing out. Way out.
15. Surf & turf po-boy
The Little Jewel of New Orleans (address and info)   Downtown Why just have a fried shrimp po-boy when you can have a fried shrimp po-boy with roast beef and "debris" (jus! meat bits! insanity!!)?
16. Lamb sandwich
Papa Cristo's (address and info)   Koreatown There is not a lot of great Greek food in LA, which explains why a giant just-OK barn like Papa Cristo's can be so popular. But there's no denying it's an LA classic, and at some point you really do need to go eat its next-level roasted lamb sandwich with feta on French bread.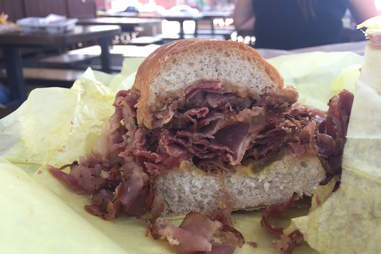 Zach Brooks/Thrillist
17. LA pastrami
The Hat (address and info)
Multiple locations
So you've had classic deli pastrami from Langer's, but people forget about the equally classic LA-style pastrami, and that's a shame. Unlike the thick-cut deli-style, this version's shredded super thin and usually comes in a dipped roll or on top of a hamburger with chili. Johnnie's Pastrami in Culver City is pretty great, but if you want your pastrami to feel more like bacon than pastrami (why wouldn't you??) you'll need to go to The Hat.
Zach Brooks/Thrillist
18. Chicken sandwich
Night + Market Song (address and info)   Echo Park What started as an off-the-menu item at dinner is now an on-the-menu lunch item at this great Silverlake Thai spot. Yes it's another fried chicken sandwich, but it's not "just another fried chicken sandwich," because this one has papaya salad on it. And ranch.
19. Cemita
Los Poblanos (address and info) or Cemitas Tepeaca Puebla (address and info)
Boyle Heights
Whittier Blvd in Boyle Heights has not just one of the best cemita trucks in the city, but TWO of the best cemita trucks in the city. Los Poblanos is beloved by many, and serves up an epic version of beef cutlet on a freshly baked seeded bun, topped with string cheese, avocado, papalo, and chipotles in adobo. Its neighbor, Cemitas Tepeaca Puebla, serves practically the identical sandwich -- with a crazy delicious walnut milk drink to boot.
Zach Brooks/Thrillist
20. The Fairfax
Eggslut (address and info)   Downtown If you're going to get dirty with just one egg sandwich in town, it should definitely be from this ultra-popular, award-winning Grand Central Market stand. You can't go wrong with any of the sandwiches, or asking them to replace the too-soft brioche with one of their biscuits (!!!!), but in the end you should probably order the Fairfax w/ soft scrambled eggs w/ chives, cheddar cheese, caramelized onions, and a Sriracha mayo.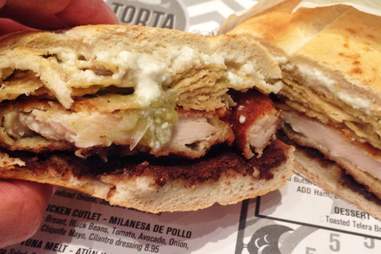 Zach Brooks/Thrillist
21. Milanesa torta
Torta Co. (address and info)   Downtown Since our Mexican population's so huge, you can't have LA sandwich bragging rights without a next-level torta, and you may as well get one from possibly the most underrated sandwich shop in LA; this mall food court stand from the owners of Loteria makes one of the best tortas in LA -- specifically the breakfast torta with milanesa (pounded and deep fried chicken cutlet), topped with green chile chilaquiles. Sign up here for our daily LA email and be the first to get all the food/drink/fun Los Angeles has to offer.Zach Brooks is the founder of MidtownLunch.com and FoodIsTheNewRock.com. Argue with him on Instagram at @FoodIsTheNewRock or Twitter at @FoodIsNewRock.