The Weekend Playbook: Free wine, free food, and "live animal encounters"
Event of the WeekThe Roxy/AXS TV's series World's Greatest Tribute Bands returns on Mon, with a ton of totally free shows including re-creations of concerts from people you'll never actually see, like "Space Oddity"-era David Bowie and pre-cornrow-era Guns 'N Roses. You can get your free tix here while they last
Thursday, July 11th You'll actually want to hang out at the LA Zoo for their first Roaring Nights, where there'll be DJs and bands, ice cream from Coolhaus, and other food trucks. BONUS: "Live animal encounters". Get all the info right here
Two words: Free. Wine. Oh, and two more: Free. Food. Head on down to Bodega bar for Rebel Coast Winery's launch party from 6-10p, where you'll find all of the above -- plus a DJ. RSVP here
Celebrate Chicago brewery Goose Island goin' national at the Surly Goat, where they'll be sampling different types of Bourbon County Stout. See all of their beers here
Friday, July 12th The Star Wars-themed "Course of the Force" race is coming through LA, which means lots of light sabers, wanna-be Princess Leias, and a free concert (rumored to be the Spazmatics). Get all the Darth-rific details here
Saturday, July 13thTake your air guitar licks out of the living room and onto the stage at the US Air Guitar Championships -- or just laugh your ass off at the dudes making their best rock faces. Seriously, this is real: details here
Sunday, July 14th Say "bon appetit" on Bastille Day over at Comme Ca, where they'll be serving up specials like potted pork rillette and coq au vin, along with $7.14 cocktails. Full info here
Get all fancy and stuff by downing some fromage and cheese at Domaine LA, where the French wine will be a-flowin' and a cookbook signing will be happening from 2-5p. Parlez-vous or whatever, here
Put on your best cut... er, hoodie, and head to the LA Calendar Motorcycle Show, taking place at the Queen Mary down in Long Beach. Buy your tix here
OngoingThrowback Thursdays start tonight at the Hudson and go all summer -- you should go, if only to nosh on a trio of special mac 'n' cheese selections like this one: Italian sausage, smoked mozz, and roasted red pepper. Yep: mac and cheese trio
What heat wave? Head over to the Beverly Wilshire pool for alcoholic, icy, adult-style treats like Patron Citrus and Berry Riesling popsicles, orangecello floats with vanilla ice cream, and a full-on ice cream cart. See what you're missing here
It's the Lazy Dog's 10th birthday, and they're ringing it in with a Firestone collabo brew and retro menu items like mini-chili cheese dogs, Hawaiian sticky ribs, and a "naughty" margarita. It's at all their locations -- so find out where here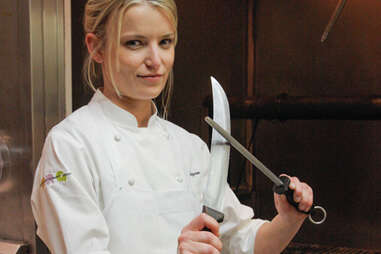 Local Lady We Love
Sorta sassy, sorta shy chef Megan Logan is kind of the kick-assest. She's the chef at crazy-good steakhouse Nick and Stef's, where she's recently been doling out a 42oz (!!!!) tomahawk she'll chop right at your table. She's a Le Cordon Bleu grad, so she knows her biznass, which's why, when she's not getting down with her own dry-aged concoctions, you can find her steak-hunting at Cut, Mastro's, and Craft, or "searching for good Sunday brunch". Oh, also: she's damn pretty and HAS REALLY SHARP KNIVES.