18 Things You Didn't Know About The Cheesecake Factory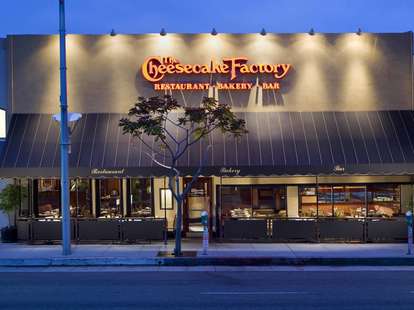 Courtesy of The Cheesecake Factory
Since, probably, the only thing you really know about The Cheesecake Factory is which page of the menu the chicken piccata is listed on, here are 18 other Cheesecake Factory facts worth knowing, including the secret menu hack that Will. Change. Everything.
1. The Cheesecake Factory was born in a Detroit basement in the 1940s
Sure, it started as a North Hollywood bakery in 1972, but company matriarch Evelyn Overton sold her first cheesecakes from her basement in Detroit in the 1940s.

2. The first Cheesecake Factory restaurant opened in Beverly Hills in 1978
Why was it called "The Cheesecake Factory," just like the bakery? Because founder David Overton couldn't think of a better name.
3. Before founding TCF, David Overton was in a band...
... that once opened for Janis Joplin (wait, what??). They were called "The Billy Roberts Blues Band."

4. David still handpicks all the music in all the Cheesecake Factory restaurants
Thankfully it's not "The Best Of The Billy Roberts Blues Band."
5. TCF is the only restaurant on Fortune's "100 Best Companies to Work for" list
GMs drive company-leased BMW's, which is nice, but nothing compared to In-N-Out.

6. If you drive by the Calabasas HQ in the afternoon, you can smell cheesecakes baking
ROAD TRIP!!!
7. The Dubai Cheesecake Factory is at the bottom of an indoor ski slope
There's also one in Saudi Arabia, another in Kuwait, and a third in Puerto Rico. ROAD TRIP!!!!

8. Justin Bieber is a fan of the cherry cheesecake
Depending on your age, this is the best thing ever, or definitely not that. (Also, for the record, it's not the best cheesecake on the menu.)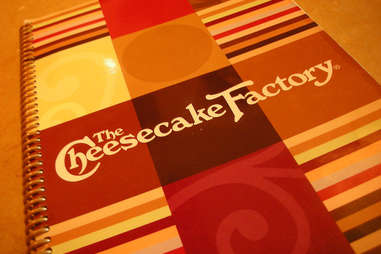 9. The Cheesecake Factory has a 21-page menu, 250+ items, and not one professional taster
David Overton tastes everything himself, which is surprising, because one of these factoids isn't "David Overton weighs six billion pounds."
10. The miso salmon was inspired by the miso-glazed cod at Nobu
SO WHY DON'T YOU HAVE A BAKED CRAB HAND ROLL, CHEESECAKE FACTORY?? HUH??? WE'RE WAITING...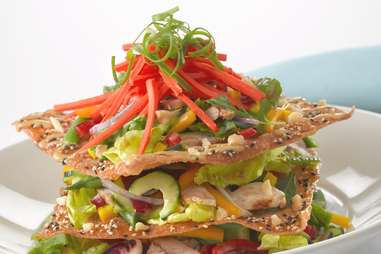 11. The Luau Salad is theoretically supposed to look like the shape of Diamond Head in Hawaii
Essentially, a concave pile of awesome.

12. James Harden was at TCF when he learned he was being traded to the Houston Rockets
He celebrated with another round of brown bread. And then, probably, another round of brown bread.
13. The Cheesecake Factory goes through 3.1 million pounds of avocado every year
Most of that goes into the signature avocado eggrolls, which, like everything else, are made fresh daily.

14. Each Cheesecake Factory makes more than 100 sauces daily
The tamarind-cashew dipping sauce alone takes more than an hour to prepare. Yeah, just the sauce.
15. The restaurant donates more than 500,000 pounds of food a year to food rescue programs
AND has a non-profit that has raised more than $2.5 million for the City of Hope. What did you do today?
16. Sheldon from The Big Bang Theory is banned from The Cheesecake Factory
"Go ahead, eat it. I dare you."

17. Former NFL QB Vince Young really, really, really likes Cheesecake Factory
Like, really, really, REALLY.
18. The Cheesecake Factory invented carrot cake cheesecake
Seriously, it was a joke one-off for a friend, and now it's a staple. Huzzah.

19. The first test baker -- hired in 1977 -- is now the Vice President of Guest Experience
And they say there are no long-term careers anymore.

20. Secret menu alert: you can (and should) order a club sandwich and sub in brown bread
Have we said yet that the brown bread is magic? The brown bread is magic.
Sign up here for our daily LA email and be the first to get all the food/drink/fun Los Angeles has to offer.
Jeff Miller does not feel guilty saying one of his favorite lunches is Cheesecake Factory's Chinese chicken salad and like 50 brown breads. What's your order? Tell him at @jeffmillerla on Instagram and @ThrillistLA on Twitter.