13 Things You Didn't Know About El Pollo Loco
There's lots of stuff you don't know about El Pollo Loco, like the fact that the actual translation of its name isn't "The Crazy Chicken", but rather, "You Will Totally Take Some Salsa Home With You". Actually, that's not true, but these 13 facts about your favorite Mexican fast-food chain are...
1. The first El Pollo Loco was actually 100% in Mexico, founded by Juan Francisco Ochoa in 1975.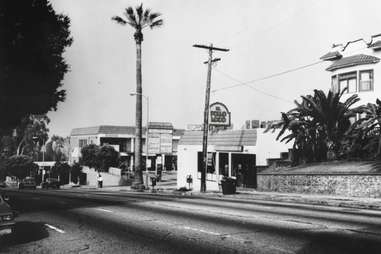 2. The first one in the US, though, was in LA (at 6th and Alvarado)
It opened its doors five years later in 1980, back when men were men (... and they weren't wearing fanny packs).
3. Ochoa is also the founder of the beloved, Texas-based, Mexican fast-food chain Taco Palenque
In your face, single Mexican fast-food chain owners!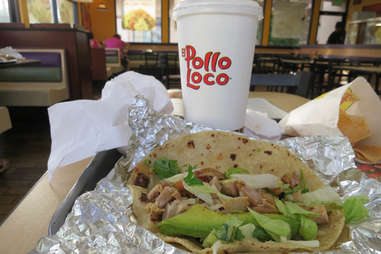 4. Its first year in LA, with just one location, El Pollo Loco cleared $2 million in sales
But that's in 1980-dollars, so now that'd be like, uh, $2 million times seven? Or something? Anyways, it's a lot of money.
5. Brad Pitt's first job in LA was handing out fliers for El Pollo Loco, dressed in a full-on chicken costume outside the location on Sunset
His second job was figuring out how to get that sweat out of ALL of his clothes.
6. At one point, its deliciousness reached all the way to Connecticut, but the restaurants there -- as well as in New Jersey, Boston, Atlanta, and Chicago -- are all now closed
The South Park one is still open though. We think. Ask Butters, maybe?
7. The chain once reimbursed a dude $2,200 that dropped out of his pocket in its Manteca, CA parking lot, even though they had nothing to do with him losing the money
Also, WHO THE HELL CARRIES $2,200 CASH IN THEIR POCKETS ???
8. Every chicken is cooked in four stages, for anywhere from 50 to 63 minutes...
But not one minute more, because 64 minutes would just be crazy.
9. The chicken recipe is a well-kept secret
But it's been back-engineered by internet scientists, who say the secret ingredient that makes it taste so good is saffron.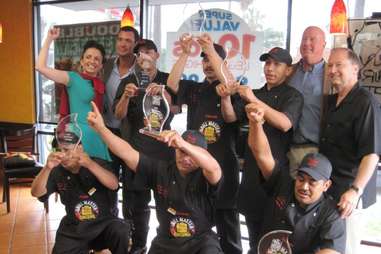 10. 27% of its employees have been working for the company for 5+ years
Somewhat related: 27% of its employees are super-obsessed with avocado salsa.
11. At one point in time, there was an EPL at Foxwoods Resort Casino, where you could play tic-tac-toe...
... against a live chicken that spent six months in a "Chicken University" learning to play. Yes, really.
12. Cooks are actually not called cooks, they're called "Grill Masters", and there are three levels of mastery, including "Elite Grill Master"
Which we're guessing is the best one... right?
13. El Pollo Loco set the world record for The World's Longest Burrito in 1995. The bad boy was 3,112ft long and weighed 2 tons.
No word on how many people it took to eat, how long it took to eat, or how many people broke up over accidental Dutch ovens afterwards.
Jeff Miller is the Senior City Editor of Thrillist Los Angeles and is super hungry right now. Hit him up at @jeffmillerla on Instagram and @thrillistla on Twitter