Trader Joe's vs. Ralphs: A Definitive Infographic of Which Is the Better Deal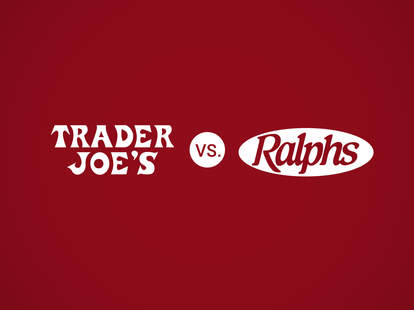 The 101 vs. Ventura Blvd. Langer's vs. Canter's. Studio City Carney's vs. West Hollywood Carney's. There are a lot of LA rivalries, but perhaps the greatest of them all is Trader Joe's vs. Ralphs. Those with a Ralphs club card know how well they can be rewarded price-wise. But Trader Joe's is card-free, and the prices speak for themselves. Since this is one rivalry we can settle once and for all with empirical shopping data, we investigated which one's actually the better deal -- using the stuff you know you're buying every single time you go:
Jennifer Bui/Thrillist
It's pretty clear that Trader Joe's seems to be the jam. And even when things are priced exactly the same, let's not forget: TJ-brand quality pretty much dominates Ralphs-brand quality. So, unless you're going to Ralphs to buy a lifetime's supply of Swiss cheese and nothing more, Trader Joe's should be your move for the cheaper grocery bill.
And like, duh, their freezer section is unbeatable.
Sign up here for our daily LA email and be the first to get all the food/drink/fun Los Angeles has to offer.
Wilder Shaw is a regular Thrillist contributor who loses his damn mind for Trader Joe's hearts of palm. Send him a jar on Twitter at @WilderShaw_ and Instagram at @wildershaw.