This TikTok-Famous Chef's New WeHo Restaurant Showcases the Vibrant Flavors of Vietnam
Tuệ "Tway Da Bae" Nguyễn is ready to serve elevated versions of homestyle Vietnamese recipes to LA.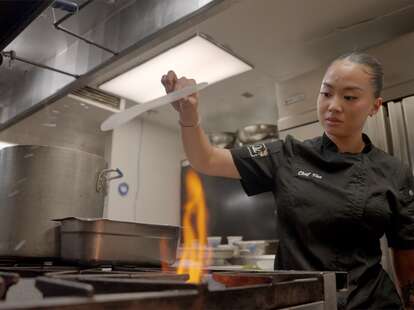 Photo courtesy of ĐiĐi
Photo courtesy of ĐiĐi
LA's "Restaurant Row" just got a new snazzy addition. La Cienega Blvd, where nightlife and food interlock with elevated taste and live music, is one of the most coveted blocks in Los Angeles for any chef. And now, it's home to ĐiĐi, a high-end Vietnamese restaurant born from the culinary talents of chef and Tiktok star "Tway Da Bae" Tuệ Nguyễn.
At 25 years old, Nguyễn put her cultural background, visibility from the digital world, and skill for crafting tasty dishes into a dream collaboration with the leading lifestyle collective in Los Angeles, H.wood. Known for Bootsy Bellows, Delilah, Harriet's, Poppy, Shorebar, and more. H.wood properties are quintessential Los Angeles nightlife spots that showcase the glitz-and-glamor that makes everything in West Hollywood feel like a movie.
Located next to the popular nightclub Poppy, ĐiĐi's exterior has laidback countryside appeal with far-out coastal fronts and nods to the regal Saigon-city centers of Nguyễn's home country, Vietnam. The sunshine-yellow wooden exterior flanked by two Indochinese tigers facing off with one another opens to an interior affirming that Nguyễn's dreams were actualized here.
Nguyễn worked with designer John Sofio to create an interior that reflects how vibrant Vietnam and its food is. A green floral wallpaper covering the ceiling and gold light fixtures installed on pillars perfectly highlight the plush navy blue and red-piped booths. A glowing wooden bar surrounded by red floral wallpaper is visually dramatic and is centered as the heartbeat of ĐiĐi. Nearby are tables with chairs placed on top of beautiful patterned tiles. Underneath whirling tropical fans, these seats sit across from paneled windows that open up to the street. There's also a swanky, private VIP section in the back next to the kitchen.
"I want people to resonate with this space so much because we really captured the essence of Vietnam and translated it into a restaurant. As much as I love the history of Vietnam, I feel like no one who was exposed to modern-day Vietnam talks about how beautiful [it is] and [how] far we have come," says Nguyễn.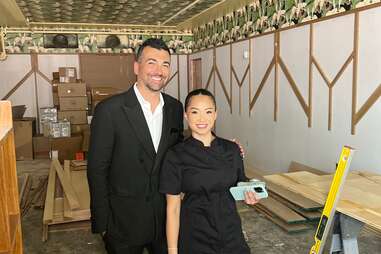 The same can be said about Nguyễn's fruitful culinary career. She started her Instagram five years ago, gaining popularity during the pandemic by sharing simple recipe videos of Vietnamese family dishes. Everything was history from there, as her virality allowed for more visibility of Vietnamese culture and helped to educate many followers over the years. She even traveled to Vietnam twice last year and took some of her followers with her on a secret research trip to enjoy local cuisine and show them and the H.wood group (back in Los Angeles) parts of Vietnam that are unknown to many.
"I was studying the food there with strangers and getting their perspectives," says Nguyễn.
Her personality on Tiktok and Instagram is similarly all about sharing, informing, and exposing others to her culture. She started a short form series called "Under Construction'' where she takes her followers on the journey of ĐiĐi's creation. From October 2022 at 755 N La Cienega Blvd, the sterile beige skeleton of an eatery is transformed into a lavish locale.
"I have been kind of rolling this whole process out on social media from ĐiĐi's research and development to the space's 3D rendering and furniture," says Nguyễn.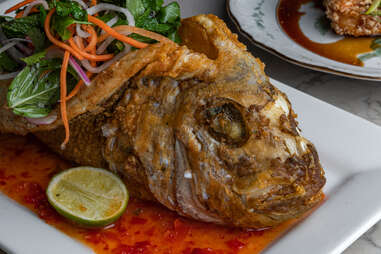 Opening on July 20, the next nocturnal (6 pm to 2 am) epicure place-to-be will introduce a gastronomy level of Vietnamese cuisine to West Hollywood.
"My favorite dish right now is our Bo Tai Chanh," says Nguyễn. "It is Vietnam's beef carpaccio but in simple terms, I basically took a bowl of pho and put it into the carpaccio."The decadent dish is an herb salad with mint, cilantro, Thai basil, onions, and spiced beef fat drizzled on top with a fresh squeeze of lime juice.
"I wanted to take home-y recipes and create elevated versions of them because I want people to not see Vietnamese food in a cheap way and look past the idea of Pho and Banh Mis," says Nguyễn.
To do this, however, takes time. Perfecting some of the menu's dishes and producing enough for a dining room is a beast of an assignment, which Nguyễn has recruited her family to help with. Together they created a dinner menu that puts the same loving authenticity found in Vietnamese mom-and-pop plates into a luxury setting with gourmet ingredients and recipes to celebrate Southeast Asian cuisine and its balanced flavor profiles. With 25 dishes, such as fish sauce-flavored Chicken Wing appetizers, a Pandan or Tamarind cocktail, a Whole Fried Thai Snapper with a signature sauce called Tway Ploy, and a Vietnamese Coffee Crumble, the highest-priced dish is Kevin's Pho, which serves two and features sliced wagyu beef.
"My stepdad, Kevin, came in to teach the chefs what I think is going to be the star of the menu—his pho," says Nguyễn. "It takes 6 to 12 hours to make, and we needed him to come in because I wasn't going to share that recipe publicly, and he is such a perfectionist at heart."
Nguyễn seems to have employed her stepdad's perfectionist tendencies to build ĐiĐi's frontline as well.
"Hiring staff was a difficult process, and we went through so many people, but the team we have now I trust so much that they got me when I needed them too," says Nguyễn.
Applying this level of care and commitment to every aspect of ĐiĐi has resulted in a union between the beauty of the space and the quality of the food that feels familiar yet accentuated.
Always honoring her culture, Nguyễn chose the name ĐiĐi because it is both easy to say and is Vietnamese for "let's go," which, if you're looking to try the next treasure in LA, is sound advice.