Tupac's Letters Serve as Inspiration Behind a New Southern Kitchen in Downtown LA
Powamekka Cafe brings the late rapper's vision to life at LA Live, with gumbo, meatloaf, and Tupac's own words and writing.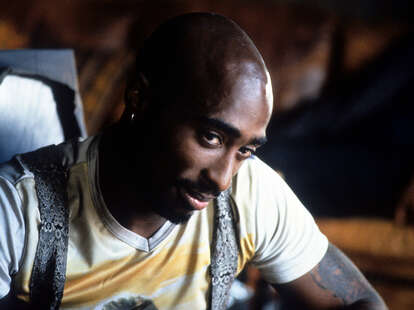 Getty Images Archive
Getty Images Archive
It's been 25 years since Tupac was tragically shot and killed in Las Vegas, but his legacy has only grown. That's because his blinding talent and influence will always endure, casting a long shadow over West Coast hip hop in particular. And it's also because his family and his estate have been incredibly proactive and smart with Shakur's expansive archives, releasing a half-dozen posthumous albums, approving his appearances as a hologram, and keeping his memory alive in countless ways.
Tupac was a rapper, an actor, and a poet, among other things, and he was famously prolific, filling whole archives full of tapes and notebooks with ideas. One of those ideas, according to The Shakur Estate, was for a restaurant called Powamekka Cafe, which his notebooks call "a passionate paradise 4 people with power 2 play and parlay," and a space to "escape the worldz cold reality." Could this be the concept he was referring to when he told Sway he was opening up a restaurant with Snoop, Suge, and Alanis Morissette?
Powamekka Cafe opened in LA on June 16, which would have been Tupac's 41st birthday, as a collaboration with Fixins Soul Cafe at LA Live in Downtown LA. The space is decked out with Tupac's notes and artwork, candles bearing his designs, and quotes in his handwriting emblazoned on the walls.
The menu comes straight from the Southern and soul food canons, with Gumbo, Fried Chicken, Meatloaf, and Fried Chicken Wings tossed in sauce the way his cousin Jamala prefers. Sides include Mac and Cheese, Red Beans and Rice, and Potato Salad, and desserts fall into a similar category: Peach Cobbler, Banana Pudding, and Sweet Potato Pie. There are also a couple of Juneteenth specials—a red, black, and green-layered Juneteenth Cake, and a fresh batch of Holla If Ya Hear MeLager, brewed by Sacramento's Oak Park Brewing Co. in collaboration with the Shakur Estate.
The pop-up is also a partnership with Wake Me When I'm Free, an immersive museum exhibit featuring video, audio, and installations with artifacts, memorabilia, and writing about Tupac and by Tupac himself. The exhibit even has the specific section of Tupac's notebooks in which he discusses the cafe. Put the two pieces together and you have a full day of Tupac to experience.
Powamekka Cafe is open seven days a week, until 9 PM on weeknights and 11 PM on weekends, every day from now until June 30. Reservations are available on OpenTable.
Want more Thrillist? Follow us on Instagram, Twitter, Pinterest, YouTube, TikTok, and Snapchat.
Ben Mesirow is an Echo Park native who writes TV, fiction, food, and sports. At one time or another, his writing has appeared in The
LA Times
,
Litro
,
McSweeney's Internet Tendency
,
Los Angeles Magazine
, and scratched into dozens of desks at Walter Reed Middle School.