We Tried Umami's First-Ever Double-Double
"People have been asking for a classic hamburger," the server at Umami said. "This is our answer to that." Sure, but the new, just-launched-nationally "Throwback Burger" is so much more than that, too: it's Umami's first double burger, and also costs under $10 (it's $8!), simultaneously correcting two of Umami's biggest downsides in the light of its competition. Is it good though? Well, we decided to find out...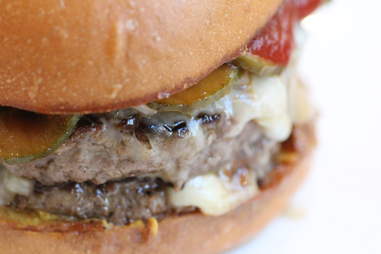 Jeff Miller
First: it's a flavor-packed monster. There's melted white cheddar cheese, Umami house ketchup, miso mustard, soy pickles, and minced onions stuffed in between the signature bun. Second: it's somehow not too big to STUFF IN YOUR FACE.
Jeff Miller
In fact, it's kind of the perfect mouthful. The press release says it's supposed to be "reminiscent of your childhood favorite," and we had an internal debate about whether that meant In-N-Out, or... somewhere else. After having a bite, it's clear they're referencing Mickey D's: the onions and pickles, especially, nod to Ronald McD, but the burger patties themselves are perfectly charred -- not steamed -- and salted-up for a way stronger flavor than you'd get from a B-Mac.
Does it remind you of childhood? Sure. Is it totally grown up? Yes, definitely.
Available at all Umami locations across the country (except LAX). Find the one closest to you here.
Sign up here for our daily LA email and be the first to get all the food/drink/fun Los Angeles has to offer.
Jeff Miller is Thrillist LA's Senior City Editor and yes, those are beard beads, he got 'em while he was in Jamaica. Follow him on Instagram at @jeffmillerla and Twitter at @ThrillistLA.