LA natives Zach and Jordan Schau firmly believe LA can be commuted without a car. That's why the brothers started Pure Fix Cycles, a fixie-centric yet affordable outfit now expanding into city bikes, back in 2010. Although their warehouse is across town in Burbank, they prefer life on the west side, so we asked them to show us how they'd carve out a completely bad-ass day almost entirely on Abbot Kinney.
The Special Guest
Tessa Tran. Tessa is a jewelry designer at Chan Luu. She will be assessing the funableness of this adventure from a non-dude perspective. So far, it's a winner.
The View
You could do infinitely worse than the High Lounge atop the Hotel Erwin taking down watermelon and grilled hot dogs while briefly considering not eating so many grilled hot dogs and possibly even slightly less watermelon.
The Seafood
Salt Air has the white walls, tasteful nautical art and natural light that every good coastal restaurant should have. Oh, and food! It has really great food too.
Zach's move here: oysters, lobster rolls, shrimp salad, and pea toast. Jordan suggests adding gravlax and a side of bacon. Tessa asks "Is it special bacon?". Zach assures her that "all bacon is special". He is correct.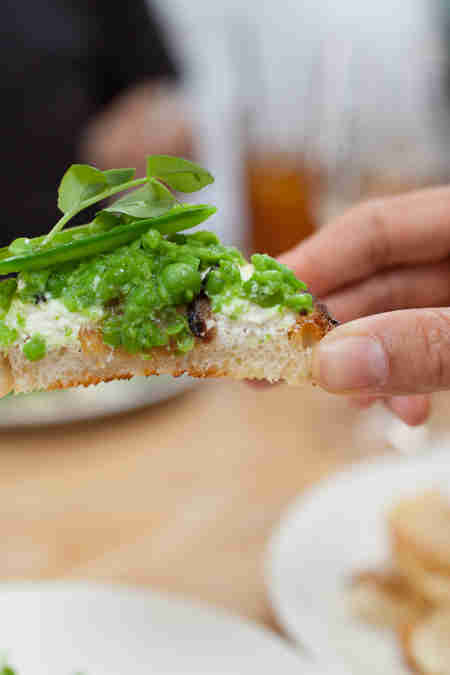 It has been scientifically proven that pea toast looks 4000x better than it sounds.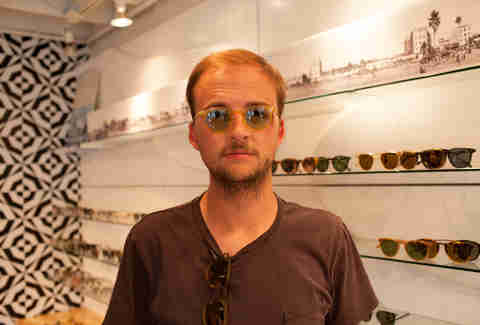 The Shades Shopping
Running around LA without sunglasses is like running around San Diego... without sunglasses. A. Kinney Court is probably the most locally minded place to grab a pair -- it's an outpost for eyewear designer, Venice Beach native, and huge fan of double consonants Garrett Leight.
The Man Gear
"Purveyors of fine denim", The Stronghold also stocks Alden boots, Filson coats, and tons of man-cessories (Randolph Aviators, Pantherella socks possibly made from real panthers) in two small rooms that conjure the days of Levi Strauss, minus the non-potable water.
Stronghold knows the secret to customer loyalty: complimentary adult beverages for serious shoppers.
This appears to be what was referred to in the late 1800s as a "shop keep", or, more colloquially, a "man wearing an awesome bow tie just because it's Thursday". He's showing the guys Mercator pocketknives...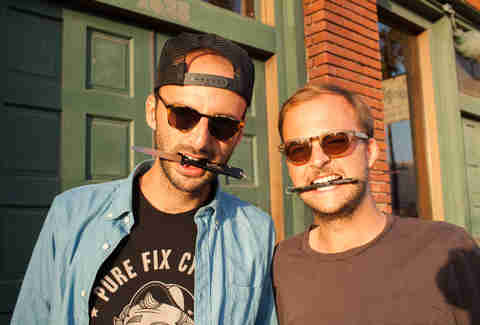 ...updates on the original 1867 design that are apparently easier to carry in your mouth like a pirate.
The I'm Hungry Again Food
Pork Belly's is just a counter with a simple menu managed by kids who don't care about you or your problems, but the food is incredible.
You can't go wrong with the Belly Up sandwich. You can go very wrong with ordering the Pig Out sampler (½ rack of ribs, chopped brisket, chopped chicken, homemade cornbread, mac & cheese, baked beans) and eating all of it yourself.
No matter which way you go, finish by popping sweet potato tots in the Venice breeze while palm trees sway behind you and your hat is on backwards.
The Beer
"The good thing about The Other Room is that even though they don't have food, you can bring it in," says Zach. "Nice seating, open windows, good beer." The joint's part of a family of bars in NY, LA and Miami, whose names are all The Room, The Other Room, or Another Room -- kind of like George Foreman naming all his kids George. Zach spills on Tessa and blames it on Jordan but she doesn't care, because that's how people roll on Abbot Kinney.
A pure fix water bottle, definitely only used to hold water.
On to the next spot. This is one of those city bikes we were talking about. Pretty soon everyone will be riding them.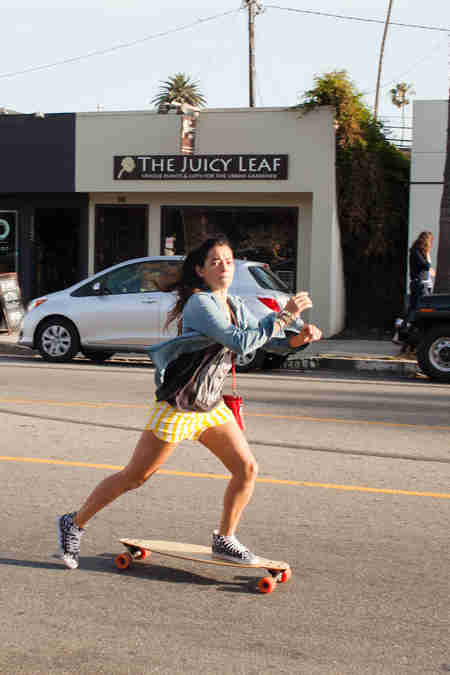 Except this girl, who looks too rad to ever stop doing what she's doing. Do people still say "rad"?
The Coffee
Everybody knows the joe at Intelligentsia is first rate: single origin beans, Direct Trade practices, beautifully designed cafes...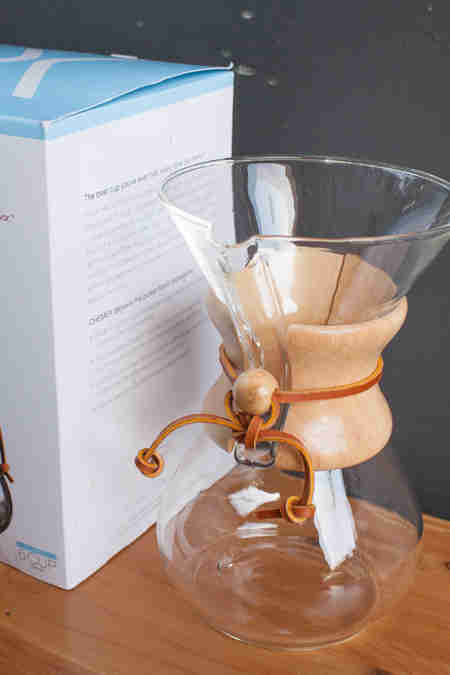 ... but did you know they also sold rigs from Chemex, whose motto is "Extract The Best and Skip The Rest"? Solid motto, Chemex!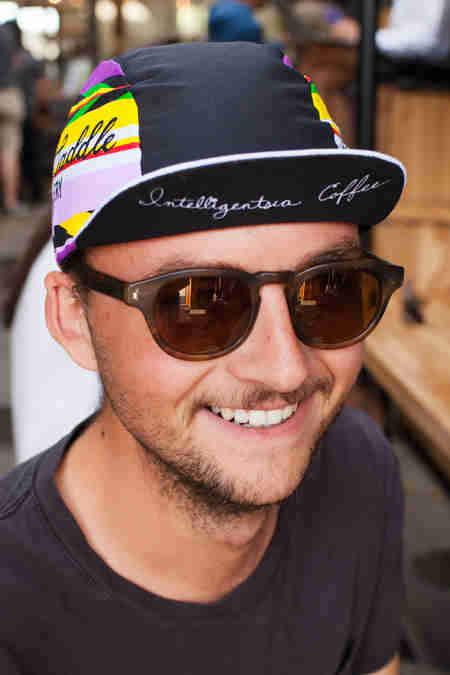 They also sell cycling accessories. "Beer and coffee have really embraced the cycling community -- I've seen bars with jerseys for sale," says Jordan, presumably not referencing Jordan Farmar jerseys.
Once it binds to your adenosine receptors, it's so good!
The Toys
On the way to A+R Jordan says he hates shopping. Zach agrees. Jordan whispers, "He says he hates it but he doesn't." This place is basically a toy store for gadget enthusiasts and students of Berlin architecture -- if you're either you'll be walking out with a full bag.
For instance, this iPhone alarm dock.
Or all these bad-ass home wares. Seriously, try to resist these home wares -- you will not be able to.
The Manpering
Manpering is pampering, for men. For instance, if you shop at an Australian skin care shop, you are into manpering. Even if you're not, Aesop is fun to tool around in.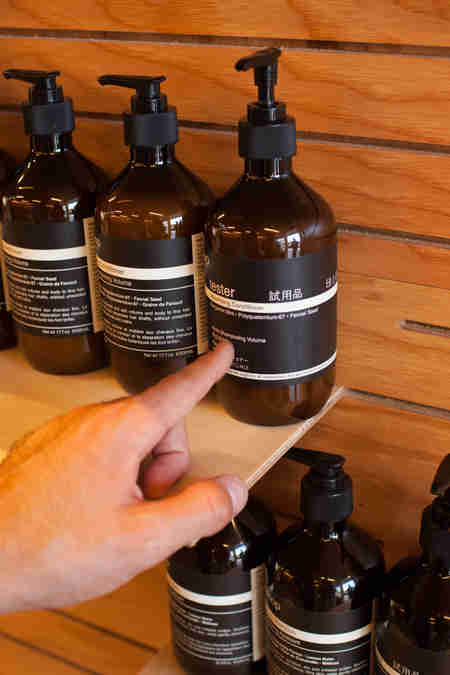 Just so you can say things like, "This shampoo costs $90?!".
Or maybe "If I use this skin cream I'll look fresher than Drew Barrymore as Bjergen Kjergen in Wayne's World 2!".
The More Coffee + Opportunity To Feel Great About Yourself
TOMS got famous for their charitable shoe operation, and now they offer a similar deal with their very good coffee: buy a bag, and you set up someone in need with a week of clean water. Here, Jordan demonstrates the selfless art of anonymous giving.
Food, drink, beans, more food, rooftops, man products, really sweet stuff for your apartment, skin cream, and now, two guys with beards! It's been a hell of a day.
Oh, and in case you forgot why you live in Los Angeles... this.
*Brand does not have any affiliation with the places, events, or fried foodstuffs named in the above article