Barbershop Ristorante's a traveling, changing pop-up whose third iteration -- a 10-seat-only, open-kitchened restaurant-within-a-restaurant at Local 1205 in Venice on Mondays and Tuesdays through, at least, the end of November -- consists of an "Italian" menu that'd make even the most open-minded nonna say, "Mamma mia!!!". The next-level, eye-popping, molecular-gastronomy'd modern menu comes from an Italian-born chef who's done time at La Botte. Here's everything you'll pop into your mouth:
This gob of goo is actually a full-on caprese salad amuse-bouche -- a pre-dinner bite that explodes with familiar tastes of tomato, mozz, and basil.
Then? Grilled Santa Barbara spot prawn w/ mineral jus (so basically, a light sauce) and XO sauce to dip it in as well.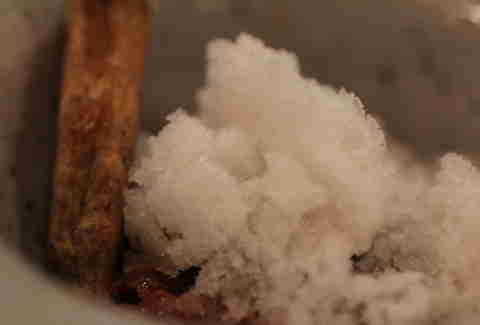 This white stuff's actually the weirdest, most delicious sorbet ever, made w/ green apple (ok), vinegar (sure), and Luna oyster (what?!). It's over a buried tartare of duck breast w/ a side of duck chicharron.
This hand-crafted ravioli's stuffed w/ uni and abetted by scallop, w/ a small smattering of squid ink -- and if you can say that five times fast without tripping over your words, your meal is free. (Just kidding. This meal is not free.)
Yeah. Those are truffles. They're on top of burnt wheat orecchiette pasta and topped with a cheese the chef says is one of the most expensive in Italy -- so, like, MORE expensive than the big, green canister of Kraft?
This mushroom-packed risotto has "live crab" from Japan that's super fresh, but not actually alive when you GET it. If it starts moving, alert Ernie Hudson.
Nope, it's not the bubbliest egg ever: that's halibut topped with a pepper sauce, in a froth made of jícama. Mmm... jícama froth.
This pork has literally been cooking for days, so it's crazily tender, and topped w/ a Campari jelly for which you seriously may not be ready.
Finalmente? Nope, not a trio of chocolates. This dessert is actually a trio of candied eggplant. Don't worry, the sauce is chocolate, in case you were worried about ending things borderline-healthy.