Just EVERY sandwich at Pork Belly's
Abbot Kinney's Pork Belly's is a wood-laden, take-out-only sandwich spot, with meats from a competitive grillmaster who's making some of the most seriously ridiculous pig-outs ever to be put between bread, except for that one time we did that thing at Whole Foods. To wit:
Their signature sando's not just the name of a sweet bar near San Diego -- the Belly Up is actually smoked BBQ pork belly topped w/ coleslaw and dripping with BBQ sauce, on a brioche bun.
This may look like a veggie sandwich, but don't start gagging yet: it's actually a Pork BLT, w/ sliced pig, lettuce, tomato, and avocado (natch) on sourdough.
If you like chicken parms that tell knock-knock jokes and wear "Life Is Good" tees, you'll love this Cheesy Chicken Parm.
Yes, the sloppy Joe in this Abbot Joe is vegan. But there's a runny egg to offset that, so you're still good, unlike the not-pictured/why-bother Kinney Joe.
It's both this pork-and-beef meat-sphere grinder, and what that famous bar has for trying to pull off rocking that hat all the time: Smokey Balls.
The Chop's got brisket that's smoked for 12hrs, just like you before the first time you saw Phish... and the second time... and last night.
Essentially a pressed grilled cheese with smoked brisket (also available minus meat): they call it The Chop Melt. You'll call it: "That thing that I KEEP EATING."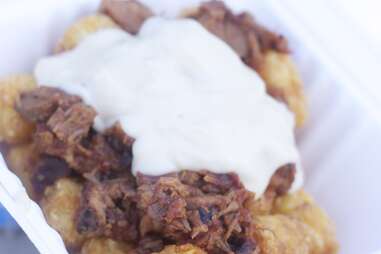 OK, valid: this is not a sandwich. Those are tater tots. Covered with brisket. Slathered in cheese. Thought you might wanna see 'em, too.