Every damn specialty pie at South End
A newly minted Venice pizza palace, South End's headed by a kitchen-man who did lots of time as the chef de cuisine at the different Mozzas, meaning he knows pie almost as intimately as Jason Biggs. To gauge his cheese discs' super legit-ness, we decided to eat and photograph (but mostly just eat) every damn one of the specialties. Check it out...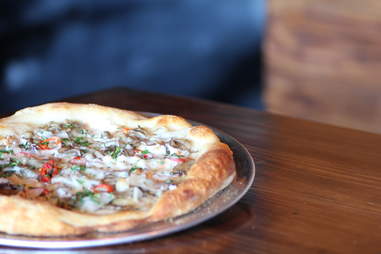 Jen Jones
The Vanguard: Not just the guy who makes sure the band's gear doesn't get stolen, the Vanguard's also the name of this forward-thinking pizza with Asian mushrooms, fontina cheese, and Fresno chiles.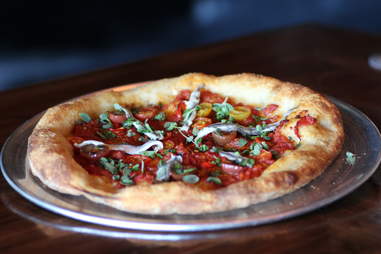 Jen Jones
The Gondola: Roasted-then-sliced Roma tomatoes make up the base of this doughboy, which's also got white anchovies and Sicilian oregano.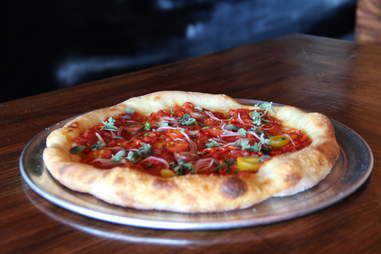 Jen Jones
The Cabrillo: This is pretty much just like the Gondola, minus -- and this is kinda fishy -- the anchovies.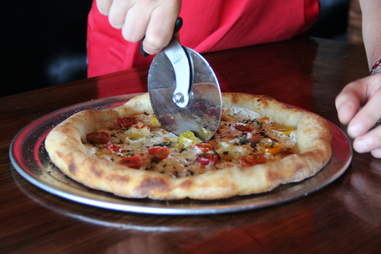 Jen Jones
The Ghost Town: Loaded with garlic, this appropriately named disc may lose you some tablemates/girlfriends/vampire bros.
Jen Jones
The Kinney: Two kinds of tomatoes, fresh mozz, basil, and EVOO -- the Kinney's basic but great, no doubt Abbot it.
Jen Jones
The Venus: Get close to this gorgeous lady, which's topped w/ salami and red onions as well as Fresno chiles and mozzarella.
Jen Jones
The High Sign: Harder to reach than The Low, The High Sign's a white pie with glorious cubes of bacon, mozzarella, fontina, and thyme.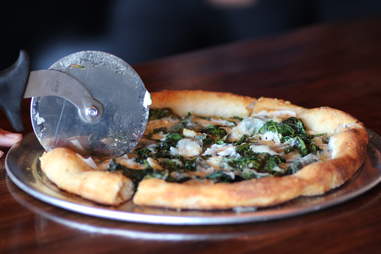 Jen Jones
The Windward: You know this one's gonna make you stronger, 'cause it's got spinach (plus garlic, peppers and the milky cheese Piave).