This beachside spot has sour beer shandies and, um, FISH SKIN CHIPS
Breathe easy: Salt Air is no longer just what Angelina Jolie inhaled while shooting a batsh*t-crazy movie about being a super-spy. Because now it's also a seafood-leaning bistro right in Venice with a classic, Cape Cod-ish interior feel and batsh*t awesome food from a Jean-Georges vet.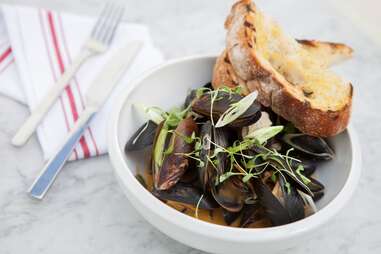 Assuming you're not allergic to food from the sea, basically the whole menu is shareable, with classic starters like this steamed mussels in coconut curry and more out-there choices like the aforementioned fish skin chips, served with smoked onion dip and harissa. (We'll explain it all -- that's a hot chili sauce.)
Mains include straight-up steak frites and this whole, fried red snapper, which you should totally pick instead of the box Hiro-san is bringing down the aisle right now, because it contains nothing. Absolutely nothing.
To wash down those fish chips, they're doing shandies w/ sour beer, passion fruit, and honey, plus totally rad cocktails like the Sour, w/ Byrrh, Punt e Mes, strawberries, lemon, and demerara sugar.