There's a Killer Secret Menu, Plus 10 Other Things You Should Know About Tender Greens
An Hoang
An Hoang
When Tender Greens quietly launched its first store in Culver City 10 years ago, no one could have predicted that it would be -- in its own under-the-radar way -- one of the the most influential restaurant launches in recent LA history. That may sound like hyperbole, but think about it: without the fast-casual chain's runaway success, an entire ecosystem of similar (and similarly great) bedrocks of LA food culture, from Mendocino Farms to Lemonade, would never exist; Tender Greens virtually defined the category of healthy, quick, fresh, local eats. Which is why we're honoring them, with this list of 11 (well, sort of 12) things you didn't know about the company:
1. The original Tender Greens location opened in Culver City in 2006
It was a hit out of the gates -- no surprise, since at that point in time Culver City was sort of a food desert.
2. It was founded by three dudes who met working in a hotel
They hated what was going on in food at that time in LA and dropped everything to start Tender Greens: one of the guys went from being a food & beverage director to literally working as a poolboy when they were getting the restaurant off the ground.
3. Their chefs are, like, big deals
Unlike chains with industrial kitchens and paint-by-numbers recipes, each location has its own chef who's a pretty big deal -- like Executive Chef Elderoy Arendse, who was trained at Angelini Osteria and ran the kitchen at Fraiche (and won Chopped!), and West Hollywood exec chef Ali Ohta, who helped open Nobu.
4. One of their primary sources of inspiration is... San Francisco's Mission burritos??
Yep, it's true: when they were starting out, the interaction between shopowners and customers at SF's infamous Mission taquerias was how they wanted to interact with customers in their stores.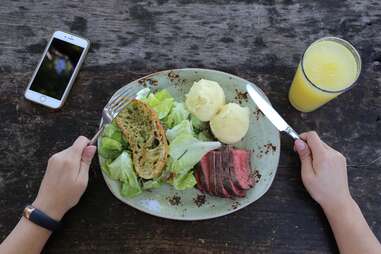 5. Tender Greens' most popular dish is not a salad
Though a lot of people think of salads as their, uh, bread-and-butter, it turns out that they sell more Backyard Steak Hot Plates (w/ Yukon Gold mashed potatoes and salad) than anything else.
6. In 2015, the founder of Shake Shack became a big investor in Tender Greens
So, yeah, even though Danny Meyer doesn't really have any restaurants in LA other than the Shake Shack in West Hollywood... he kinda does.
7. Their salami is homemade... and award-winning
It's made by their San Diego executive regional chef Pete Balistreri, and it's available not just at Tender Greens, but at select Trader Joe's and specialty stores. In keeping with the "their chefs are big deals" entry, Pete is also a member of the Butcher's Guild and was featured in the book Primal Cuts: Cooking with America's Best Butchers.
8. There's a secret menu
Say WHAT?? Yep: ask for any sandwich Oaxacan-style and it'll come with avocado, queso fresco, and hot sauce; ask for an Angry Vegan and it'll be their vegan salad -- plus bacon.
9. Their main lettuce supplier is also an investor in the company
Yep, it's not just presidential candidates who are siphoning money to themselves: Scarborough Farms in Oxnard provides most of the lettuce to the restaurants, and is also a stakeholder in the company (yes, we are aware that this is not a sketchy business practice at all).
10. They use pork you can't anywhere else
Literally: there's a farm in San Diego that raises Mangalitsa pigs, a very rare breed of heritage pig that's been described as the Kobe beef of pigs, exclusively for Tender Greens locations in SD. They make a big effort to use them snout-to-tail in everything from porchetta to bacon, and team members are encouraged to visit the farm, and the pigs. No word on how many are named Babe.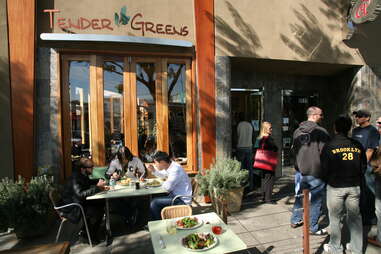 11. Every single thing on the menu is under $12.50
OK, you probably sort of subconsciously knew this, but it's a huge part of their philosophy to keep everything affordable. Which is clearly why you keep going back.
Sign up here for our daily LA email and be the first to get all the food/drink/fun Los Angeles has to offer.
Jeff Miller is a big fan of their Chinese Chicken Salad, which is made with pea shoots grown in the dark (there's the 12th thing you didn't know!) See if that's what he's eating today at Instagram.