Become a VIP at this Russian bar, and you get your own key
Absurdly located in WeHo instead of Nizhny Novgorod, Mari Vanna is a gloriously gaudy ode to mother Russia (with other locations in DC and New York) with a backstory that includes some sort of fairytale about a fairy godmother's hospitality, and an interior that seems like a place that Timothy Dalton would've visited for borscht before taking out a bald dude hiding evidence of warheads on a floppy disk in his pocket
This dude? He's just the resident accordionist. NBD.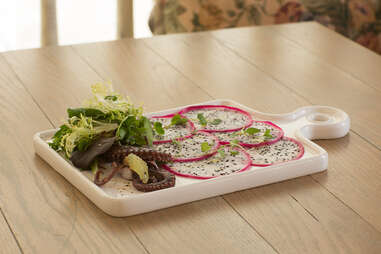 Once you've heard a ton of sweet, sweet accordion, you're gonna want to eat, so start out with this octopus w/ dragon fruit.
For those with Khrushchev-level hunger, you could bash your shoe against a table 'til someone feeds you order up this braised veal w/ homemade noodles, or beef stroganoff w/ mashed potatoes.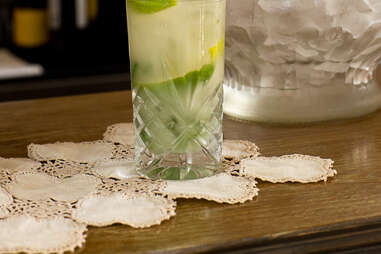 Drinks-wise, there are obviously a ton of infused vodkas (with everything from cherry to horseradish) and specialty drinks, including this "Moscow Mojito".
And this? Just a karaoke room with American top 40 as well as Russian standards, which'll definitely be used on "Key Mondays" -- wherein VIPs can access the restaurant after-hours with specially-issued keys. Past recipients of these special keys include Paula Abdul (huzzah!?) and Bill Clinton, who surely will not be attending his first key party.