Cheetos made from pig ears & boozy, liquid nitrogen Otter Pops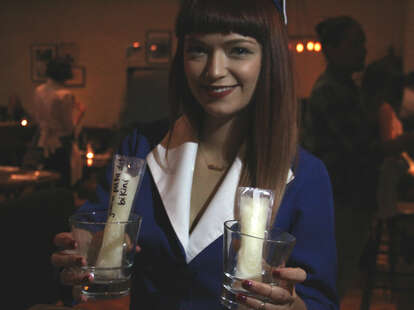 Somehow cleaning the funk out of the old One Sunset space, The Church Key's emerged as a lush resto that's delivering standout shareables on dim sum-style carts, which also deliver boozy Otter Pops made tableside by smiling ladies in retro flight attendant outfits... which need to be available on actual airplanes, like, yesterday.
It's doling out tiny plates of hamachi!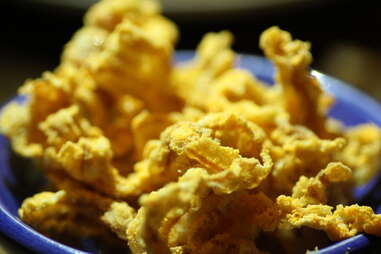 The chef did time at XIV in its heyday, so he's all about super-creative, cart-side dishes like these pig ear Cheetos... which are surprisingly fluffy and devoid of neon orange finger residue.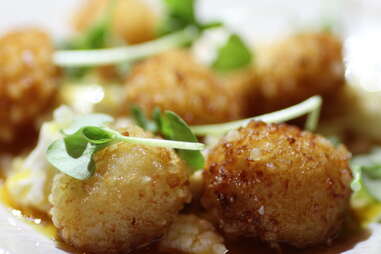 These bite-size bay scallops are like the popcorn of the sea. Except they taste more like scallops.
This lamb pastrami will definitely cure whatever ails you. Unless what ails you is heart disease. In which case, um, sorry.
Back to that tableside alcohol! A little liquid nitrogen is used to mix up custom, frozen, squeezable treats that end up in kind of a slushy consistency (which everyone knows is the sweet spot anyway). Here, she's whipping up a lemony, vodka-based number, but concoctions will change frequently.
Also on carts? Negronis in a can, served with your own "Church Key" (as in can-opener, not means for entering a place of worship). You get to take it home with you, so if you were about to buy a can-opener, WAIT!
If you dislike the carts thing, something is probably wrong with you, but there IS a standard menu with deliciousness like this Asian BBQ pork belly that's hiding bashfully under a bunch of microgreens.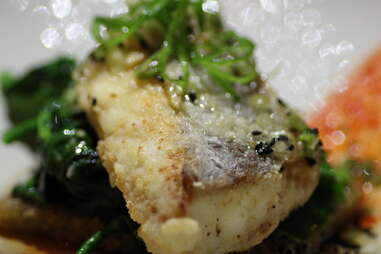 You can also unlock this red snapper, served atop crispy rice and... hey, where are you going with that Negroni cart? Come back!