A Michelin-starred-chef spot for crab cakes and cocktails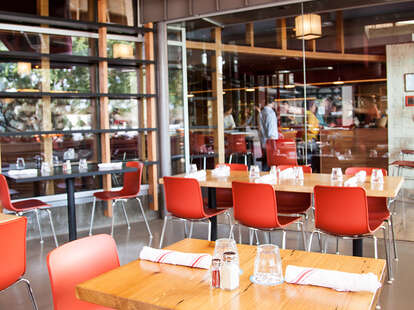 Shockingly not a failed 90's NBC sitcom starring Connie Chung and Alex Winters, Connie and Ted's is actually a Cape Cod-esque, open-kitchen seafoodery from insanely-acclaimed chef Michael Cimarusti (Providence). And yes, he did name it after his grandparents.
They've got deep-fried, next-level goodness with everything from Sebastian, Nemo, and Kevin Costner with gills' home habitat, including these Josephine clam cakes (served w/ tartar sauce & fries) and peekytoe crab cakes, which Rex Ryan will totally fetishize
But wait, there's more, including burgers made w/ four-year Hook cheddar and this stuffed lobster roll served either CT-style (hot), or Maine-style (cold and wearing old LL Bean overalls).
Boozewise, they've got 24 Cali brews, including Mission Blonde & Noble ESB, as well as next-level cocktails, like this rum/ banana cordial/ lime/ honey "Catalina Eddy".
Photos by Noe Montos