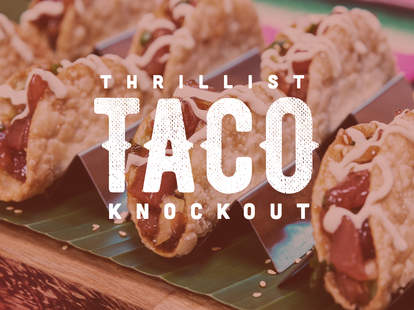 9 LA Chefs Helped Us Throw the City's Coolest Taco Bash of the Year
After four years in New York, Los Angeles finally got the chance to experience the glory that is Thrillist's Taco Knockout. Nine chefs from all around LA came together to show off the very best taco they had to offer, but, like, way cooler than your standard Mexican-style fare. With ingredients ranging from caviar to habanero ash, this was probably the finest collection of foldable, tortilla-nestled cuisine under one roof ever. In case you couldn't experience this culinary joy, here are some delicious pics on which to feast your eyes:
Courtesy of Peter Wintersteller
Lamb Barbecue Taco
Aqui Es Texcoco
Traditional style lamb barbacoa, with a toppings buffet of onions with cilantro, green or red salsa, limes, and papalo (an herb that's a little like a basil/cilantro hybrid).
Courtesy of Peter Wintersteller
Chicken and Waffle Taco
Baldoria
Spicy fried chicken on a bed of apple cinnamon waffles with maple syrup, i.e., the breakfast of champions. In taco form.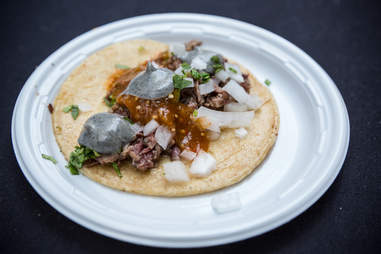 Courtesy of Peter Wintersteller
Beef Barbacoa Taco
La Carmencita Restaurant
Short rib slow-cooked with chile de arbol and adobo spices topped with a habanero ash aioli. That was some good-ass ash.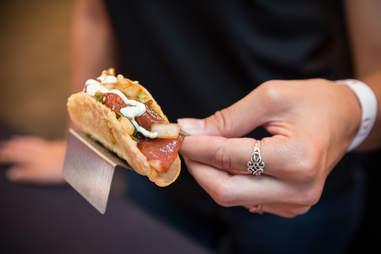 Courtesy of Peter Wintersteller
Ahi Poke Taco
Duke's Malibu
Raw ahi, Shoyu, onions, and avocado in a crispy wonton shell topped with wasabi crème fraîche. Move over Poke bowls?
Courtesy of Peter Wintersteller
The Hangover Taco
Lola's Mexican Cuisine
Pork belly and queso fresco, covered in fig compote on a blue corn pancake-esque tortilla. Bacony, salty, pancake-y -- it covered all the bases (at least the ones that end in "y").
Courtesy of Peter Wintersteller
Root Vegetable Taco
Mexikosher
Sake- and mirin-braised root vegetables with fermented chili salsa. All the flavor with no meat required.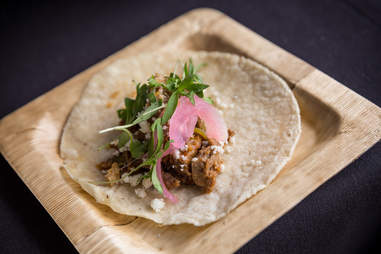 Courtesy of Peter Wintersteller
Lengua Taco
Red O Restaurant
Beef tongue with queso fresco, pickled habanero, chicken chicharon, and prickly pear guajillo salsa. This tongue taco told a tasty tale.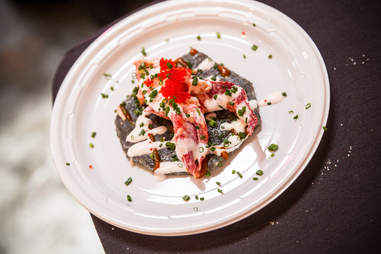 Courtesy of Peter Wintersteller
Lobster Taco
Slapfish
New England lobster soaked in butter with a champagne caviar cream sauce. Weirdly, they weren't handing out monocles to nibble on this elegant concoction. 
Placeholder Image
Tako Poke Taco
The Standing Room
Smoked octopus topped with tobiko, ikura, and chives in a homemade blue corn tortilla. A fish taco with one kind of seafood seems so boring after this one.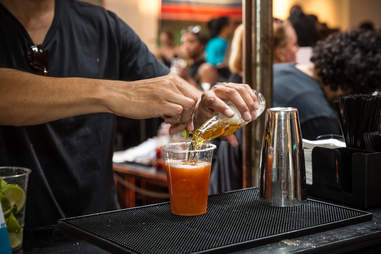 Courtesy of Peter Wintersteller
There were delicious beverages from Estrella Jalisco and Espolòn
The afternoon didn't pass by without a drink or two. Knockout guests enjoyed cold Estrella Jalisco beer and Micheladas. The spicy tomato juice/beer conncoction had a kick, but the bubbling Estrella kept it smooth and light. If you wanted something a little stronger, we had Espolòn tequila at hand. You could partake in a margarita or the liquor with your mixer of choice. One mixologist said the most refreshing Espolòn cocktail is tequila and Squirt! Or just drink it straight with some lime, it's smooth as hell either way.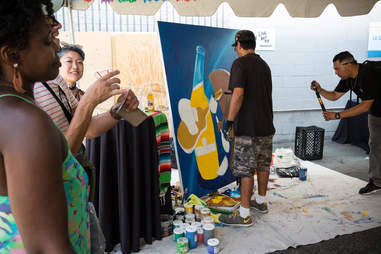 Peter Wintersteller
The entertainment was on point
Between taco tastings, guests enjoyed watching a live painting by Man One -- one of LA's slickest street artists -- playing cornhole, getting their faces painted with an array of tacos and unicorns (or both at once?), enjoying the weird, electro-culinary, musical stylings of Electric Taco, and giving their two scents on the big "I Love Tacos Because…" board. "Tacos B4 Vatos" was the most insightful addition, in case you were wondering. Then, people ended their meal with a classic Choco Taco, a great compliment to the spicy fare of the day.
Peter Wintersteller
And the winner was...
Did we mention we asked guests to vote on their favorite taco? And though every taco was delicious beyond reason, there could be only one winner. Would it be Lola's, whose chef Luis Navarro worked for three weeks to create the Hangover Taco just for the event? Or would Duke's Hawaiian/Californian fusion win the day? In the end, one of the most traditional tacos took the glory: The Beef Barbacoa from La Carmencita. It was truly outstanding. One customer said it best after taking his first bite: "That's a work of art right there." For more works of art, check out a choice selection of our favorite snapshots from the event: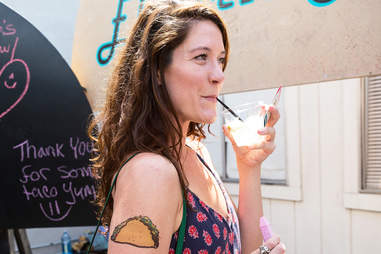 Courtesy of Peter Wintersteller
Courtesy of Peter Wintersteller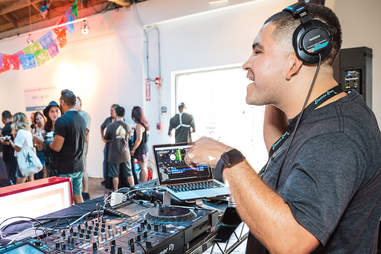 Courtesy of Peter Wintersteller
Courtesy of Peter Wintersteller
Courtesy of Peter Wintersteller