Anyone who's ever been stuck going 7mph on the 405 after midnight knows that traffic here is like a herpes outbreak: it can strike anywhere, anytime. Sometimes you just need to wait it out for an hour or two -- and we're here to help you spend your time wisely, no matter where you get trapped. Consider this your LA traffic survival guide with the best snack-style eats, coffee shops with free Wi-Fi, and time-wasters in 'hoods you're likely to get traffic-trapped in at some point in time (probably this week).
Recommended Video
This Restaurant Reinvented the McGriddle
Eat:
KyoChon
3833 W 6th St
You're probably on your way to dinner, so you're not going to want a stuff-your-face KBBQ smackdown, but obviously you've got room for a few wings -- and KyoChon's spicy soy wings are among the best in the city. You can also be in and out in 30 minutes or so, which is plenty of time to figure out whether Waze is sending you on an impossible-to-hit suicide-left scavenger hunt or an actual route home.
Caffeine & Wi-Fi:
Awesome Coffee
3959 Wilshire Blvd, Suite A21
Come for the coffee, stay for the liquid nitrogen. Sure you can get your adorable latte-art fix here, but you can also get a scoop of liquid nitrogen ice cream -- making for the most high-tech affogato in K-Town.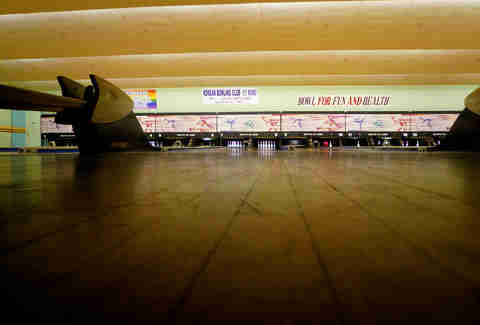 2700 Wilshire Blvd
The best place to shake off the stress of LA gridlock? A 24-hour Korean spa. Soak your troubles away in the hot tub while you do your best to avoid looking at the well-aged junk of elderly dudes in the corner. Added bonus: rooms full of bizarro mellow-out techniques like, uh, submerging yourself in a pit of heated ball bearings. Seriously.
3322 W Sunset Blvd
The second installment of Kris Yenbamroong's beloved Thai restaurant opened to great fanfare and killer reviews in spring 2014 and over a year later, it's still crushing it. Close your eyes, take a bite, and pretend you're in the middle of Bangkok -- and if you're just interested in a snack, you can't go wrong with the seriously delicious chicken wings.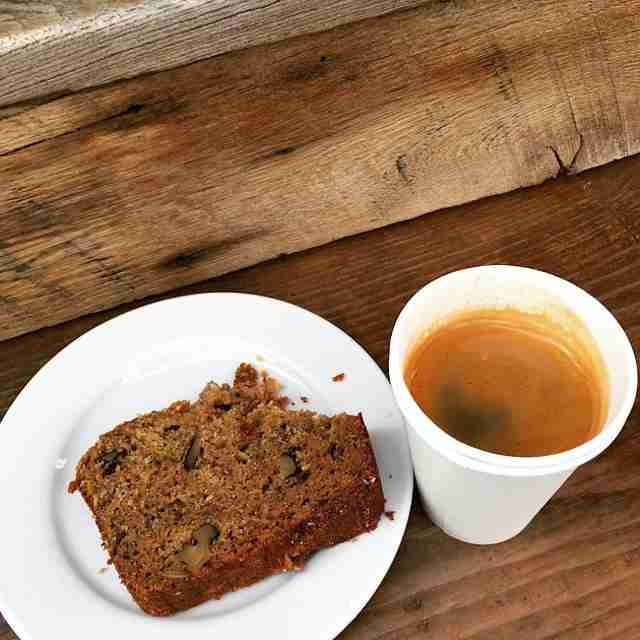 1636 Silver Lake Blvd
When LAMILL opened in 2008, it marked the beginning of a rapidly evolving coffee culture in Los Angeles. Now its coffee is available in restaurants and cafes all over the city, but the Clover-brewed coffee in its own retail store is what scored it a spot on Bon Appetit's list of the Top 10 Boutique Coffee Shops.
What to do:
Bar Keeper
3910 Sunset Blvd
Since you can't get home to that happy hour drink, use your time wisely and stop at this cool-ass barware store. You'll leave with some great new bar supplies to make the whole experience better when you finally do walk through your front door. Need a set of vintage tumblers? Craving some new celery bitters? Bar Keeper's got you covered.
Eat:
M.B. Post
1142 Manhattan Ave
If you've ever dreamed of eating in an old post office, this is your chance. David LeFevre brings global comfort food to the tanned masses and you can always expect mouthwatering snack-style specials, like chai tea soft-serve with warm brioche beignets and roasted rainbow carrots with chermoula and lime yogurt.
Caffeine & Wi-Fi:
Coffee Bean
321 Manhattan Beach Blvd
If Two Guns Espresso had free Wi-Fi, it surely would have made this list -- but it doesn't. Which is why (among other reasons) you're hanging out at Coffee Bean. Surf the web as much as you'd like and rekindle your love of the almighty Mocha Ice Blended.
What to do:
Roundhouse Aquarium
2 Manhattan Beach Blvd
Did you know there's an aquarium at the end of the Manhattan Beach Pier? Did you know that it is free? Well, there is and it is. Go ahead and find Nemo before you head back out into the traffic tundra.
317 S Broadway
This nearly 100-year-old food hall is the ultimate time-waster when you're waiting out traffic. Roam the entire floor plan and discover everything from Thai street food (Sticky Rice), to humanely raised sustainable meats (Belcampo), to the best darn smoked sturgeon around (Wexler's). (If you really want to do it right, here's how to hack everything there.) It's a foodie paradise and you might just find yourself staying well past when traffic clears up.
Caffeine & Wi-Fi:
Stumptown
806 S Santa Fe Ave
When Stumptown opened up in the Arts District, the caffeiniscenti went nuts. The Portland-based bean broker has fans all over America and Angelenos gladly joined the fray with Stumptown's espresso, pour-overs, and cold brew. Stop here and pick up a growler of the latter to help you manage the rest of the drive home.
What to do:
The Last Bookstore
453 S Spring St
With Borders gone and Barnes and Noble shrinking, this massive Downtown used bookstore may wind up truly being the last bookstore around. Bring some singles and wander through the giant temple of literature with abandon. The dollar section alone is enough to keep you occupied for the entire afternoon.
Eat:
Poke-Poke
1827 Ocean Front Walk
If you're trapped in Venice, there's really only one option: head to the beach. There you'll find Poke-Poke, a beachside window serving up Hawaii's favorite fishy treat. While LA may have been taken over by fast-casual poke shops this past summer, Poke-Poke's been doing it for years. Grab a bowl, hit the beach, and pretend you're escaping Honolulu's traffic problem instead of LA's.
Caffeine & Wi-Fi:
Deus Ex Machina
1001 Venice Blvd
At the corner of Lincoln and Venice sits one of the weirdest/coolest stores in LA. Deus Ex Machina is an Australian brand that opened the so-called "Emporium of Postmodern Activities" to appeal to the heart of every Venician (that's what they're called, right?). Surfboards? Check. Motorcycles? Check. Upscale clothing and grooming supplies? Check and check. It also happens to have a coffee shop serving up Vittoria, one of Australia's leading coffee brands. Sit down, grab some joe, log into the Wi-Fi, and start sizing up that motorcycle you've always wanted.
1331 Abbot Kinney Blvd
Intelligentsia is to Chicago as Stumptown is to Portland. Lucky for us Angelenos, both brands have descended upon our fair city. This location sits squarely on ultra-trendy Abbot Kinney and serves up single-origin coffees from all over the world, blends, and espressos from Intelligentsia's Black Cat Project, which aims to craft the perfect cup of espresso.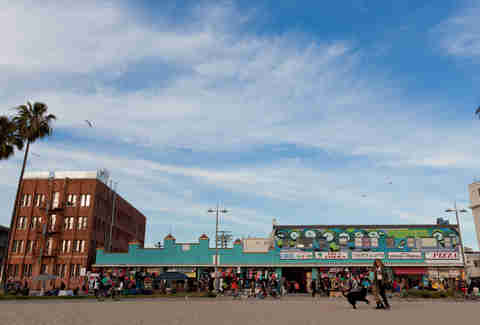 What to do:
Venice Boardwalk
The Ocean
Crazy street performers, Muscle Beach, and crazy street non-performers are just a few things to check out on the Venice Boardwalk. If you're looking for a new pair of sunglasses, a bike to rent, or just want to feel good about your life choices, go see the madness down on the boardwalk for a while. Then get back in your car and drive far, far away.
Eat:
Kitchen Mouse
5904 N Figueroa St
With breakfast specials served all day and an all-vegetarian menu that would appeal to even the staunchest carnivore, Kitchen Mouse is making Highland Parkers happy every day. Skip the traffic on the 110 and get some cute in your life.
Caffeine & Wi-Fi:
La Monarca
5835 N Figueroa St
La Monarca has transformed itself into the most rapidly expanding bakery boss in LA and when it opened its new Highland Park location in August, locals rejoiced. While the baked goods are the stars of the show here, the coffee is also a major draw. Check out the café de olla with cinnamon and brown sugar and get it cold-brewed for a liquid encapsulation of what's happening in Highland Park these days.
What to do:
Arroyo Seco Golf Course
1055 Lohman Ln
About a mile from the heart of Highland Park's Arroyo Seco: a $14, three-par, beginner-friendly golf course that's lit and open until 10pm nightly, which means even if you realize you've gotta wait out a 7pm rush, you can get nine holes in. Bonus: it's got a driving range and mini golf as well, in case you're one of those people to whom a three-par means an 11-stroke-or-worse hole.
Eat:
Bagel Broker
7825 Beverly Blvd
LA isn't much of a bagel city, but transplants from cities that do love bagels can rest easy when they walk through the doors of the Bagel Broker. It's an honest-to-goodness legit bagel shop with fresh bagels all day long and a nice selection of great cream cheeses to boot. Ease the pain of traffic with some good ol' fashioned carb-loading.
Caffeine & Wi-Fi:
Paradocs
1032 S Fairfax Ave
This small, rustic Little Ethiopia coffee house may not be reinventing the coffee wheel, but its loyal customers keep coming back for a reason and that reason is the Japanese couple that owns the place. And the free Wi-Fi. Never underestimate the draw of free Wi-Fi.
What to do:
La Brea Tar Pits
5801 Wilshire Blvd
If you grew up in LA, the last time you visited this iconic spot was probably on a school field trip in fourth grade, when you wanted to be a paleontologist; if you didn't grow up in LA, there's a chance you've never been at all. Use the slowdown on 6th to change that: watching tar pits bubble is oddly beautiful, especially when it's used as an excuse to think about the slow march of history, and it's right next to LACMA, which means you can culture yourself as well as get a lesson in ancient history (or, let's be honest, just take a nice outside walk).
Eat:
Pita Kitchen
14500 Ventura Blvd
Scores of kids in the Valley (including Thrillist's LA editor) first fell in love with shawarma at this unassuming Middle Eastern haunt and now you can join the love fest as you sit at one of the outdoor tables and marvel at just how many cars try to use Ventura Blvd at the same time.
Caffeine & Wi-Fi:
M Street Coffee
13251 Moorpark St
We don't know anyone else who calls Moorpark "M Street," but it does sound a bit cooler, so we'll let it slide. This neighborhood coffee house prides itself on being eco-friendly and organic, but the best part may be that it limits the free Wi-Fi to two hours per person. It's the perfect amount of time for your short visit and it means that those hopeful screenwriters aren't hogging the seats all day.
What to do:
Castle Park
4989 Sepulveda Blvd
Mini golf, batting cages, and skee-ball all combine here to form the birthday party your former 8-year-old self always dreamed about. Forget all about the nightmare on the 101 as you try to win enough tickets to buy that slap bracelet.