Catch LA's Hoagie Wave with This Punk Rock, Philly-Style Pop-Up
West Coast hoagies are worth a shot (especially when East Coast expats make them).
Buying lunch out of someone's cooler on the sidewalk is nothing new in LA. Usually, that means tamales or tacos de canasta, and for a brief period in the chaotic 2010s, it may or may not have meant a couple of cans of black market Four Loko that a young entrepreneur had stashed from when it still had caffeine. Today, though, the line that snakes around the asphalt ring of Echo Park Lake has assembled for something a little different—hoagies. A real-deal version of the iconic Philadelphia sandwich had been relatively hard to find in LA, but no longer. The hoagie wave is upon us.
The man behind the cooler at the lake, Josh Agran of Delco Rose Hoagies, is surfing down the face of that wave with a pile of immaculate Delaware County (aka Delco) style sandwiches. The forearm-length hoagies come tightly wrapped in thick brown paper, the better to hold in the oil and vinegar that coats the shredded lettuce, tomato, red onion, and pepperoncini on top of thinly sliced cold cuts and provolone on a baguette. It's a simple formula, but Agran's version is perfect—sharp from the vinegar and pepperoncini balanced with a slick of good olive oil, anchored by precisely calibrated slices of cold cuts, all supported by a sturdy baguette from Jersey native and fellow hoagie enthusiast Andy Kadin of Bub & Grandma's bread.
The result is something alchemical, a sandwich balanced just so powerfully evocative for anyone who's spent time in the greater Philly area. If you ask him about his goals for the sandwich, Agran will cite his inspiration—a long-closed South Philly market called Maria Calla Deli that sold the hoagie of his dreams, which was a little more slender and balanced than the stuffed ones you see at lots of modern spots.
Then he will describe a feeling he wants to evoke, a mix of nostalgia and bliss, and he may even pull up a photo from Eric Wareheim's Instagram. The multi-hyphenate Philly native rolled through a couple of early Delco Rose pop-ups with a crew of hometown friends and captured music producer Alex Goose in a moment of rapture, mouth full and eyes closed. It's an unmistakable feeling, a sensation worth chasing, and one that Agran is always trying to create.
Photo by Ben Mesirow for Thrillist
Photo by Ben Mesirow for Thrillist
Agran's hoagies are tightly constructed and carefully designed to take you to a higher plane of Delco-style ecstasy, but he never really meant to get into the sandwich business. He's a punk musician, the guitarist for Paint It Black, and a rocker at heart. But one fateful day, he decided to make a few hoagies for his coworkers at the gourmet market Cookbook; they were a hit, and word got out.
The Philly network in LA is a powerful thing, transplants united by boundless pride in their hometown. Agran was thinking about popping up with his hoagies, but the logistics and the capital required to get going seemed overwhelming; buying ingredients, developing a process, testing ratios, and finding the right location were all daunting tasks. That's when his Philly friends stepped in.
They largely helped by staying on top of him about it, encouraging him by repeatedly asking for hoagies. They also provided some material help, too by testing, assembling, and helping him nail down his ordering system. And in the case of Lindsay Rose Medoff, by providing a location—she's the owner of Suay Sew Shop in Frogtown and offered him a prime spot at her shop, right off the LA River Bike Path. He picked a fortuitous date—Super Bowl Sunday, and in honor of the Eagles, he made about 60 sandwiches and set up his table for the first time. It was a smashing success, and he's been off to the races ever since, mostly popping up at Echo Park Lake but occasionally bouncing around the greater NELA area, in Highland Park or Hermon, or the middle of a trendy stretch of shops along Sunset Boulevard.
Delco Rose usually only pops up once a week, now on Saturdays as of early August. But if you're looking for a hoagie on other days, there are some alternatives in town that will more than hit the spot. Here are a few of our favorite other hoagies in LA.
Silver Lake
Owner Tommy Brockert is an LA native and a die-hard fan of the LA sports teams, which you can clearly see all over the shop, from names of dishes like the Mamba Pizza to the name and branding of the place itself, inspired by Tommy Lasorda and the Dodgers. But the hoagie section of the menu is full of bangers that evoke East Coast classics, especially the Stepfather. The sandwich was inspired by Bay Cities' legendary Godmother, and it has all the ingredients of a great hoagie. The ingredients are in proper proportion, heavy on the meat and sauce and wrapped in perfect house-baked bread, which hits the ideal sweet spot between firm and airy.
Koreatown
Philadelphia's other iconic sandwich is in the restaurant's name, but the hoagies are the low-key draw for East Coast expats at Boo's these days. Philly sandwiches are in owner Andrew Ahn's blood—his father's first job in the US after emigrating from Korea in the '70s was at a cheesesteak shop, and Ahn has been bringing that fully legit experience to LA for more than a decade at Boo's. As you would expect, the hoagie is just right, topped with lots of excellent hoagie dressing and served on a squishy Amoroso roll.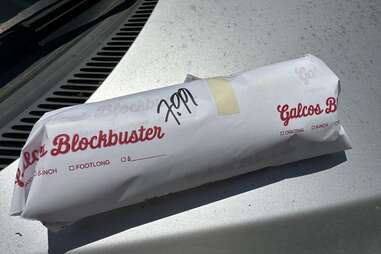 Highland Park
One of LA's great hoagies has been hiding in plain sight in the back of funky vintage soda store Galco's. Walk past the rows and rows of weird sodas to the deli counter, where they make an excellent old-school hoagie that has become an essential routine for Philly transplants. The sandwich does fall short on one count, though—they cut the bread all the way through, which makes the eating process a little more precarious than it should be, with toppings sliding out the sides. But when you're pairing the excellent hoagie with a neon Green River lime soda, it's a forgivable offense.
Venice
If your tastes run a little fancier—and if you're spending a lot of time in Venice, they probably do—the high-end hoagie you've been looking for is the one at Gjusta. They bake the bread in-house, of course, and it's pretty magnificent, a ciabatta/baguette hybrid that fits just right. The proportions are tight like the hoagies at Delco Rose, balanced and not overstuffed, made with the milder, creamier Fontina instead of Provolone cheese, and the vinaigrette is amped up with a generous smack of oregano.
North Hollywood
It's not a traditional hoagie, but if you're looking for a Pennsylvania-inspired Italian cold-cut sandwich that pushes the envelope, the Pittsburgh-style marvels at Gorilla Pies are pretty incredible. The classic cold cuts get a topping of prickly arugula, basil, cherry pepper mayo, and a thickish slab of fresh mozzarella, and the whole thing is built on a fresh oven-baked roll that is basically an extra thick wedge of pizza crust, leopard spots and all.
Unknown
One more hoagie looms on the horizon. With a particularly exciting pedigree, the hoagie comes from the aforementioned Eric Wareheim, who has teamed up with Philly legend Joe Beddia for a mysterious forthcoming hoagie project called PS Hoagie. They popped up once at the dearly departed Animal space in late May, and the event was a raucous good time. There was lots of funky wine, a well-heeled crowd, water ice, house-made chips, and two fantastic hoagies, one loaded with cold cuts and also a vegetarian version with broccoli rabe and roasted mushrooms. The future of the endeavor isn't clear yet, but it's sure to be fun as hell.